Maternity Leave in America
This article relates to The Golden State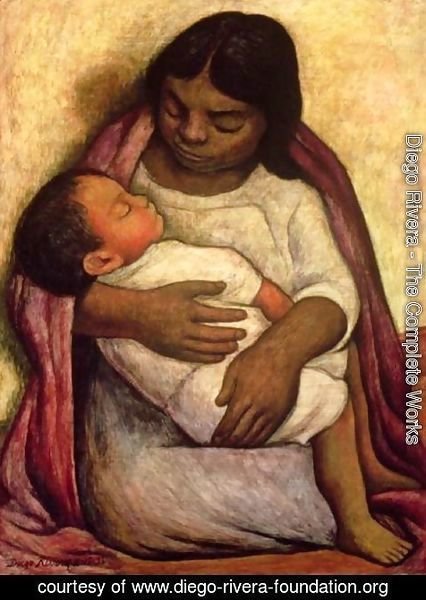 Early on in The Golden State, Daphne details the havoc wrought upon her life by her university job's standard maternity leave policy, per state regulations: "six weeks off at 50 percent of your salary."

Surprisingly, her California university's meager policy ranks among the best in the nation. The Family and Medical Leave Act (FMLA) of 1993 affords eligible Americans 12 weeks of unpaid leave under federal law. It guarantees them zero weeks of paid leave. As of July 2018, the National Partnership for Women and Families reports that only four states have paid family leave insurance laws in place: California, New Jersey, Rhode Island and New York. The amount of leave granted by these states ranges from four weeks (Rhode Island) to eight weeks (New York). Massachusetts, Washington and the District of Columbia plan to implement equally modest insurance laws in upcoming years, and as with the other states, the paid leave will be funded by withholding a small percentage of employee wages. For example, in New Jersey the rate of deduction is 0.09% on the first $32,000 of earnings--that's 9 cents on every $100, a maximum of $28.80 a year. Nowhere in the U.S. are parents granted more than a few months of paid leave, in spite of the entitlement's many benefits.

Paid leave is associated with economic growth and improvements in the health of parents and children alike. The Institute for Women's Policy Research has found that paid family leave has a wide array of positive effects on the economy, from increasing participation in the labor force to reducing spending on public assistance. Paid family leave also encourages greater parental engagement in caregiving, reduces stress on mothers, heightens well-baby care and vaccination rates and lowers rates of mortality for infants and young children. The benefits of paid family leave not only strengthen households but also support the social life of the nation.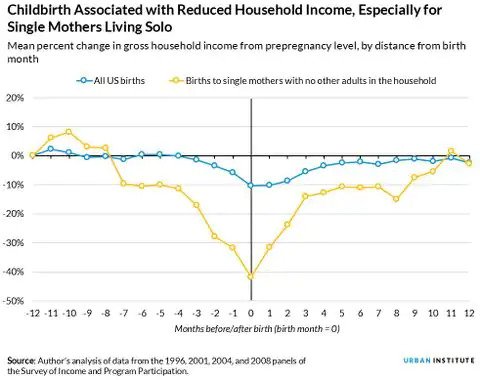 The federal government's unwillingness to grant extensive paid leave, by contrast, devastates communities and families, especially single-mother households like Daphne's. In her recent research, Alexandra Stanczyk of the Urban Institute has found that economic insecurity plagues families with new babies. American households on average experience over a 10% decline in total income from pre-pregnancy to the birth month, with single-mother households typically experiencing over a 40% drop in income during this period. After birth, the single-mother's income rate rises at a staggered pace, barely returning to pre-pregnancy rates 11 months later. Without paid leave, job turnover rates rise, parents struggle to meet the needs of their children, and mothers' psychological well-being plummets.

Despite the overwhelming benefits of paid leave, critics balk at the idea even in its most minimal form. Trump's federal paid family leave (PFL) program would offer only six weeks of paid time off, but the proposal has received harsh criticism from those opposed to any kind of mandated paid leave. These researchers and pundits claim that businesses, left to unregulated competition with each other, will develop robust leave programs for employees. Government oversight, they allege, would be inefficient and drain the national budget. The argument overlooks the many hidden costs of unpaid or no leave, as well as the fact that the average amount of parental leave that U.S. employers offer has not changed significantly since 2012.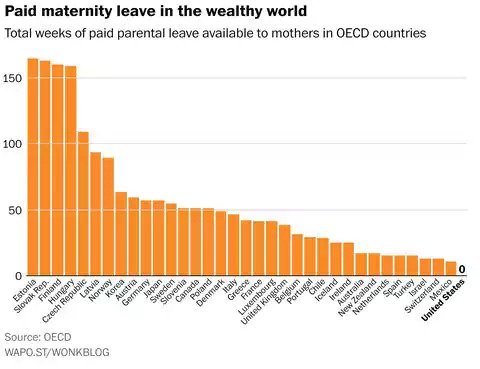 Among the world's wealthy countries, America is alone in its stubborn refusal to recognize the necessity of federally guaranteed paid family leave. In fact, according to The World Policy Center, every country in the world offers paid maternity leave other than the USA, Papua New Guinea and Suriname. European countries vary in the amount of paid leave they grant, ranging from 3 years in Estonia and Finland to 14 weeks in Switzerland (click chart for larger image). Austria, Denmark, France, Germany, the Netherlands and Spain offer 100% of previous earnings for the entire period of maternity leave. European countries' robust workplace benefits typically are paid for by public funds to which all taxpayers contribute. Not only is the USA woefully behind the rest of the world in terms of paid maternity leave, it is almost alone among developed nations in not offering paternity/family leave.

Until the American government reimagines and reinvents what it can offer to new mothers, especially those who are single and low-income, the kind of financial ruin and psychological breakdown dramatized in The Golden State will remain a common, relatable experience.
Delfina and Dimas by Diego Rivera, courtesy of The Diego Rivera Foundation
Graph depicting disparities in maternity leave, courtesy of The Washington Post
Filed under Society and Politics
This "beyond the book article" relates to The Golden State. It originally ran in October 2018 and has been updated for the September 2019 paperback edition. Go to magazine.
This review is available to non-members for a limited time. For full access become a member today.
Membership Advantages
Reviews
"Beyond the Book" articles
Free books to read and review (US only)
Find books by time period, setting & theme
Read-alike suggestions by book and author
Book club discussions
and much more!
Just $12 for 3 months or $39 for a year.