Vladimir Nabokov's Lolita
This article relates to Rust & Stardust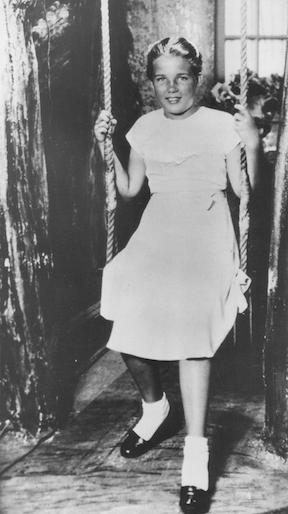 It would be hard to dispute that Vladimir Nabokov's Lolita mirrors the true story of Sally Horner. Nabokov's character Humbert Humbert is quite similar to Frank LaSalle, the real kidnapper, and Dolores "Lolita" Haze bears similarities to Sally. Both men spirited the young girls away across the country. Yet Nabokov's fictional story has fascinated and ignited audiences for over sixty years, while Sally Horner's true story was forgotten by the public almost as soon as it was revealed. If Sally inspired Dolores, then why did the imaginary girl receive such loyalty and outrage, while the real child was lost in the annals of history?

The answer may lie in Nabokov's very struggle to produce his unforgettable novel.

Sally Horner was hardly the only point of reference for Lolita. In fact, Horner and LaSalle may have been only small footnotes in bringing Humbert Humbert and his young captive to life. Nabokov, a literature professor and a prolific reader, drew inspiration from a variety of sources.

First, there are the real-life tales of Lewis Carroll and Charlie Chaplin, both of whom were linked to love affairs with underage girls. Then there is Edgar Allan Poe, in particular his poem Annabel Lee, which intrigued Nabokov so much he christened a pivotal character in Lolita with the same name. It is the love of a young girl named Annabel that supposedly forever alters Humbert and holds him in a state of perpetual sexual deviance. In fact, Poe was such an influence on Nabokov, that the initial title of the novel was to have been The Kingdom by the Sea – a line that is repeated in Poe's poem. The gentle touch of fairy tales also cannot be denied – Humbert calls Lolita his "little princess", watches her eat a red apple straight from Snow White and talks of a Cinderella-esque lost slipper.

But perhaps, most interestingly, Lolita harkens back to an even more direct predecessor. In 1916, a short story was published by a German author, Heinz Von Lichberg, which follows an older man who pursues and eventually traps a young girl in his snare. The name of the story was "Lolita." Von Lichberg's foundation struck deep with Nabokov, so deep, in fact, that he attempted to recreate the story many years prior to his most famed accomplishment. The first incarnation was called "The Enchanter" and took place in Russia. It was a dreary, dark tale that failed to resonate with readers and soon fell into obscurity.

When Nabokov picked up the thread of the story again, it was many years later. He and his family had emigrated to America and took to their new life in an almost uncanny way. Nabokov obsessed over all things Americana, collecting bright and shiny advertisements and delighting in American optimism and self-confidence. A passionate lepidopterist, he spent years traversing the United States with his wife and son, collecting butterflies and falling more deeply in love with his adopted homeland. It seems that it was America that made his story come alive. A story that felt dense and unwieldy on Russian soil suddenly gained new life and freshness in the United States. Humbert remarks that Dolores is an "ideal consumer, the subject and object of every foul poster," a characteristic he is fascinated by in a similar way that Nabokov himself was fascinated by middle-America and her consumerism.

It was this very giddiness and strangely displaced optimism that the true story of Sally Horner lacks. The distinct difference between fact and fiction. Sally's ordeal was tragic from start to finish, and where readers may have seen themselves in the pages of Lolita – whether in Dolores, her mother, or her teacher – they did not want to see themselves in Sally or in anyone else from her punishing, bleak world.

When the novel was published in 1955, it inflamed passionate feelings from supporters and critics alike. Graham Greene remarked that it was his favorite book of the year. A newspaper editor remarked that "without doubt it is the filthiest book I have ever read. Sheer unrestrained pornography." Loved or hated, Nabokov and his Lolita were a favorite media topic in newspapers both in the U.S. and abroad. Meanwhile, Sally Horner's story never graced the pages of the New York Times and soon fell into obscurity even in her hometown of Camden, N.J.
Filed under Books and Authors
This article relates to Rust & Stardust. It first ran in the September 19, 2018 issue of BookBrowse Recommends.
This review is available to non-members for a limited time. For full access become a member today.
Membership Advantages
Reviews
"Beyond the Book" articles
Free books to read and review (US only)
Find books by time period, setting & theme
Read-alike suggestions by book and author
Book club discussions
and much more!
Just $12 for 3 months or $39 for a year.