Deaths of Despair
This article relates to Dopesick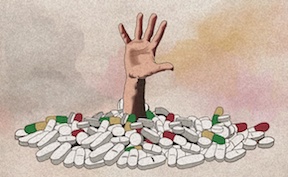 The deceased was a middle-age white man who liked to be called Horsey. A working-class Ohioan who left school after 11th grade, he toiled as a mechanic, then as a laborer and then he bounced around from job to job, barely making a living until he died of an opiod overdose. His death wasn't unusual. In 2015, Princeton economists Anne Case and Angus Deaton established that white men and women without college degrees are dying faster than any other demographic.

In Dopesick, Beth Macy describes a rural America in which opioid abuse is 50% higher than in urban areas. Undereducation, unemployment, a disability culture, and destabilization of rural economies have created mental stress and anxiety and the behaviors to cope with that anxiety have metastasized. Case reinforces this fact in an article in the L.A. Times: "There's an America for people who have a college degree and an America for people who do not have a college degree," she says. "The people without a college degree are getting worse and worse and people with college degrees are doing very well."

Technology and globalization have created a world within a world. "Deaths of despair" as Case and Deaton have termed the crises, have altered the working-class population. A highly educated and literate workforce that technology has incentivized has created white working-class scarcity. Much of the work the factory class used to perform has been shoved overseas and, along with that, the dream of prosperity. As Langston Hughes noted, a dream deferred dries up like a raisin in the sun. Unthinkable a generation ago, the mortality rate of white people has risen, soaring past that of African Americans. The white working class has become addicted in disproportionately high numbers compared with other groups. Opioid abuse is an emotional response to economic decline and being left behind and frankly, for the most part, being forgotten.

In regions that are suffering economic depression, selling stolen OxyContin can pay a mortgage or get the car fixed or help with the hospital bill. You help yourself by hurting your neighbor. And then he hurts you. Brian sells pills to Joe from across the street. Brian then can buy his children toys for their birthday. But Joe the addict is dopesick one day and breaks into Brian's house and steals Brian's stash. Now Brian is depressed and desperate. He searches for pills for himself. Opioid abuse is the tornado that randomly decides which house to destroy.

"The problem isn't that there are a bunch of people out there taking dangerous drugs because it feels good and they're accidentally killing themselves. The problem is that we have this sharp increase in the numbers of people with addiction," says Dr. Andrew Kolodny in an interview on PRI's Science Friday. Kolodny is Co-Director of the Opioid Policy Research, Heller School, Brandeis University, and Executive Director of Physicians for Responsible Opioid Prescribing.

Even as we are attached to the American dream, the dream has a hole in it. Labor shifted and the dream cracked. The loss of income in manufacturing economies has had a negative impact on the social contract of marriage and family. Many, for the very first time in their lives, have failed. The family has frayed to near nothing. Large segments of the population are broke and on disability. They are not stable. They don't fit anywhere anymore. They are sad. They cope by taking pills. A few pills turn into a lot of pills that lead to heroin or fentanyl. But only 10% of the opioid addicted have access to treatment, the rest are on the opioid carousel unable to get off, even if they try to jump.
Illustration courtesy of Javier Maria Trigo
This "beyond the book article" relates to Dopesick. It first ran in the August 29, 2018 issue of BookBrowse Recommends.
This article is available to non-members for a limited time. You can also read these articles for free. For full access, become a member today.
Membership Advantages
Reviews
"Beyond the Book" backstories
Free books to read and review (US only)
Find books by time period, setting & theme
Read-alike suggestions by book and author
Book club discussions
and much more!
Just $10 for 3 months or $35 for a year