Much of the action in M. J. Rose's novel Tiffany Blues takes place at Louis Comfort Tiffany's fabulous estate near Oyster Bay, New York. It's an 84-room mansion, standing on over 60 acres of lush landscaping, all conceived and designed by Louis himself. Since the late 1800s he had been the chief creative force behind the famous jewelers' fabulous collections of jewels, china, silver and, most particularly, glass. He was a gifted painter, architect and landscape artist as well.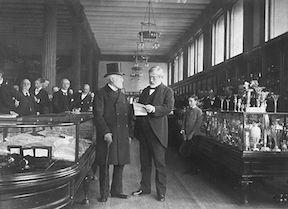 Charles Lewis Tiffany and John B. Young founded a store in 1837. Four years later they were joined by J. L. Ellis and became Tiffany, Young and Ellis. They sold stationery and fancy goods to the fashionable ladies who frequented their location at 259 Broadway in New York City. Before long, Charles noticed that the burgeoning country was losing its taste for European styles. The elite were hungry for distinctively American designs.

By 1853, the company had changed its name to Tiffany & ...