Samuel Pepys's Diary
This article relates to The Judge Hunter
In The Judge Hunter, Balty's brother-in-law, Samuel Pepys, an important historical figure in 17th century London, plays an integral role.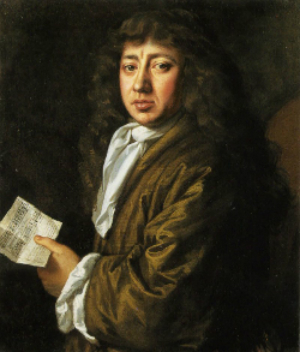 Samuel Pepys (pronounced Peeps) was born in London in 1633. He completed grammar school during the English Civil War and witnessed the execution of King Charles I in 1649 at the age of 15. He continued his education at Magdalene College, Cambridge, receiving a Bachelor of Arts. He then went to work for Edward Montagu, a relative who became the first Earl of Sandwich. It is believed that his time with Montagu helped advance Pepys' career. In 1655, Pepys married Elizabeth St. Michel (Balty's sister in the novel), who at the time was 15 years old. In June of 1660, he became Clerk of the Acts of the Royal Navy, the position he holds in The Judge Hunter. Such a job involved keeping the Navy organized and processing relevant contracts. That same year, he started the diary which, long after his death, would make him famous for his eye-witness accounts of several major historical events and his myriad observations of day-to-day life in 17th century London.

The journal entries are notably similar in tone to that of The Judge Hunter—comically understated despite violent and horrific events. A case in point being his entry on the day he joined the crowds to witness the death of the man who signed King Charles I's death warrant:
…I went out to Charing Cross, to see Major-General Harrison hanged, drawn, and quartered, which was done there, he looking as cheerful as any man could do in that condition."
Written in shorthand, Pepys recounts his experience on the ship that returned Charles II to England as well as the king's coronation. The diary also contains his accounts of both the 1665 Great Plague of London and the Great Fire of London that ended the plague the following year. He writes:
I down to the water-side, and there got a boat, and there saw a lamentable fire. Poor Michell's house, as far as the Old Swan, already burned that way, and the fire running further, that in a very little time it got as far as the Steeleyard, while I was there. Everybody endeavouring to remove their goods, and flinging into the river or bringing them into lighters that lay off; poor people staying in their houses as long as till the very fire touched them, and then running into boats, or clambering from one pair of stairs by the water-side to another.
While Pepys provides invaluable historical insight, he casually inserts his personal life into the diary merging the political and personal in an unintentionally humorous way. His first entry gives a brief thanks to God for his health followed by "My wife, after the absence of her terms for seven weeks, gave me hopes of her being with child, but on the last day of the year she hath them again. The condition of the State was thus…" And he goes on to give a brief account of the political activities of the day.

Pepys' includes other mundane details of life, like what he ate for dinner, the weather, his personal finances and his social calendar. He often concludes his entries with the famous line "and so to bed." More infamously, he depicts his struggles with vices, particularly his sexual romps with women who were not his wife.

He ended his diary in May of 1669 amid fear that writing it would ruin his eyesight. Pepys' career continued – including a brief stint as a member of Parliament – until 1689 when he was falsely accused and imprisoned for being unfaithful to the crown, although he was later released. He died in 1703 at the age of 70.

Pepys left his diary and other writings to Magdalene College where they were eventually published in the 19th century.
Filed under Books and Authors
This "beyond the book article" relates to The Judge Hunter. It originally ran in July 2018 and has been updated for the May 2019 paperback edition. Go to magazine.
This review is available to non-members for a limited time. For full access become a member today.
Membership Advantages
Reviews
"Beyond the Book" articles
Free books to read and review (US only)
Find books by time period, setting & theme
Read-alike suggestions by book and author
Book club discussions
and much more!
Just $12 for a year or $39 for 3 months