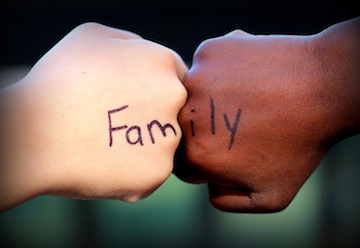 The protagonist and her husband in Rumaan Alam's novel That Kind of Mother are a white upper middle-class couple who adopt a black infant. They love and raise him alongside their own biological son, and treat them as brothers. Race plays a key role in almost every aspect of their lives. The story takes place in Washington DC in the late 80s and early 90s, when transracial adoption was uncommon. There is wisdom to be gleaned from both transracial parents who adopt and their adopted children. Here are three points of view on the issue.

In an interview with Natalie Brenner at Adoption.com, a platform for sharing stories and connecting with resources about adoption, Angela Tucker, a nationally-recognized leader on transracial adoption and an advocate for adoptee rights, shares both positive and negative experiences as a black child adopted by white parents:

"Natalie: Did people ever ask your parents intrusive and sometimes-inappropriate questions about you while you were right ...