Who Was Ngungunyane?
This article relates to Woman of the Ashes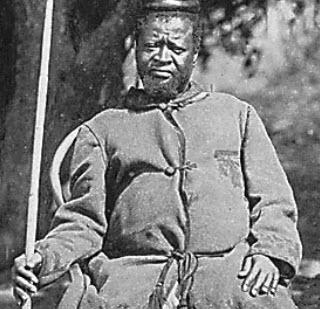 One of the most interesting characters in Mia Couto's Woman of the Ashes never formally makes an appearance – the emperor, Ngungunyane, the Lion of Gaza. Who is this powerful figure who ruled the Gaza empire (which encompassed southeastern Zimbabwe and southern Mozambique.) What led to his triumphs and, finally, to his downfall? What do we know about the empire that created him?

Ngungunyane was born into a family of power. His grandfather, Soshangane, was the founder of the Gaza empire. This founding was a direct result of Soshangane's defeat at the hands of Shaka Zulu in Zululand (modern day Zimbabwe); instead of joining the victorious party, he left his homeland to search for new land to call his own. Once his empire was established, Soshangane passed it on to his son, and eventually his grandson.

The empire of Gaza was in continuous unrest, with conquests spanning the entire history of its existence (1824–1895.) Because tribes were continually being conquered, there was a clear distinction of classes. The ruling class were part of the Nguni tribe, and if the defeated tribe was willing to accept the Nguni as their leaders and assimilate into their culture, they had a chance to live comfortably. Yet there were those who refused to assimilate; the Tsonga and Chopi people rebelled against Nguni rule and, as a result, made up the lowest class in Gaza. Unrest, mistrust and rebellion were at the heart of the Gaza empire, undermining it all the way to its demise.

Ngungunyane, born into this atmosphere, learned quickly how to survive by eliminating competition. He came into his rule in 1885 through fratricide. After that, he continued to grow his empire. However, Ngungunyane had problems coming from both the inside and the outside. Besides internal rebellion, he also had to contend with the Portuguese colonial powers. Feigning cooperation, the Portuguese sent peace treaties, offered Ngungunyane full jurisdiction of his lands and the ability to levy taxes. In return, they asked for complete control over prized mines, the building of Portuguese schools and churches, and complete freedom of movement for Portuguese citizens. Ever wary of outsiders, Ngungunyane did not trust the Portuguese and never signed any of their treaties, keeping close control of his lands.

Yet the Portuguese had troops, horses, money and arms. They continued to encroach on Gaza lands, expanding their rule and influence. In a show of power, Ngungunyane marched on the remaining tribes of Chopi people, who were armed and supplied by the Portuguese. But the same unrest that plagued his empire all along was Ngungunyane's downfall; internal strife weakened his troops and he suffered a series of defeats at the hands of the Portuguese. He escaped to the village of Chaimite, sacred to his people, where he was eventually captured by Portuguese troops.

Instead of death, his punishment was exile to Lisbon, then to the island of Terceira in the Azores (an archipelago of islands in the Atlantic Ocean owned by Portugal). Separated from all he knew and loved, Ngungunyane died only a year later, far away from his homeland. Though his military campaigns against the Portuguese were not successful, his legacy lives on. He ruled one of the greatest African empires and remains an important figure in African history.
This "beyond the book article" relates to Woman of the Ashes. It originally ran in May 2018 and has been updated for the April 2019 paperback edition.
This review is available to non-members for a limited time. For full access become a member today.
Membership Advantages
Reviews
"Beyond the Book" backstories
Free books to read and review (US only)
Find books by time period, setting & theme
Read-alike suggestions by book and author
Book club discussions
and much more!
Just $12 for 3 months or $39 for a year