The Spanish Inquisition
This article relates to Gateway to the Moon
The Spanish Inquisition ultimately affects modern-day characters in Gateway to the Moon. The inquisitorial system (derived from the Latin word inquisitio "to inquire"), is one in which the court actively investigates a case rather than simply being an impartial referee--in short, the court acts as detective, prosecutor and judge. Throughout medieval times, the papacy gave bishops across Europe inquisitorial power to extend the enforcement of Catholicism.

In medieval Spain, the flourishing Jewish population was seen with increasing animosity by its Christian counterparts. When, in the middle of the 14th century, a plague known as The Black Death wiped out nearly half the population of Europe, but notably fewer of the Jewish population, many accused the Jews of deliberately poisoning the wells. (Historians believe that the reasons Jews were less affected was because they were already isolated into ghettos which, combined with the Jewish laws of cleanliness protected them.) In the face of this growing anti-Semitism, many Jews converted. These New Christians, or conversos, were mistrusted, in part because of their financial success and also because some were Crypto-Jews (from the Greek for hidden), and continued to practice their faith in secret.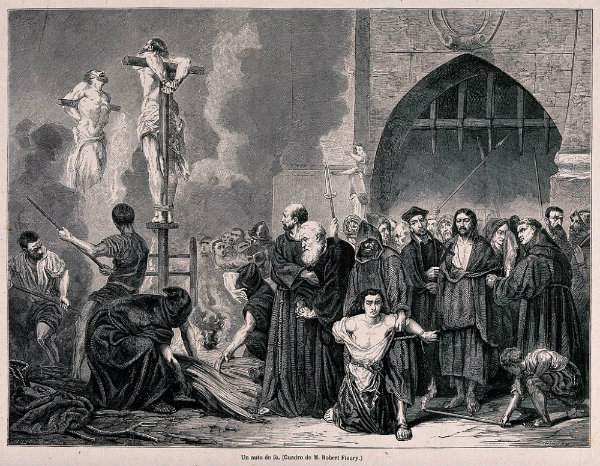 click for bigger image
The marriage of King Ferdinand of Aragon and Queen Isabella of Castile in 1469 united the two largest Spanish dominions and sparked a strong political desire to create a homogeneous Catholic country. In 1478, Pope Sixtus IV issued a papal bull (a formal announcement) giving Ferdinand and Isabella power to establish inquisitors to regularly round up heretics. If the accused did not renounce their beliefs, they could be subjected to punishments including humiliation, confiscation, physical beatings and torture. They did not receive counsel and could not confront witnesses against them. The most severe cases were burned at the stake in a carnival-like atmosphere called autos-da-fe ("acts of faith").

According to some sources, several thousand conversos died during the reigns of Ferdinand and Isabella. In 1492, Ferdinand and Isabella expelled all Jews from Spain. An estimated 160,000 people then faced a decision: flee or convert.

By 1570, the Inquisition spread throughout the Spanish Empire to the Americas, including Mexico. While its primary focus was sexual misconduct in clergy members, the Mexican Inquisition also targeted conversos who were believed to have moved to the New World. One of the most famous examples is Luis de Carvajal the Younger. De Carvajal was a trader and Crypto-Jew in Mexico who documented his arrest and subsequent torture in a small manuscript, which he hid from authorities under his hat. According to his memoir, de Carvajal discovered he was Jewish from his father and accepted the Jewish faith. He then circumcised himself with scissors and convinced his sisters to practice Judaism as well. After his initial arrest in 1590, he was released but was arrested again in 1596, tortured and executed at the age of 30.

Other recently discovered documents detail the executions of two sisters in the Carvajal family, Isabel de Carvajal de Andrade and Leonor de Carvajal. These documents relay the trial and testimony from the two women. Evidence presented for their crimes included their observance of the Sabbath by using clean bedding and clothing on Friday evenings. Dietary restrictions and fasting were also indications of practicing Jewish faith. They, too, were found guilty and burned at the stake.

Although these tragic accounts tell of religious persecution in the Spanish New World, modern scholarship suggests that the Inquisition was perhaps exaggerated in its scope and cruelty by anti-Catholic propaganda. While atrocities were committed, some scholars note it was a very small portion of the population and most living in the New World could practice religion relatively freely. The influence of the Inquisition declined during the 18th century and was formally ended in 1834.


Picture of Spanish Inquisition from Henry Duff Linton Collection
Filed under People, Eras & Events
This "beyond the book article" relates to Gateway to the Moon. It originally ran in May 2018 and has been updated for the March 2019 paperback edition. Go to magazine.
This review is available to non-members for a limited time. For full access become a member today.
Membership Advantages
Reviews
"Beyond the Book" articles
Free books to read and review (US only)
Find books by time period, setting & theme
Read-alike suggestions by book and author
Book club discussions
and much more!
Just $12 for a year or $39 for 3 months