Zoroastrianism
This article relates to A Girl Like That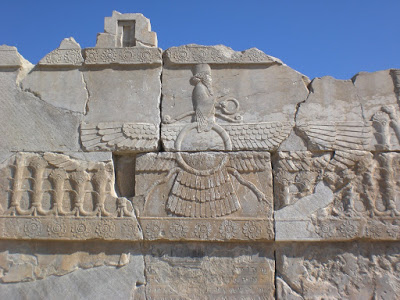 One of the motivating factors for the various conflicts Zarin faces in Tanaz Bhathena's debut YA novel A Girl Like That, is that she is a Zoroastrian - a religion that is far less recognizable than some of the other major world religions such as Christianity, Islam, Judaism, Buddhism, or Hinduism. This is because, though it is one of the oldest monotheistic religions, it is now one of the smallest religions, with a reported 190,000 followers worldwide in 2006.

Zoroastrians worship in fire temples called agiaries which each hold a sacred fire. However, though some have represented Zoroastrianism as fire worship, that is not accurate. Rather, all of the elements are believed to be pure, and fire specifically represents God's light and wisdom. Prayers are thus said when facing the fire, or even sunlight which represents divine light and energy. The sacred text of Zoroastrianism is called the Avesta.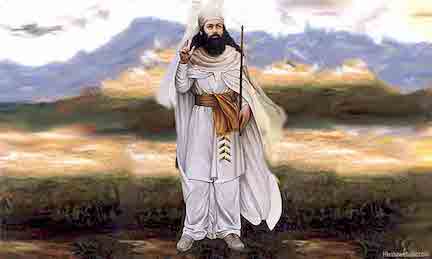 For Zoroastrians, there is one God who is called Ahura Mazda, which roughly translates to "wise lord". Vohu Manah (good mind and good purpose), one of the six Amesha Spentas (Holy Immortals), led the prophet Zarathustra (sometimes called Zoroaster, Zarathusti, or Zaratosht) to Ahura Mazda when he was 30 years old. The Zoroastrian faith holds that Ahura Mazda revealed his divine truth to Zarathustra and answered his questions and thus gave him the foundations of Zoroastrianism. The other Amesha Spentas are: Asha Vahishta (truth and righteousness), Spenta Ameraiti (holy devotion, serenity, and loving kindness), Khashathra Vairya (power and just rule), Hauravatat (wholeness and health), and Ameretat (long life and immortality). These are beings and spiritual attributes that come from Ahura Mazda and are not only representative of different aspects of creation, but the ways through which humans can come to know God.

Ahura Mazda is opposed by Angra Mainyu (Destructive Spirit), however, while this is the force that opposes the creative energy of God, it is not the equal opposite. Angra Mainyu attacks the pure world of Ahura Mazda's creation by trying to make it impure, and through these attacks we have aging, sickness, death, famine, natural disasters, etc. Because truth and free will are prized as the values given by God to mankind as gifts, humans have the choice to follow the path of druj (deceit) or to follow the path of asha (truth); the emphasis on the choice of the individual to determine his or her own path in the context of the cosmic struggle is part of what distinguishes Zoroastrianism from other religions. Humans are not the children or servants of a divine presence, but rather, the helpers of that divine presence. One can either be a helper of Ahura Mazda or a helper of Angra Mainyu, but it is when all humans choose the path of asha that a paradise on earth - the pure world of Ahura Mazda - can be realized. And so the core beliefs of Zoroastrians are best summarized as "humata, hukhta, huvarshta" - good thoughts, good words, good deeds.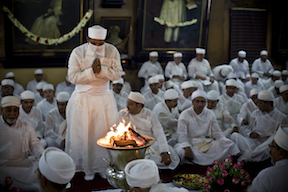 While Zoroastrianism doesn't have the same kinds of theological divides as other religious communities, the Parsi community in India, of which Zarin and her family are part, is a socio-culturally distinct group within the larger structure of the religion. The Parsi community today is descended from a group of religious refugees who fled Persia (now Iran) in the 10th century looking for somewhere to safely practice their religion. They became known as "Parsis" after being allowed to settle in Gujarat in India; "Parsi" is Gujarati for "Persian." There are debates on the historical accuracy of the Parsi's origin story, but the one told by the community to explain who they are and why they are there (and the story I grew up with as a Parsi), is that after they arrived on the shores of Gujarat, the Rajah summoned the refugees, demanding to know if they would be a threat or a burden to the local community. The refugees explained that they were looking for a place to live peacefully, farm, and practice their religion. In answer, the Rajah held up a bowl into which he poured milk until it was at the brim without spilling over, indicating that the land was full, it could hold no more. The dastur (priest) then added sugar to the milk, to show that like sugar in milk they would both blend in, and sweeten the land. They were allowed to stay, but only under the condition that they would explain their religion, adopt the local language and dress, surrender their weapons, and promise not to proselytize.

The legacy of this origin story, especially the last condition, is that the Parsi community in India remains small, contained, and largely endogamous (marries within a specific social-group) even today. This leads to the debate of who can be considered a "real" Parsi - some don't recognize converts or children of mixed marriages - and this is what we see through Zarin's eyes, and it feeds into her inner conflicts as well, which are based in part on questions of true acceptance in a small community. These debates exist between Parsis and practitioners in other parts of the world, and are also framed around questions of whether conversion is allowed, and how to preserve the varied heritages of the religion around the world.
Scene with Faravahar - relief of winged sun symbol of Zoroastrianism in ruined Persepolis, Iran. Persepolis was a capital of Achaemenid Empire, 550 - 330 BC. courtesy of historicaliran.blogspot.com
Zoroaster, founder of Zoroasrianism, courtesy of www.hinduwebsite.com
Zoroastrian priest with consecrated Fire, courtesy of islamichouseofisrael.com

Filed under Places, Cultures & Identities
This "beyond the book article" relates to A Girl Like That. It originally ran in March 2018 and has been updated for the February 2019 paperback edition. Go to magazine.
This review is available to non-members for a limited time. For full access become a member today.
Membership Advantages
Reviews
"Beyond the Book" articles
Free books to read and review (US only)
Find books by time period, setting & theme
Read-alike suggestions by book and author
Book club discussions
and much more!
Just $45 for 12 months or $15 for 3 months.