Beyond the Book:
The Origins of Human-Canine Friendship
Sigrid Nunez's The Friend reminds us of the power and beauty of the human-canine friendship. Many of us have witnessed the relationship first-hand – our dogs "listen" to us, they comfort us when we are sad and they are the first to greet us when we come home – but where and when did it originate? How did the gray wolf become "man's best friend"?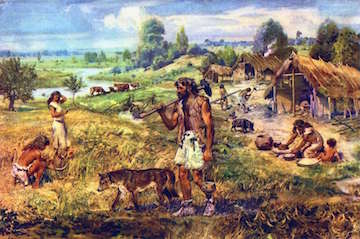 Surprisingly, this is a highly contentious question, still raising hackles and stirring up arguments across the global geneticist community.

For many years, there were two dominant theories on dog domestication – one is passive, wolves simply came around human encampments to feed off of scraps and stayed around, domesticating themselves. The other theory suggests active domestication – humans chose and cared for wolf pups, training them to stay close and eventually lose their skittishness.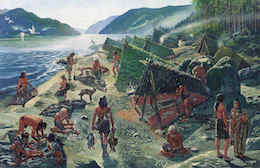 More recently, a third theory arose – wolves and humans both evolved in a symbiotic relationship, which resulted in the connection we know and love today. Humans followed wolves on the hunt, learning better technique, better routes; yet wolves also understood that humans could be helpful to them, feeding them scraps when prey was thin. There is something familiar about this theory – humans and wolves learned from each other and became better together – isn't this how dog owners might describe their relationship with their pets?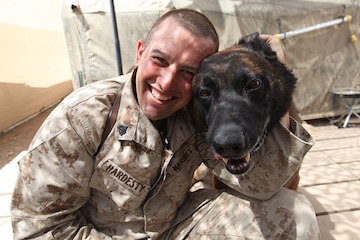 Aside from the details of domestication itself, there is also much debate around when and where this process occurred. While some contend that the earliest domestication could not have been earlier than 14,000 years ago, others suggest it could have been as far back as 33,000. The current controversy on the topic, however, posits that there may have been more than one instance of domestication. It seems that there was once an Ancient Western Dog and an Ancient Eastern Dog. The argument for the Eastern Dog seems fairly secure – fossilized canine DNA in southern China shows the most genetic diversity of any found. However, when the migration of the Eastern Dog was traced to the West, new findings revealed another set of canine DNA, entirely different from the first – dogs had already existed in the West.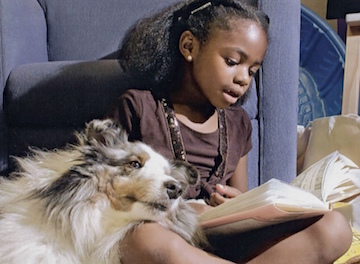 Why is this so important? Why is it a topic of debate? Well, for one thing, the relationship between humans and dogs has always been highly fascinating, we love to read about our canine companions and we love to discover more about their origins, their motivations, their thoughts. But more than that, it is important to remember that the dog was the first animal to be domesticated and domestication changed the world. Had humans never domesticated animals, the agricultural revolution – the single most important shift in human history – would never have occurred. So, yes, dogs are "man's best friend", but they were also once the heralds of our unimaginably ambitious future.
Two illustrations of the evolution from wolf to dog, courtesy of www.newtonsapple.org.uk
A combat tracker and his dog
Reading dog, courtesy of B.A.R.K.
This article is from the February 7, 2018 issue of BookBrowse Recommends. Click here to go to this issue.
This article is available to non-members for a limited time. You can also read these articles for free. For full access, become a member today.
Membership Advantages
Reviews
"Beyond the Book" backstories
Free books to read and review (US only)
Find books by time period, setting & theme
Read-alike suggestions by book and author
Book club discussions
and much more!
Just $10 for 3 months or $35 for a year