Sidewalk Chalk
This article relates to The Chalk Man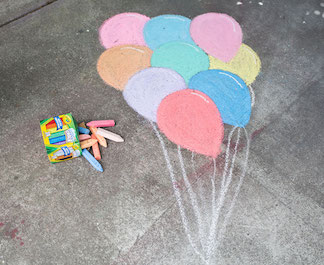 In C. J. Tudor's thriller The Chalk Man, twelve-year-old Eddie and his friends create a secret language using stick figures drawn with chalk. The story takes place in 1986, but of course chalk games have been around for a lot longer than that.

Chalk has too. The word chalk comes from the latin calx, which means limestone. Limestone is composed primarily of the shells and skeletons of marine animals that first accumulate as a sediment and then, over millions of years, turn to stone. This limestone is, in essence, chalk.

Chalk was used all the way back in prehistoric times to draw on cave walls; and, paired with a piece of slate, had been used for centuries as a temporary way to record information, not just for students but also in other situations such as tracking goods and by sailors to calculate their location while at sea. However, the blackboard itself is a remarkably recent invention. Apparently it was not until 1800 that Scottish headmaster James Pillans thought to connect smaller slates into a single large board (so as to better display maps to his students.) A few years later Pillans created colored chalk using a recipe of ground chalk, dyes and porridge!

Gymnasts and rock climbers use chalk to keep their hands dry as they grab onto bars and rocks. It is used in sports like football, soccer and baseball to mark off the playing fields. It is also used as an abrasive in cleaners, as a way to raise the pH in soil, and police use it to detect fingerprints.

And children, of course, play games with chalk, including: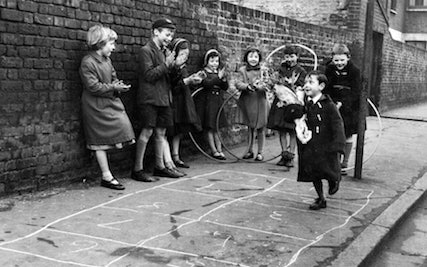 Hopscotch: This game is played by tossing a small object – often a rock – onto numbered squares that are drawn in a pattern on the ground. The player then hops onto each square to retrieve the object. The earliest known reference to the game in English dates to the late 17th century as "scotch-hop."

Four Square: This ball game is played on a square court – often drawn with chalk – divided into quadrants. One player stands in each square, for a total of four players. The object is to try to eliminate each other by bouncing the ball into a player's quadrant without him being able to touch it. The first known reference to four square was in the 1950s.

Mini Golf: A flat course is designed with chalk, divided into separate paths that lead to "holes" (circles drawn on the ground). Using a hockey stick instead of a golf club, and a puck instead of a ball, players travel around the course trying to get the puck to land on the holes.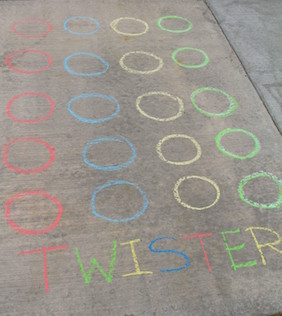 Twister: A modern – it has to be said – twist on the wacky board game, different colored circles are drawn in lines on the ground. Players have to place hands and feet on specific colored circles when they are called out.

Long Jump: Kids stand behind a line (drawn, yes, in chalk!) and then try to jump as far as they can. Distances are marked on the ground and records are set and then broken!

There are many other games like these. How about playing checkers on a giant board drawn in chalk? Or tic-tac-toe? Or shuffleboard? The choices are endless. Because chalk is temporary and can be used on many different surfaces, it is a great medium for games, as well as for messages, art, and hair dye.

Today you can buy chalk in hundreds of colors – but you can also make your own chalk. All you need is plaster of Paris, paint, water and toilet paper rolls. Check it out here.
Chalk balloons, courtesy of shopbellevueohio.com
Hopscotch, courtesy of mudroomblog.com
Target, courtesy of www.makeandtakes.com
Twister, courtesy of www.girlandagluegun.com
This "beyond the book article" relates to The Chalk Man. It originally ran in January 2018 and has been updated for the December 2018 paperback edition.
This review is available to non-members for a limited time. For full access become a member today.
Membership Advantages
Reviews
"Beyond the Book" backstories
Free books to read and review (US only)
Find books by time period, setting & theme
Read-alike suggestions by book and author
Book club discussions
and much more!
Just $39 for 3 months or $12 for a year