Romani Fortune Tellers
This article relates to The Immortalists
Chloe Benjamin's The Immortalists begins with four children visiting a fortune teller in New York in the '60s. The fortune teller is nameless. Her whereabouts is only gleaned from hearsay and neighborhood gossip. What's more, the psychic is said to regularly change address to avoid being detected by the authorities. Despite being shrouded in mystique, she still manages to attract a regular clientele of New Yorkers who swear by the precise insight she has to offer through her clairvoyance.

Later in the book, it transpires the fortune teller is Romani and comes from a tight-knit family of immigrants who, despite having lived in America for years, have managed to not allow a great influx of outside influence to mar their cultural identity. They communicate in their mother tongue. They don't regularly consort with other New York communities, happy to keep to themselves. Furthermore, the entire family appears to make a living using their primary talents of divination and fortune-telling.

To this day, the Romani, including the few that earn their living as fortune tellers, continue to be a large but mostly hidden community in New York. Tracing their history is key to understanding why they are so secluded.

The Romani people have long been associated with having psychic powers and are even commonly attributed with the invention of Tarot cards. Within Romani tradition, fortune tellers, in their language known as the drabardi, are always female. This psychic tradition dates back several hundreds of years, and legend has it that this community, probably of Indo-Aryan ethnic descent, acquired their supernatural skills in the Byzantine Empire (the capital of which, Constantinople, is today's Istanbul).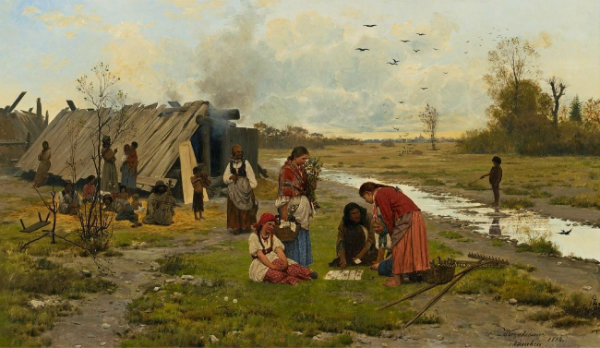 It seems that the rise of fortune-telling among the Romani correlates to the people's constant displacement. As a community who have never identified themselves with one specific territory or national identity, the Romani have forever been a free people with no ties to a homeland. Their enigmatic beginnings are also perpetuated by the fact that Romani people have not traditionally kept written records of their history.

By the 14th century, it is believed that the Romanis had expanded into Eastern Europe, particularly into the Balkans and Bohemia (part of modern day Czech Republic.) As a nomadic people who needed to make a livelihood on the outskirts of these often unwelcoming towns and villages, the Romani found it profitable to pedal their esoteric psychic talents to the gadjé, a term which refers to all communities of non-Romani people. Despite the Church's strong warnings against such superstitious practices, which according to several Bible passages are associated with the doings of the Devil, the Romani were to find people the world over who continued to seek them out. The Romanis promised they could remove curses, contact spirits, and of course tell fortunes. The Romani fortune tellers have continually used a variety of theatrics to present their mystical arts, including palmistry, tasseography (tea-leaf reading), cartomancy (Tarot readings), and the crystal ball.

It is said that Romanis first came to the Americas as slaves, shipped with Columbus in 1482. Over the next few hundred years, as more Europeans began to colonize America, they continued to bring with them groups of Romani slaves. It wasn't until the abolition of slavery in Romania in 1864, when Romanis began to enter the United States voluntarily. More large-scale emigration of Romanis to the Americas took place in the early 20th century, the majority of them fleeing economic depression and the persecution of the collapsing Austro-Hungarian empire after World War I.

Today it is estimated that there are close to 100,000 so called Rom Amerko living in New York. What's particularly fascinating is that these NY Romanis remain somewhat apart from the rest of the New York community, and many abide by their own Romani Code, which sets rules for customs, behavior and other aspects of Romani life. For example, it is important for Romanis to share food and cook lavish meals for fellow Rom guests. Not doing so is considered shameful and can lead to discord. The kris romani (Romani court) allows Romanis to settle family disputes and keep mutual respect between families. Much of these goings on are hidden from gadjé New Yorkers.

The most apparent Romani presence in New York continues to be, as is their tradition, female psychics, who operate from a number of street-level parlors. As fortune-telling for money is against the New York State Penal Code, these psychics do their best to keep out of sight. It is hard to place exact figures, but it is estimated that there are approximately 200 Romani fortune telling establishments in the metro area.

From Byzantium in AD 1000 to New York in the 21st century, the Romanis remain an enigmatic presence that feed our endless hunger and fascination for superstition and spiritualism.


Picture of gypsy fortune-teller in Poland by Antoni Kozakiewicz

This "beyond the book article" relates to The Immortalists. It originally ran in January 2018 and has been updated for the February 2019 paperback edition. Go to magazine.
This review is available to non-members for a limited time. For full access become a member today.
Membership Advantages
Reviews
"Beyond the Book" articles
Free books to read and review (US only)
Find books by time period, setting & theme
Read-alike suggestions by book and author
Book club discussions
and much more!
Just $39 for a year or $12 for 3 months