In "Father Abe," a short story in Five-Carat Soul, McBride mentions two all-black regiments that fought for the Union army during the Civil War — the 32nd United States Colored Infantry and the 9th Louisiana Colored Infantry.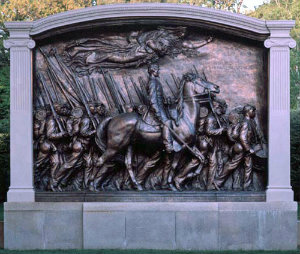 When war broke out in 1861, African Americans were barred from serving, but this rule was set aside by the passage of the Second Confiscation and Militia Act and the Emancipation Proclamation in 1862. Over the course of the war, 179,000 African-American men served in upwards of 160 units. One of the first regiments was the all-black Massachusetts 54th, formed in February 1863, led by Colonel Robert Gould Shaw, a white man.

This regiment is known for its courageous (but disastrous) attack on the Port of Charleston in South Carolina. Charles and Lewis Douglass, sons of Frederick Douglass, served in this unit, which is also the subject of the acclaimed 1989 film Glory. Many Union soldiers' lives were lost at the Port of Charleston battle, and the fort ...