The Looting of the National Museum of Iraq
This article relates to A Disappearance in Damascus
When looking back on the Iraq War, many American policy decisions stand out for their shortcomings, such as de-Baathification, which removed all experienced civil servants from government in one stroke; and disbanding the army, thereby leaving thousands of trained soldiers out of work and on the street. Another example, while less deadly, was materially and morally shattering: the failure to guard the National Museum of Iraq in the immediate aftermath of combat operations.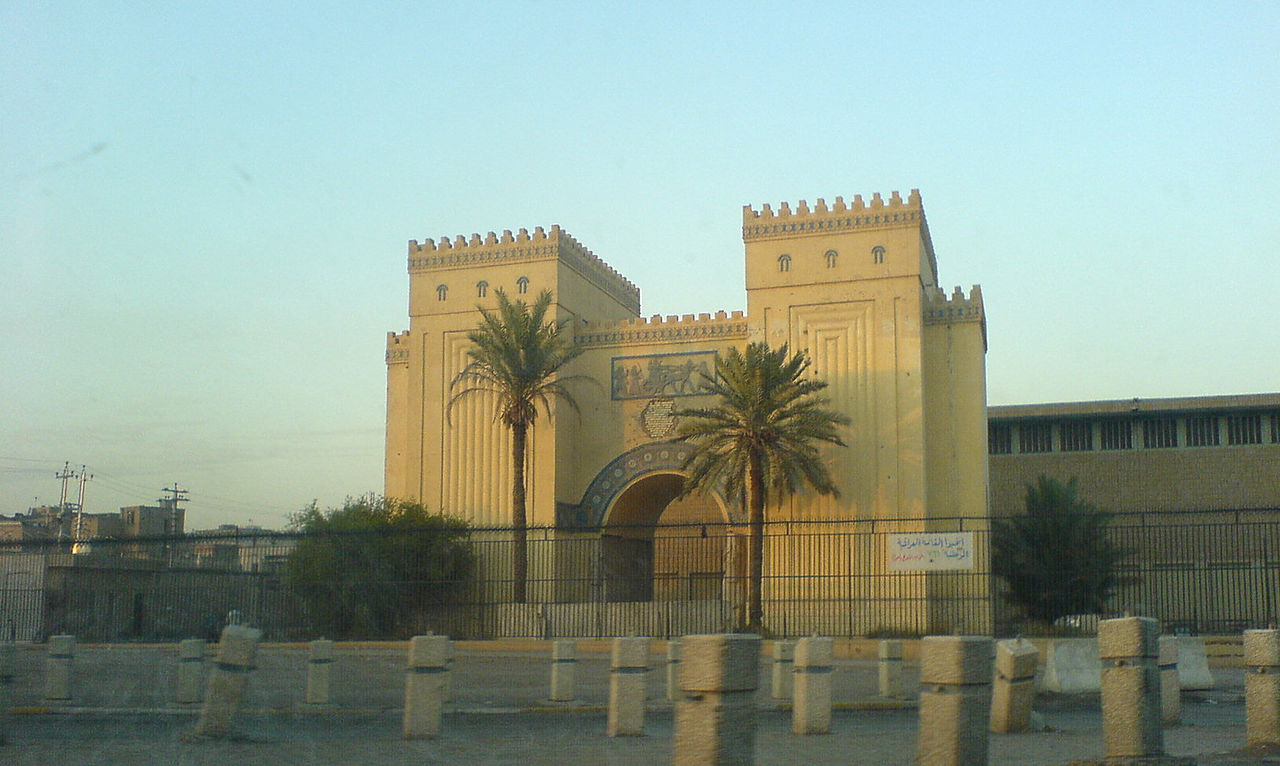 click for bigger image
In the span of a few days in April 2003, as U.S. forces defeated Saddam Hussein's government in Baghdad, the city's National Museum of Iraq was robbed of an estimated 15,000 items in an orgy of looting. Was this, as Donald Rumsfeld characterized it, an example of how "stuff happens" in war? The raiding of the museum was in fact the result of multi-faceted failures in planning and policy.

Prior to the invasion, American defense department officials believed the fighting would be swift, and all the pieces of a functioning democratic state would fall into place almost immediately. Pentagon officials assumed that grateful Iraqis would install western-style institutions right away.

This vision seems sadly comical now, but in 2002 it resulted in the Departments of Defense and State neglecting to think about risks to cultural heritage in any post-combat disorder or plan for its protection. With only a light ground force (and no military police) protecting the museum and other cultural sites was neither prioritized nor provided for by top officials.

On the eve of the war, experts from universities and museums repeatedly alerted the U.S. government about the risk of looting, but they were met with bureaucratic and institutional disunity. The Pentagon ignored work at the State Department on post-war planning. Correspondence with diplomats went unanswered when archaeologists raised alarms. And when government officials did finally meet with a group of museum curators and one archaeologist, once on January 24, 2003, they focused on compiling lists of buildings and locations to avoid during bombings. This information was admirably adhered to, undoubtedly saving lives as well as precious artifacts during active combat, but the conversations passed over the risk of looting despite experts' warnings.

The antiquities community wasn't always altruistic either—scholars suspected that museum curators wanted to take advantage of regime change to loosen Iraq's laws on exporting artifacts. Academic archaeologists refused to collaborate with curators and collectors whose demand for objects often fuels illicit trade in antiquities. Thus, at a time when government officials weren't thinking about cultural heritage, groups that could have banded together to amplify their voices failed to do so because of long-standing animosities.

In his book The Rape of Mesopotamia: Behind the Looting of the Iraq Museum, author Larry Rothfield reports that outside assistance was lacking as well. The UN and U.S. were at odds over the war, so UNESCO couldn't provide advice or information about sites and items to protect.

It all culminated on April 10, 2003, when looters broke through a window at the National Museum and rampaged in waves. Some just smashed and grabbed; others clearly knew what they were doing. Locating boxes in the basement where museum staff had hidden thousands of objects, they pilfered cylinder seals, coins, and jewelry with surgical precision. Statues, cuneiform tablets, and friezes—all too large for the museum staff to have carried to the basement—were carted off from the museum's main floor. The stolen materials dated from as far back as the 9th century BC, some of the earliest artifacts of human civilization. Even the item catalog kept on simple index cards was destroyed.

In the aftermath of the looting, there was much hand-wringing and some belated efforts to recover stolen artifacts. Forty-three hundred items have been returned and the museum has since reopened. But the continued upheaval in Iraq allowed the destruction of archaeological sites and the black market trade in antiquities to flourish. When ISIS took control of swathes of the region it only got worse, as seen by the destruction of ancient Palmyra in neighboring Syria.

As the international community surveys the chaos unleashed by the Iraq war and grapples with the repercussions, we can only hope that lessons are learned and protection of cultural heritage gains much-needed visibility.


Filed under Places, Cultures & Identities
This "beyond the book article" relates to A Disappearance in Damascus. It originally ran in September 2017 and has been updated for the September 2018 paperback edition. Go to magazine.
This review is available to non-members for a limited time. For full access become a member today.
Membership Advantages
Reviews
"Beyond the Book" articles
Free books to read and review (US only)
Find books by time period, setting & theme
Read-alike suggestions by book and author
Book club discussions
and much more!
Just $45 for 12 months or $15 for 3 months.