Claire Cameron's The Last Neanderthal stirs interest in our closest evolutionary relative, Homo neanderthalensis.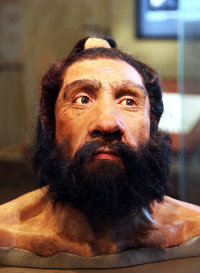 Evidence from both fossil and genetic research suggests that Neanderthals and modern humans evolved from a common ancestor between 500,000 and 200,000 years ago. Neanderthals lived in Europe and southwestern and central Asia. The regions inhabited by Neanderthals overlapped with early Homo sapiens for some period of time, and interbreeding is confirmed: most modern humans have between 1% and 4% Neanderthal DNA.
The Neanderthals were not much different from us. National Geographic's GENOgraphic project's web page on Neanderthals states that a "growing number of scientists have argued that the Neanderthals' similarities to modern humans far outweighed any differences." Some comparisons include:
Evidence suggests that the Neanderthal body shape was shorter and stockier than modern humans, and they had thick, strong bones.
Neanderthals had skulls that were more ...