Homo Neanderthalensis
This article relates to The Last Neanderthal
Claire Cameron's The Last Neanderthal stirs interest in our closest evolutionary relative, Homo neanderthalensis.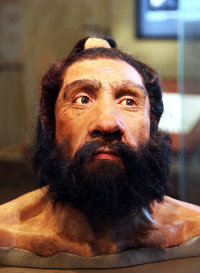 Evidence from both fossil and genetic research suggests that Neanderthals and modern humans evolved from a common ancestor between 500,000 and 200,000 years ago. Neanderthals lived in Europe and southwestern and central Asia. The regions inhabited by Neanderthals overlapped with early Homo sapiens for some period of time, and interbreeding is confirmed: most modern humans have between 1% and 4% Neanderthal DNA.
The Neanderthals were not much different from us. National Geographic's GENOgraphic project's web page on Neanderthals states that a "growing number of scientists have argued that the Neanderthals' similarities to modern humans far outweighed any differences." Some comparisons include:
Evidence suggests that the Neanderthal body shape was shorter and stockier than modern humans, and they had thick, strong bones.
Neanderthals had skulls that were more oval-shaped than ours today with a low, receding forehead and distinct brows.
They appeared to have larger noses than ours, believed to be helpful for warming cold air.
Their brains might have been as large as ours, in fact possibly proportionally larger when compared to their body size.
Similar to early Homo sapiens, it is believed that Neanderthals made and used tools including fire, constructed and lived in shelters, made and wore clothing, and were skilled hunters.
Suggesting a level of emotional and cultural connection, there is evidence that Neanderthals occasionally made objects of ornamentation and that they buried their dead and marked the gravesites.
Our cultural characterization of Neanderthals tends to be animalistic – including adjectives such as grunting, stooped, club-wielding, or hairy. Claire Cameron's depiction challenges this long-held stereotype and makes one wonder how Neanderthals may have interacted with early humans.

New research is shifting those earlier assumptions; Cameron describes how, in an interview published in Canadian Notes & Queries. For example, prior to the 1980s, it was assumed that Neanderthals were not capable of speech – thus we imagined a "grunting" being. But in the eighties, archaeologists found bones matching the ones in Homo sapiens that anchor the tongue, and enable human speech. In addition to finding that bone and Neanderthal remains, scientists have also discovered, through genetic research, that Neanderthals possessed the gene that – for us – is important for speech.

The caricature of "stooped" can also be explained away. Much of what was originally known of Neanderthals came from a specific Neanderthal skeleton which can now be viewed in the context of additional skeletons as well as advanced scientific methods. Says Cameron, "It took almost 50 years and a thorough re-examination of the artifacts to establish that the Neanderthal remains actually belonged to an old man who was toothless and suffered from osteoarthritis, hence the stooped posture."

It isn't clear why the Neanderthals went extinct around 40,000 years ago, but some current theories include climate change and competition from Homo sapiens. Then there is the argument put forward by Briana Pobiner, paleoanthropologist at the Smithsonian's National Museum of Natural History, who points out that "everyone alive today whose ancestry is from outside of Africa (where Neanderthals never lived) carries a little bit of Neanderthal DNA in their genes." It is a compelling concept that may be answered by future discoveries.


Pictures from Tim Evanson, Smithsonian Museum of Natural History

Filed under Medicine, Science and Tech
This "beyond the book article" relates to The Last Neanderthal. It originally ran in June 2017 and has been updated for the April 2018 paperback edition. Go to magazine.
This review is available to non-members for a limited time. For full access become a member today.
Membership Advantages
Reviews
"Beyond the Book" articles
Free books to read and review (US only)
Find books by time period, setting & theme
Read-alike suggestions by book and author
Book club discussions
and much more!
Just $45 for 12 months or $15 for 3 months.