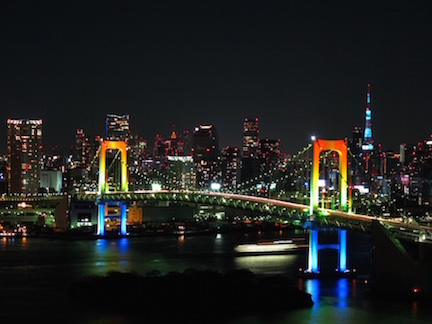 The Rainbow Bridge spanning Tokyo Bay plays a fundamental role in Blue Light Yokohama. It becomes almost a character, as if the 800 meters (2,625 feet) spanning Tokyo's Shibaura Pier to Odaiba's waterfront is a metaphor for crossing the chasm between good (the enforcement of the law) and evil (murder).

But the double-deck Rainbow Bridge is as real as the steel used in its construction in 1993 by Kawasaki Heavy Industries. Kawasaki's roots can be traced back to 1878, when Shozo Kawasaki established Kawasaki Tsukiji Shipyard in Tokyo.

In a suspension bridge towers provide lift points for the roadway, spanning whatever chasm must be crossed. Cables hang from the towers, supporting the roadway. Historians suggest the Chinese had crude forms of suspension bridges as early as the eighth century. The Rainbow Bridge, with its suspension towers restricted in height to accommodate the flight patterns of nearby Haneda Airport, also incorporates a pedestrian walkway. It'...