Deborah Heiligman's Vincent and Theo draws on the hundreds of letters that passed between the Van Gogh brothers. There are various editions of Vincent's letters, including a 2009 version endorsed by the Van Gogh Museum that contains all Van Gogh's letters to his brother Theo. The letters between Theo and his wife, Johanna, are also available in translation as Brief Happiness (1999), and Jo left a short memoir of Vincent.

Here are four more books, not limited to the young adult genre, that allow for further reflection and/or speculation about Vincent van Gogh's career and character.

Sunflowers by Sheramy Bundrick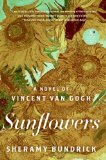 A young prostitute seeking temporary refuge from the brothel, Rachel awakens in a beautiful garden in Arles, France, to discover she is being sketched by a red-haired man in a yellow straw hat. This is the eccentric painter Vincent van Gogh, and their meeting marks the beginning of a remarkable relationship. He arrives at their first assignation with a bouquet of ...