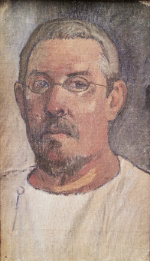 In Castle of Water, one of the characters is headed to the Marquesas Islands, part of French Polynesia, because he wants to pay his respects to the renowned French painter, Paul Gauguin, who breathed his last there.

Paul Gauguin was born in 1848 in France to a French father and a mother with mixed French and Peruvian heritage. While Gauguin was still a child, his journalist father decided to travel to Peru to develop his career there but unfortunately died along the way. Gauguin's mother journeyed on and lived in Lima for a few years, eventually returning to France along with Paul and his siblings.

Given his prodigious fame in the art world and his talents, it is surprising that Gauguin did not have formal training; he chanced upon painting as a hobby while pursuing other careers—first in the Merchant Marine and later, as a stockbroker. Then a market crash brought his career in the financial world to a grinding halt and he took this as an opportunity to pursue his art...