An Interview with Maxine Beneba Clarke
This article relates to Foreign Soil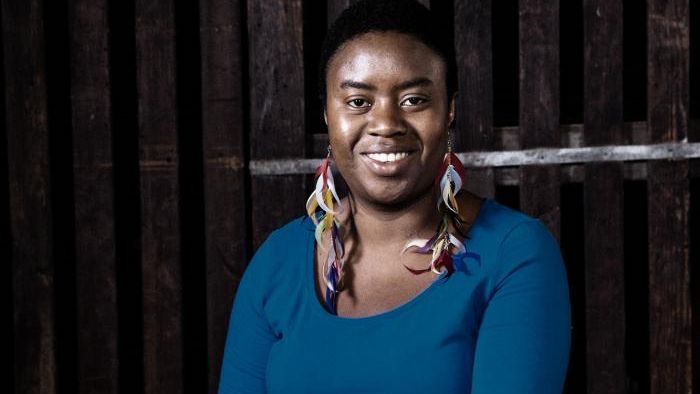 Maxine Beneba Clarke came to fiction through poetry, both written and spoken word. She was born in Australia to a Jamaican father and Guyanese mother. Her parents immigrated to the UK before settling in Australia. Her books include a memoir, The Hate Race; a children's book, The Patchwork Bike; and the poetry collections Carrying the World, Gil Scott Heron Is On Parole, and Nothing Here Needs Fixing. She won the 2017 Victorian Premiers Literary Award for Poetry. Foreign Soil won Literary Fiction Of the Year, Australian Book Industry Awards (ABIA) 2015, Debut Fiction, Indie Book Awards 2015, and the Victorian Premier's Unpublished Manuscript Award 2013. The Sydney Morning Herald named her Best Young Novelist of the Year 2015.

Naomi Benaron is a fiction writer, poet, and social activist. She has worked extensively with the African refugee population in her community, teaches online through the Afghan Women's Writing Project, has been involved with aiding Rwandan genocide survivors and is committed to working to end genocide on a global scale. Her short story collection, Love Letters from a Fat Man, won the 2006 Sharat Chandra Prize for Fiction, and her novel, Running the Rift, won the 2010 Bellwether Prize for Fiction and was shortlisted for the 2013 Commonwealth Book Prize. She interviews Maxine Beneba Clarke below.

The characters in Foreign Soil stand either literally or metaphorically on foreign soil. In the story "Shu Yi," the first-person narrator says, "My blackness was the hulking beast crouched in the corner of every room, and absolutely nothing was going to make it seem cool." I wonder if this awareness of color difference that you attribute to your narrator was your foreign soil growing up black in a white neighborhood of Sydney. Could you speak to how your own experiences contributed to the genesis of Foreign Soil?

I'm definitely inspired in my work to tell 'outsider stories,' but I feel as if these stories of unbelonging are also stories about how similar we all are, despite our differences. I grew up in a black migrant family in a very Anglo Saxon white picket fence area of Australia, and I didn't have access to literature which reflected my own world. So the story "Shu Yi", in particular, was about making space for a story about someone very similar to me. But "Shu Yi" is also about lateral violence, and the way that trauma and oppression is often handed down from above, and then passed along the line to those beside us – the way it can diminish all of us, sometimes in ways we don't expect. In a sense, Foreign Soil as a work tries to grapple with this on a more global scale. I have an African diaspora background which journeys across Africa, the Caribbean, Australia and England, so I was interested in the issue of migration and the movement of people around the world: the notion of 'home' and how the very concept of 'home' can be complex, and fractured.

Much of your work involves the stark and frank description of brutality and trauma. My two favorite stories (if I had to choose!) are "David," which deals with the Janjaweed militia and the violence in Sudan, and "The Stilt Fishermen of Kathaluwa," which deals with the 26-year-long civil war in Sri Lanka. What inspired you to write these stories?

I was inspired in some ways by resistance to 'soundbite culture.' When we see images of war, or a refugee crisis in the media we see fleeting hordes of distressed people – they're presented to us as a homogenized mass, and only rarely do we get to hear an individual's story. I wanted to explore these issues on a micro level. What does immigration detention mean to one 17 year old boy, and the lawyer trying to help him? I also have a background in human rights law, so these are the issues that keep me up at night. For me, writing is a compulsion to analyze the world around me, and to try and make sense of it. Thematically, that means writing about issues of contemporary concern, and creating difficult, complex, sometimes unlikeable characters whose lives engage with these issues.

I dislike labels, but as someone who identifies as a writer of Witness (which I define as the process of bringing to the page an event both catastrophic and far-reaching in nature and to let the words serve as as a representation of truth. The author may be a direct witness or an "imagined" witness) I am curious to know if you consider yourself a writer of Witness, and if your future work will also deal with these topics.

Moving around in the world as a woman of color, I consider myself unavoidably a person of Witness, so in a sense, I think it is impossible to be anything other than a writer of Witness. My recently released memoir The Hate Race is about growing up black in white, middleclass Australia, and my most recent poetry collection Carrying The World, set partly at the International Museum of Slavery in Liverpool, England, also deals with blackness, poverty and colonization. I'm currently working on a second short fiction book, which will be less specifically based around race, but I'm interested in humanity, in all its joy and despair. I'm interested in exploring the way humans co-exist, and the way we treat each other. I don't expect that to ever change.

Foreign Soil begins with an epigraph from Chinua Achebe: Let no one be fooled by the fact that we may write in English, for we intend to do unheard-of things with it. In his book Decolonizing the Mind, novelist and essayist Ngũgĩ wa Thiong'o says, "The choice of language and the use to which language is put is central to a people's definition of themselves in relation to their natural and social environment…" In other words, language is power. How do you define the politics of language in your work, and how does this influence your choice of structure and narrative?

Language choice is always very instinctive to me. I don't think overtly about deconstructing language or social hierarchies, or power systems, it's just what feels right and true and loud for the particular story I'm working on. "Big Islan", for example, is about a Jamaican man learning to read. The story was originally written in standard English, and I kept reading it over and thinking "There's something not right about this story, but I don't know what it is." Eventually I realized that the story needed to be written in an extremely lyrical and poetic patois. I wasn't thinking "I need to give my protagonist more power" at the time, it just seemed like the right choice. In hindsight, I see that by writing the story in standard English, I was unintentionally diminishing the protagonist's reality – the reality of being 'locked out of language." What I did in using patois to narrate the entire story was put the fluent English speaker in the exact position that my protagonist was in. In order to read the story, they would have to decipher the patois and in the process, unlearn everything they thought they knew about language. But it wasn't an academic decision at the time of writing, I just thought "Aha, the story needs to be in dialect, that's what it is!" And off I went rewriting it.

I did think quite a bit though about challenging the notion of what 'good English' is. In the story "David", one of the characters speaks English as a second language. Though her English speaking is fragmented, it's not broken or stilted. Her repetition of works and grammatical peculiarities aren't a hurdle or a hindrance, they make her speech more emotive and rhythmic.

You have a poetry collection entitled Gil Scott Heron Is on Parole; in an interview with Andrew Cattanach, you say that if you were to put a soundtrack to Foreign Soil, it would include Heron's "The Revolution Will Not Be Televised." Gil Scott Heron's work has a special place in my heart. I came of age with his words raging on my radio, and I can hear both his beat and his message in the narratives of some of your characters. How did you come to his work and how has he been an influence in your work?

My childhood home was always full of music. My Dad had an excellent record collection, and it was full of gems like Gil Scott Heron, The Last Poets, Linton Kwesi Johnson, Prince, The Pointer Sisters and Joan Armatrading. Like most of the writers I admire, Gil Scott's work is raw, urgent, and packs a punch responding to issues of his day. It's unapologetically political, but also beautifully crafted. This kind of work, I am always inspired by.
Filed under Books and Authors
This "beyond the book article" relates to Foreign Soil. It originally ran in March 2017 and has been updated for the October 2017 paperback edition. Go to magazine.
This review is available to non-members for a limited time. For full access become a member today.
Membership Advantages
Reviews
"Beyond the Book" articles
Free books to read and review (US only)
Find books by time period, setting & theme
Read-alike suggestions by book and author
Book club discussions
and much more!
Just $45 for 12 months or $15 for 3 months.