Beyond the Book:
The Big Dry - Rivers and Drought in Australia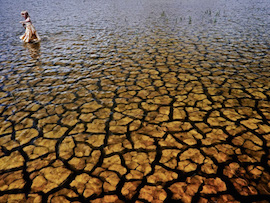 The Big Dry was a nine-year drought experienced in Southeastern Australia from 2003 to 2012. The region suffered the most severe dry period in recorded history and assumptions made by early pioneering colonists – that there would always be wet periods in these lands – began to be questioned. The alternative, that there might be long, significant periods of hot, dry weather was taken more seriously, and the consequences studied for how the population, the ecosystem and the agricultural industry could sustainably survive under such conditions.

The drought caused serious water shortages in many rural and metropolitan areas, significant agricultural losses, deaths of animals and the loss of a way of life for many farmers. It also dried out one of two of Australia's major river systems with subsequent far-reaching damage to the interconnected ecosystem that depended on those sources. Many animals live in and around Australia's rivers. Fish, frogs, crayfish, mussels, platypuses, swans, ducks, pelicans, kangaroos, lizards, snakes, crocodiles, turtles and tortoises can all be found there. The river, its groundwater system and its associated plants and animals, create an important and life-giving ecosystem.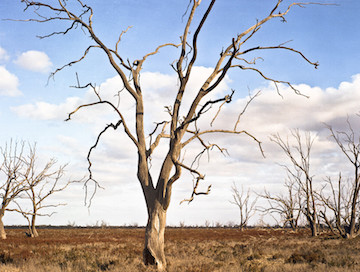 Although Australia is described as the driest continent, ironically it is not short of water. With its population of around 24 million people, it is well endowed with it, but problems arise due to the location of water in relation to the main population centers and the low levels of run-off; and the uses to which water is put, which rising temperatures have exacerbated. Relative to its land area, Australia has the lowest rainfall and run-off of all continents. Most of the rainwater evaporates or is used by trees and plants, or ends up in lakes, wetlands or the ocean. Less than 20 percent ends up in rivers, causing an irregular flow, meaning sometimes a river is wide, deep and fast flowing, and other times it is shallow, narrow and slow flowing or - as happens in Jane Harper's taut debut novel The Dry – disturbingly, completely dry:
The huge river was nothing more than a dusty scar in the land. The empty bed stretched long and barren in either direction, its serpentine curves tracing the path where the water had flowed. The hollow that had been carved over centuries was now a cracked patchwork of rocks and crabgrass. Along the banks, gnarled gray tree roots were exposed like cobwebs.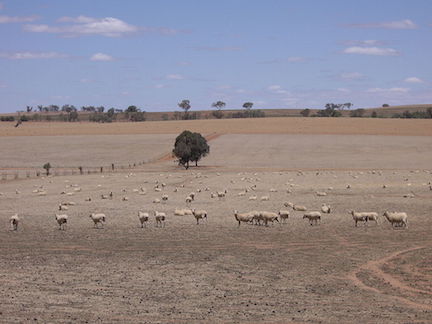 The causes of the Big Dry remain elusive and are much debated, but it is clear from studies that the intensity of the long drought is connected, in part, to rising global temperatures and the changing patterns of ocean temperatures.
Photograph, by Rodney Dekker, of a young girl plays in Laanacoorie Reservoir in Victoria, Australia in 2007, courtesy of www.newscientist.com
A tree caught by the effects of The Dry, courtesy of the conservation.com
Dry paddocks in the Riverina region during the 2007 drought
This article was originally published in February 2017, and has been updated for the January 2018 paperback release. Click here to go to this issue.
This article is available to non-members for a limited time. You can also read these articles for free. For full access, become a member today.
Membership Advantages
Reviews
"Beyond the Book" backstories
Free books to read and review (US only)
Find books by time period, setting & theme
Read-alike suggestions by book and author
Book club discussions
and much more!
Just $10 for 3 months or $35 for a year