Secret Identities Revealed - Children of the Holocaust
This article relates to Moonglow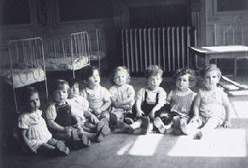 Of the many forms of resistance during WWII, some of the most fascinating and poignant stories involve hiding young Jewish children – including the most famous of them all, that of Anne Frank. While her story reached international acclaim, other tales went untold for decades, partially because many of them took place in countries that ended up under Communist rule after the war. However, with the fall of Communism, these stories started to come to the fore.

For example, I was privy to the story of a Polish woman who I heard speak at a gathering at the Jerusalem offices of the American Jewish Joint Distribution Committee. She was called to her mother's deathbed who made a final confession – that she wasn't actually her biological daughter. A young Jewish couple came to her in desperation, looking for a place to hide their baby girl, and she had agreed. Not long after the war was over, the mother of the child (who had survived) went to reclaim her daughter. However, instead of handing the girl over, the woman told the mother that the child had died, so she could continue to raise her as her own. Now that she herself was dying, this lie weighed on her conscience.

This daughter was only one example of people hidden during the war as children. Some people found documents and letters after their "parents" died. You can imagine how learning such a truth so late in their lives could lead to an identity crisis. Here they believed that they were one person, when in fact, they were someone else altogether; their whole lives were essentially a lie. Others knew their real pasts all along, but Communism prevented them from finding their biological families. Furthermore, revealing this to their new family members wasn't always a pleasant matter. For example, here's one anecdote recorded in 1995 by Dr. Zvi Feine, the American Jewish Joint Distribution Committee's Country Director for Poland:
Mr. R approached a Jewish travel agent for help to buy a ticket for his first trip to Israel. He told her that his two sons had disowned him. All his life, he never told his sons he was Jewish. When he applied for a passport and had to identify his former family name, he decided to tell his sons he was Jewish. They entirely rejected him. They had been educated to be anti-Semitic. They were very angry with him and felt terrible about themselves (as if they were now somehow dirty or disgusting). They cut off all contact with their father. This is a typical, authentic story that one hears these days in Poland.
With the fall of Communism and the new freedom that came with it, finding the truth must have been paramount for many people. When the daughter above started looking for her birth mother, she stumbled upon other stories and other people hidden as children during the war through various Jewish organizations in Poland. Discovering other people with something this significant in common must have been a huge relief; finding dozens (and later hundreds) of them must have been overwhelming. These people got together to start a "Hidden Children" support group, which later became The Association of Children of the Holocaust in Poland (which in turn, joined up with dozens of other similar groups and associations across the world). It is good to know that these Children of the Holocaust found a safe haven for help, including a place where they can tell and preserve their stories for future generations.

There are many stories of Jews who did amazing things to survive or keep family members alive during the Holocaust. Many of the stories of those brave deeds will forever be buried. For others, the truth eventually came out. Just imagine how you would feel in that situation; finding out that everything you thought about yourself was a lie must have been a harrowing experience.
A photograph of toddlers in a children's home in Etterbeek, Belgium. They survived in hiding, but their parents had been deported to Auschwitz, courtesy of The United States Holocaust Memorial Museum.
This "beyond the book article" relates to Moonglow. It first ran in the January 18, 2017 issue of BookBrowse Recommends.
This article is available to non-members for a limited time. You can also read these articles for free. For full access, become a member today.
Membership Advantages
Reviews
"Beyond the Book" backstories
Free books to read and review (US only)
Find books by time period, setting & theme
Read-alike suggestions by book and author
Book club discussions
and much more!
Just $10 for 3 months or $35 for a year