The titular character of Lillian Boxfish Takes a Walk is modeled after real-life ad copywriter and poet, Margaret Fishback.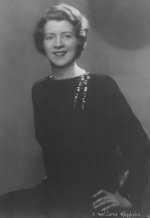 In a detailed biography of Fishback at the Poetry Foundation, Lillian Boxfish author Kathleen Rooney offers us a fascinating glimpse of a woman who was far ahead of her time, taking to print to declare that she didn't need a husband to support her. Starting out as a school teacher, Fishback took on a job at the lower rungs of copywriting at the prestigious department store R. H. Macy's (today referred to simply as Macy's) but quickly rose through the ranks, eventually becoming chief copywriter. She was a highly paid woman in the advertising world of the 1930s, a time when the Great Depression firmly had its grip over the United States.

The field of advertising, as most others, was dominated by men. Yet Fishback, with her whimsical yet succinct rhymes, succeeded in selling products to other women through her advertising.

A memorable ad for Macy's ...