Jim Crow Laws
This article relates to Blood at the Root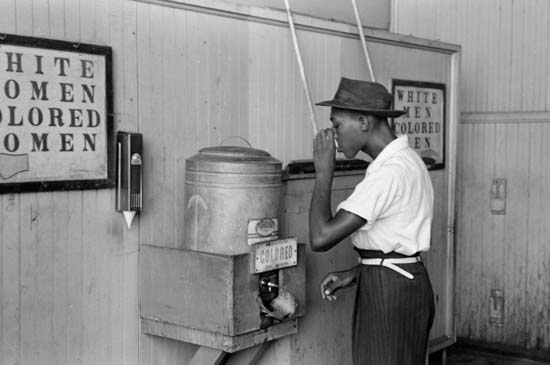 Patrick Phillips' non-fiction book Blood at the Root: A Racial Cleansing in America examines a specific rape and murder of a white girl that occurred in 1912, in Forsyth County, Georgia. It also examines, more broadly, the South during that time. Following the end of the Civil War and the passage of Constitutional Amendments Thirteen through Fifteen between 1865-1870, former slaves gained civil liberties and basic human rights they could have only dreamed of just a few years earlier.

In the 1870s, African Americans held political positions for the first time in history at both the local and state levels – and in late 1872, Pinckney Pinchback became America's first African American governor (Louisiana). His time in the position was short-lived. Then Federal troops withdrew from the South following the Compromise of 1877, which occurred because Rutherford Hayes needed the disputed votes of several Southern states to push him over the margin to win the Presidential election. According to History.com, "As a bipartisan congressional commission debated over the outcome early in 1877, allies of the Republican Party candidate Rutherford Hayes met in secret with moderate southern Democrats in order to negotiate acceptance of Hayes' election. The Democrats agreed not to block Hayes' victory on the condition that Republicans withdraw all federal troops from the South, thus consolidating Democratic control over the region." The removal of Federal troops meant a return to the "good ol' boy" system of justice, which excluded equality for blacks, whose loss of voting rights meant a return to an all-white government body. The system that followed became known as "Jim Crow."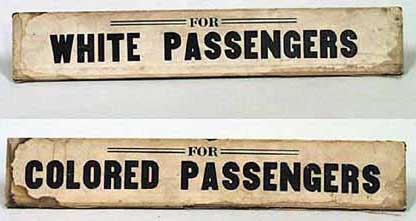 According to Ferris State University's Jim Crow Museum, the term "Jim Crow" originated from a theatrical character. In the 1830s, Thomas Dartmouth Rice was a white actor who performed in blackface makeup as "Jim Crow." The character, of course, stereotyped blacks in an unfavorable way. The website explains, "By 1838, the term 'Jim Crow' was being used as a collective racial epithet for blacks… By the end of the 19th century, Jim Crow was being used to describe laws and customs that oppressed blacks."

Jim Crow laws hit their stride following Plessy vs. Ferguson in 1896. Homer Plessy, an octoroon (person who is one eighth black by descent), was arrested for sitting in a "whites only" railroad car during a train voyage in Louisiana. His case went all the way to the Supreme Court, which upheld the decision of "separate but equal." The separate but equal doctrine allowed for the further disenfranchisement of black Americans. States began to pass laws that ensured African Americans lost their basic civil liberties, including the right to vote. While Jim Crow prevailed in the Southern states, it extended in the North – major cities there still had their fair share of killings, cross burnings, and riots.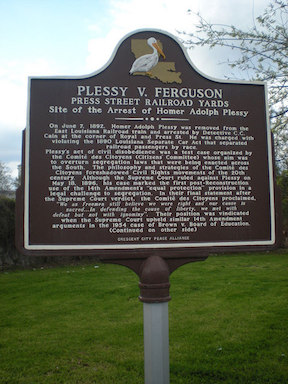 Under the scrutinous eye of the Jim Crow South, black Americans experienced great suffering. They did not receive equal treatment in courts, jails, hospitals, schools, or public places; and more than that, they lost their ability to protect themselves legally and, at times, even physically. Lynchings occurred in unprecedented numbers, including an estimated 161 in 1892.

It is no surprise, therefore, that when a young white girl died after being reportedly raped by three black men in Forsyth County, Georgia in 1912, those men did not stand a chance for a fair trial - or even to keep their lives. When the white citizens of Forsyth County made threats against almost every black person residing within its lines, most of them left, an estimated 1,100 people, for no laws could protect them in the Jim Crow South.
Jim Crow laws in action, courtesy of Britannica
Typical sign in Jim Crow South, courtesy of ferris.edu.
Sign for Plessy vs. Ferguson, courtesy of Constitutional Rights Foundation
Filed under People, Eras & Events
This "beyond the book article" relates to Blood at the Root. It originally ran in September 2016 and has been updated for the September 2016 edition. Go to magazine.
This review is available to non-members for a limited time. For full access become a member today.
Membership Advantages
Reviews
"Beyond the Book" articles
Free books to read and review (US only)
Find books by time period, setting & theme
Read-alike suggestions by book and author
Book club discussions
and much more!
Just $12 for 3 months or $39 for a year.