Criminal Justice Theories
This article relates to Riverine
In the second half of her memoir, Riverine, Angela Palm uses terms she learned from her college criminal justice classes as headings to organize the material. Here's a closer look at a few:

The Broken Windows Theory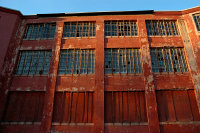 In 1982, social scientists James Q. Wilson and George Kelling proposed the broken windows theory to explain why particular neighborhoods become prone to crime. Essentially they viewed criminality as an incremental progression, starting with misdemeanors and moving up to serious infractions; thus, rather than focusing on major crimes, they started small. Living in an unsafe community where disorder reigns – where broken windows remain unrepaired and so it feels like the local government and the police do not care about the area – predisposes residents to crime, Wilson and Kelling argued. The atmosphere of lawlessness then encourages an escalation of crime in the neighborhood. This theory has been influential in urban crime management ever since, even if there are debates about its effectiveness. For instance, in New York City, the police keep a close eye on minor problems like subway fare evasion, graffiti, and public drunkenness, in the hopes that the vigilance might subconsciously affect people's decisions.

The Biological Theory of Deviance

The notion of deviance was first put forward by the Italian School of Criminology in the mid-nineteenth century. The head of the school, Cesare Lombroso, believed that criminality was a visible, bodily trait; he also used the term "atavism" to describe criminals' resemblance to more "primitive" human beings. Some of the physical signs of deviance he pinpointed were large ears, a flat nose, long arms, droopy eyes, sloping shoulders, and a protruding jaw. Similar to phrenology (the study of head bumps and what they might signify), this antiquated biological theory has been disproven, but traces of it have persisted. For example, 1940s psychologist William Sheldon believed that the "mesomorph" body type (stocky and muscular) is most prone to crime. Even today some people think criminals can be identified by a shifty appearance. There is something fatalistic about this idea: if people are born with a predisposition to crime, how can they ever hope to live a better life? See Beyond the Book for The Dinner for a related discussion.

The Self-Fulfilling Prophecy

This is the theory Angela Palm specifically associates with her friend, Corey. Also called stereotyping or the labeling theory, this originated with sociologists (such as Edwin Lemert, Howard Becker, Albert Memmi, and Erving Goffman) in the 1960s and is based on the idea that individuals form their identity through interactions with other people. Others' expectations influence the social role that they play. The stigma placed on criminals only reinforces their position as outsiders, making it more likely that they will become repeat offenders.


Picture of abandoned hospital with broken windows by Karan Jain

Filed under Society and Politics
This article relates to Riverine. It first ran in the September 21, 2016 issue of BookBrowse Recommends.
This review is available to non-members for a limited time. For full access become a member today.
Membership Advantages
Reviews
"Beyond the Book" articles
Free books to read and review (US only)
Find books by time period, setting & theme
Read-alike suggestions by book and author
Book club discussions
and much more!
Just $12 for 3 months or $39 for a year.