Lieutenant Henry Tureman Allen - Alaskan Explorer and Decorated US Major General
This article relates to To the Bright Edge of the World
Just as reading a Russian folktale inspired her to write The Snow Child, so too did the concept for Eowyn Ivey's second novel arise from a piece of literature - this time on the fragile pages of a rare book she discovered at the bookshop where she worked.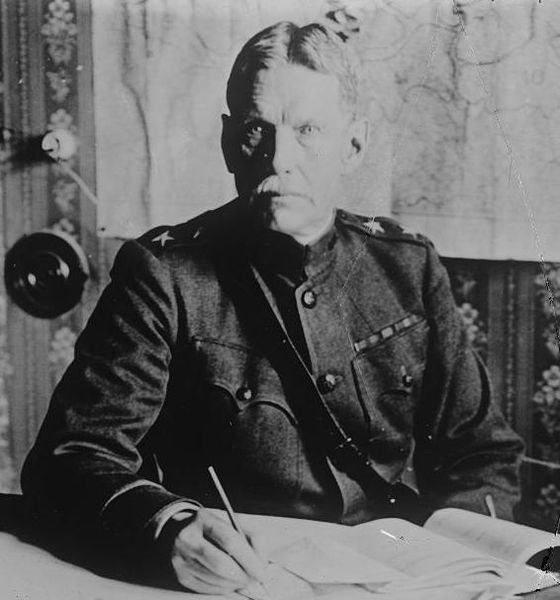 Too expensive to purchase, she asked the owner's permission and took it home for an evening. Staying up late, she read passages aloud to her husband. Despite growing up in Alaska, this was an elemental history of the region she knew nothing about. The book was Lieutenant Henry Allen's Report of an Expedition to the Copper, Tananá, and Kóyukuk Rivers, and it would become the inspiration for her novel, To the Bright Edge of the World, the fictitious Wolverine River already established in her imagination, having made its debut in The Snow Child.

"No man through his own individual explorations has added more to our knowledge of Alaska than Lieutenant Allen," said Alaskan geologist, Alfred Hulse Brooks in Walter Borneman's book Alaska: Saga of a Bold Land. Born in 1859 in Kentucky, Henry Allen was the thirteenth child in a family of fourteen. He graduated from West Point Military Academy, joining the cavalry in 1882. Two years later he was assigned to serve in Alaska. He would serve at Fort Keogh, Montana, as military attache to Russia (1890–1895) and Germany (1897–1898), fight in the Spanish-American war in Cuba, become military governor in the Philippines in 1901, an observer with the Japanese Army in Korea in 1904, and fight in World War 1.

Back to Alaska though: In 1885 the Copper River and surrounding region had not been explored. The Russians had tried and failed (one expedition massacred by the indigenous people living there). In 1884 Lieutenant William Abercrombie attempted a large scale expedition to ascend the river, only to subsequently claim the glaciers, rapids and other obstacles made it impassable. Allen, sent to find Abercrombie, discovered him close to the mouth of the treacherous, impenetrable river.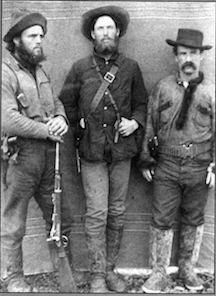 Tall, good-looking and charming, Henry Allen wasn't seen as serious officer material by some, however he was ambitious and driven. Abercrombie's failure became Allen's challenge, one he would research and devise a strategy to overcome. He would ascend the river, survey the territory and become sufficiently friendly with the native population to gain their trust. The charming aspect of his nature that he'd used to impress women (and that had made some men doubtful of his potential), would become a key factor in his ability to connect with the indigenous people he met along the way. He requested just two men to take with him, Sergeant Cady Robertson and Private Fred Fickett, the latter of whom kept diaries and wrote/received letters to and from his wife, which Eowyn Ivey would access during her research.

The trio had had to abandon many of their supplies, including the tent, ammunition, food and clothing as the soft snow caused their sleds to sink. They slept under ponchos in rain-soaked clothing and foraged or hunted for their supper like the indigenous population, who introduced them to the kind of appetizing delicacies more likely to be witnessed on a reality survival show today – porcupine entrails, rabbit broth, and rotten moose meat if they were lucky. From Private Fred Ficketts' journal: "Indian gave us a dinner of boiled meat, from which we scraped the maggots by handfuls before cutting it up. It tasted good, maggots and all."

A prospector named Pete Johnson temporarily joined the party, in search of his lost partner, John Bremner. At the native village of Taral, hoping for food, they found the near-starved Bremner, who also joined the group. Often they would stop the expedition to hunt, so weakened by the lack of food they'd begin to hallucinate. Again from Ficketts: "So weak from hunger that we had to stop at noon to hunt. All so weak that we were dizzy, and would stagger like drunken men."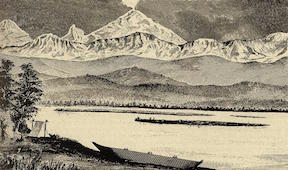 During the expedition, Allen learned how to build and navigate skin boats, a significant accomplishment in the team's penetration of the river, enabling them to move upriver. They were shown a secret outcropping of copper, and Allen's inclusion of this detail in his report led prospectors to the location, later known as Kennecott, said by some mining engineers to be the source of the highest grade copper in the world. It operated from 1911 to 1938 producing copper with a value of between $200-$300 million.

Eventually they left the Copper river and crossed the Alaska Range, becoming the first men to chart the rugged river and one of the highest mountain ranges in North America. Having completed the exploration of the Copper and Tanana rivers ahead of schedule, they set out to map a third major river, the Koyukuk. By its conclusion, Henry Allen's three-man expedition had covered 2,500 miles of unexplored wilderness, charted three major unmapped rivers and explored 1,500 miles of what had been unknown territory .

Despite those who doubted Allen early on in his career, he retired in 1923 as a well-decorated Major General and upon his death, was buried at Arlington National Cemetery.
Henry Tureman Allen
Fred Fickett, Henry Allen and Cady Robertson in St. Michael, Alaska, courtesy of alaskapublic.org
Sketch by Allen, courtesy of truewestmagazine.com
Filed under People, Eras & Events
This "beyond the book article" relates to To the Bright Edge of the World. It originally ran in September 2016 and has been updated for the August 2017 paperback edition. Go to magazine.
This review is available to non-members for a limited time. For full access become a member today.
Membership Advantages
Reviews
"Beyond the Book" articles
Free books to read and review (US only)
Find books by time period, setting & theme
Read-alike suggestions by book and author
Book club discussions
and much more!
Just $12 for 3 months or $39 for a year.