Ambulocetus, The Walking Whale
This article relates to The Bones of Grace
Zubaida Haque, the main character in Tahmima Anam's The Bones of Grace, is a marine paleontologist with a particular interest in Ambulocetus, an amphibious (able to live on land and water) cetacean (carnivorous, finned, aquatic marine mammal) that lived over 40 million years ago. Fossils of Ambulocetus are believed to show how whales evolved from land-living mammals, thus its name which comes from the Latin ambulare 'to walk' and cetus 'whale'. It is more often simply known as the walking whale.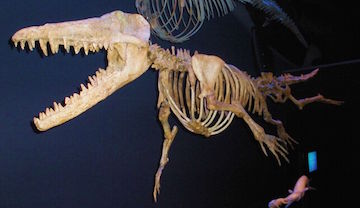 In 1980, American paleontologist Robert West was the first to recognize, based on the teeth, that whales once lived in what is now Pakistan. A year later, Philip Gingerich of the University of Michigan described a whale's braincase from a location on the opposite side of the Indus River. That fossil was given the name Pakicetus, Latin for 'Pakistan's whale'. Most of the fossils have been found in shallow sea or coastal swamp areas of northwest India and Pakistan. When the animal roamed the land, Pakistan was a coastal region of India, which was an island continent.

Ambulocetus had a form similar to a crocodile or a large lizard with short legs a long, slender snout and large carnivorous teeth. It may have fed on prey similarly, holding it in its jaw and drowning it, or using violent thrashing motions. Its short limbs enabled it to get about easily on land and its large feet were useful for paddling in water. Thus it was able to both walk on land and swim in water.



Though they don't look like whales of today, their skulls and, in particular, the ear region, resemble those of living whales and are unlike any other mammal. They are also believed to have been able to drink salt water like whales, and they evolved nostrils that were positioned further back, until becoming the blowholes we know today. Whales move their tails up and down to swim, unlike fish that move back and forth, side to side. This is due to their backbone, which more easily moves up and down, a possible connection to their ancient heritage.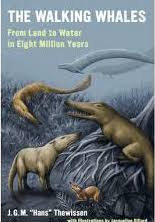 J.G.M. 'Hans' Thewissen, anatomist, neurobiologist and leading researcher in the field of whale paleontology, wrote a first person account of his discoveries in The Walking Whales: From Land to Water in Eight Million Years. He was funded by National Geographical Society to study how land mammals migrated between Indo-Pakistan and Asia across the Tethys Sea around fifty million years ago. During his mission to gather fossil evidence, he was thwarted by the outbreak of war, faced possible kidnap, terrorist attack and the challenges of desert living in trying to unearth the bones of these mythical-like creatures.

Dr. Hans Thewissen introduces the walking whale Ambulocetus in the video below


Fossil of an Ambulocetus
Rendering of an Ambulocetus

Filed under Nature and the Environment
This "beyond the book article" relates to The Bones of Grace. It originally ran in August 2016 and has been updated for the June 2017 paperback edition. Go to magazine.
This review is available to non-members for a limited time. For full access become a member today.
Membership Advantages
Reviews
"Beyond the Book" articles
Free books to read and review (US only)
Find books by time period, setting & theme
Read-alike suggestions by book and author
Book club discussions
and much more!
Just $39 for 12 months or $12 for 3 months.