The Cult of Personality
This article relates to The Noise of Time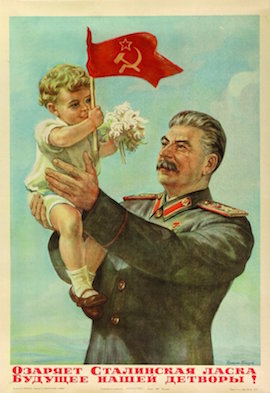 In Julian Barnes' The Noise of Time, Dmitri Shostakovich notes that under Stalin, "[Russians] would listen to [Stalin's] insane daily insistence that all was for the best in the best possible of worlds, that Paradise had been created, or would be created quite soon…when a few more saboteurs had been shot. That happier times would come." He makes tongue-in-cheek references to Stalin as The Helmsman and The Great Leader who has been imbued with supernatural powers – and whose Cult of Personality is far-reaching and incapable of error.

According to Wikipedia, "A cult of personality arises when an individual uses mass media, propaganda, or other methods to create an idealized, heroic, and at times worshipful image, often through unquestioning flattery and praise." These were the tools that Josef Stalin employed when he took over after Lenin's death. His decision to lie Lenin in state as if he were some kind of canonized secular saint automatically made Stalin, heir to Lenin's throne as it were, the same and maybe better. He felt that what the people needed was a strong, charismatic leader whom they could count on to make informed, inspired decisions. According to Xin Lu and Elena Soboleva in their paper, "Personality Cults in Modern Politics: Cases from Russia and China":
First, a cult of personality was developed around Lenin, the founding father of Soviet communism, in order to later shift the focus to Stalin. The aim was to institutionalize the permanent leadership roles associated with charisma. Right after Lenin's death in 1924, the Party undertook certain steps to "immortalize" the dead leader's memory.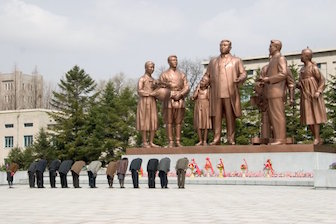 At a time when Soviet Russians felt vulnerable to and threatened by fascism on the one hand and Western democracy on the other, Stalin and a loyal group of followers stepped up to take literal and editorial control of Pravda, the Bolshevik newspaper. It became Stalin's personal mouthpiece. As he gained power and control of the national media in all aspects – from news to poetry to films to music to national holidays and celebrations – his hold on what the Russian population believed of him gained strength. Victories such as in World War II were seen as Stalin's victories. Failures, such as famines and shortages, were portrayed as breakdowns at the local level.

Ultimately Stalin created a kind of political pyramid scheme where his loyal deputies became patrons to anyone who wished to join the party and take their places along the ladder of party bureaucracy. Again, as Xin Lu and Elena Soboleva wrote: "this is how the new ruling class was created 'based not on ownership of property but on its control of the state, which in turn controlled the working class."

Although, historically speaking, the Cult of Personality is not a new concept, modern technology has streamlined the process for creating it. By employing Twentieth Century print and visual media, leaders like Mao, Putin, Kim Jong-il and his son Kim Jong-un, and others have successfully manipulated whole populations and controlled their totalitarian regimes with iron fists. With savvy manipulation of Twenty-first Century social, private and public media, the potential for similar abuse of power increases exponentially for such unsavory types.
Josef Stalin, courtesy of the blog History That Interests Me
People paying homage to Kim-Il-sung
Filed under Society and Politics
This "beyond the book article" relates to The Noise of Time. It originally ran in June 2016 and has been updated for the June 2017 paperback edition. Go to magazine.
This review is available to non-members for a limited time. For full access become a member today.
Membership Advantages
Reviews
"Beyond the Book" articles
Free books to read and review (US only)
Find books by time period, setting & theme
Read-alike suggestions by book and author
Book club discussions
and much more!
Just $12 for a year or $39 for 3 months