Sherman's March To the Sea
This article relates to Fallen Land
Fallen Land is set during the end of the Civil War and describes a landscape in the aftermath of Major General William Tecumseh Sherman's clamp-down of Georgia through which he delivered one of the definitive end points of the war between Union and Confederate forces.

Fallen Land describes the ravages wrought by the General's tactics, writing that deeply affected at least one reader who said, "the writing by Mr. Brown made me feel like I was along for the ride, following along behind Sherman's cursed troops as they left their scar across the South. Yes, I am Southern, born and bred and yes, it does anger me that Sherman felt he had to destroy innocent women and children this way."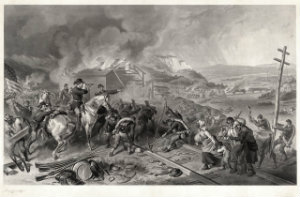 While this description of Sherman's destruction, labeled "total warfare," fits in with the general image most Americans have of him as a cold, unthinking brute who wantonly unleashed death by annihilating any and everything in his troop's path, a fair number of historians claim that Sherman's campaign was a systematically thought-out approach to limit the number of casualties. The goal here was to cripple the enemy by cutting off supply lines. One tactic was to disable the railroads by ripping up rails from the train tracks, heat them on a bonfire until red hot and then wrap them around a tree, thus rendering the entire train route ineffective and giving rise to the term "Sherman's Bowties."

What was Sherman's "March to the Sea?" The Confederate forces in the South were already under pressure from Union forces in the north so Sherman's plan, once he captured Atlanta, was to travel further south, all the way to the sea, and then do what in essence would be a U-turn pinning the Confederate forces from both sides. This path to the sea was not without resistance from Confederate forces and tactics were employed to execute both the march and quell resistance from other quarters.

While much of Atlanta's war machinery was taken down and telegraph and railway lines dismantled, not all of the city was burned to the ground by Sherman's troops as many popular narratives suggest. The troops lived off the land and raided food along the way. Their unsupervised looting of houses and larders gave them a reputation of being unpredictable and worse, dangerous savages.

Weeks after a battle in Griswoldville, Georgia, Sherman's troops, by now systematically routing access and supply units to cripple the Confederate forces, reached Savannah on the ocean and delivered the city to the Union.

Although remembered as a brutal commander, Sherman was generous when enemies surrendered. Despite its reputation, the number of casualties from Sherman's Great March to the Sea was around 3,000 (of which about two-thirds were Union soldiers) a number significantly smaller than the approximate 8,000 killed in three days at the Battle of Gettysburg.

This approach of psychological warfare as advocated by Sherman and executed on a much smaller scale, was one that would be adopted by the United States in future war efforts. It was implemented most notably in the "Shock and Awe" campaign in the Iraq war.


Picture of Sherman's March to the Sea depicting Union soldiers destroying telegraph poles and railroads, and freeing slaves assisting Union soldiers in making their way to safety, from Library of Congress

This "beyond the book article" relates to Fallen Land. It originally ran in January 2016 and has been updated for the January 2017 paperback edition.
This article is available to non-members for a limited time. You can also read these articles for free. For full access, become a member today.
Membership Advantages
Reviews
"Beyond the Book" backstories
Free books to read and review (US only)
Find books by time period, setting & theme
Read-alike suggestions by book and author
Book club discussions
and much more!
Just $10 for 3 months or $35 for a year