The Kibbutz
This article relates to The Heart Goes Last
Atwood's experimental Positron/Consilience project in The Heart Goes Last shares many similarities with the kibbutz movement in Israel, which began in the early 20th century as a way for Jews to develop and settle the land.

The basic philosophy behind the kibbutz embodied Karl Marx's maxim: "from each according to his ability, to each according to his needs." The early kibbutzim (plural for kibbutz) were mostly agricultural settlements with a communal lifestyle (I lived on one for a while too). Everyone had a job with members performing the less desirable ones on a rotating basis. People ate all their meals together and everyone got a very simple furnished place to live in, and clothes to wear. Children lived in communal homes and were taken care of by the community as a whole. The kibbutz also provided amenities such as childcare and education, a laundry, basic medical care, a post office, hairdressers and more. Members could also get things considered nonessential through a budgeting system where each person received a certain amount of monthly or yearly points to "purchase" extraneous goods and services. The kibbutz even provided outlets for social interaction and entertainment.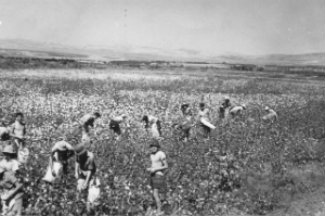 Members regularly took turns in positions of authority. Anyone who wanted to take on a leadership position would only need the members' votes to get the job. Major decisions such as investing finances to problems with litter were voted on. All members were full stakeholders in the overall development and success of the kibbutz, and those who weren't happy were always free to leave.

As the years went by, people found some things dissatisfactory with the system. The first major rift came regarding the communal children's homes, when some kibbutz members wanted their children to move into their parents' homes. Eventually, almost all of the kibbutzim abandoned the practice of communal children's homes, leaving only the day-care facilities.

A turning point came as a result of Israel's economic crisis during the late 1980s and early 1990s. Many kibbutzim had been convinced by the banks to invest in the stock market with income from their industries, businesses and agriculture. When the stock market crashed, some kibbutzim were so hard hit that they had to file for bankruptcy, and many members left to fend for themselves.

This led many kibbutzim to privatize. Members were allowed to work outside but still contributed a certain percentage of their income. Some kibbutzim converted tracts of agricultural land to build neighborhoods for people looking to move to a rural setting. Kibbutzim also brought in new industries and businesses to further boost their income and provide non-agricultural jobs.

Despite this gradual tilt to a more privatized institution, many positive aspects of the socialist ideal, such as partnership in the overall community, a democratic leadership and decision-making process and full access to the various educational, cultural/religious, health and welfare services, are still preserved.

Today, there are over 250 kibbutzim across the country, with somewhere around 100,000 people living and working on them. While a few isolated kibbutzim still hold to the original philosophy, for the most part, the kibbutz of today is quite different from those first communal settlements. The kibbutzim version of utopia might not have played out quite the way that the founders envisioned, but it didn't completely fail.


Picture of cotton fields of Shamir kibbutz, 1958 by PikiWikiIsrael

This "beyond the book article" relates to The Heart Goes Last. It originally ran in October 2015 and has been updated for the August 2016 paperback edition.
This review is available to non-members for a limited time. For full access become a member today.
Membership Advantages
Reviews
"Beyond the Book" backstories
Free books to read and review (US only)
Find books by time period, setting & theme
Read-alike suggestions by book and author
Book club discussions
and much more!
Just $10 for 3 months or $35 for a year