René Descartes: I Think, Therefore I Am
This article relates to The Man Who Wasn't There
Western philosophy since the Renaissance has been governed by an idea so simple it could appear on a bumper sticker: "I think, therefore I am."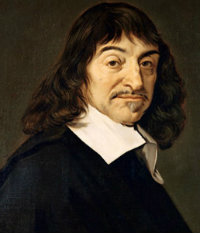 The idea – originally expressed in French but more often rendered in Latin ("Cogito ergo sum") – came from a French philosopher of the 17th century named René Descartes, who is often called the father of modern philosophy. Among Descartes' many contributions (he was a brilliant mathematician and scientist as well), the "cogito" (as philosophers call it) remains his most significant contribution to the history of ideas.

In Anil Ananthaswamy's The Man Who Wasn't There, Descartes' most famous dictum not only makes an appearance, it serves as the backdrop for the entire work, which becomes a kind of critique of Descartes' conclusion. The author argues throughout that Descartes' idea – which is usually interpreted to mean the mind and body are separate, discrete entities — is being challenged by modern neurological research. "Descartes established a clear dualism of mind and body: the body was of the physical world, something that takes up space and exists in time, while the mind's essence was thought and it did not extend into space. For Descartes, cogito did not mean thinking as much as 'clear and distinct intellectual perception, independent of the senses,'" Ananthaswamy writes. This Cartesian idea has been falsified in many disorders. As an example, consider the well-known phenomenon of patients experiencing phantom pain in a limb that no longer exists – an interior wrestling match between the mind and body.

Not all philosophers agree (nor have they ever) on just how accurate Descartes' parsing of the mind/body relationship really is — or even if the mind and body can be considered truly separate entities. The idea first emerged in his work called Discourse de la methode [Discourse on the Method] about Descartes' quest to find something beyond all human doubt, something so real its existence couldn't possibly be questioned. Descartes' cogitations led him to conclude that "thought" exists, beyond all doubt, and that if there is a thought, there must be a "self" thinking that thought. Hence: I think, therefore I am. But it is "thought" that proves one's being, not the body. In this formulation, the body is merely a vessel for the mind, in much the same way many religions view it as a container for the soul. The soul, some believers would argue, is completely separate from the body, amorphous, timeless, even divine, having little to do with the physical structure in which it is housed.

This type of thinking is called "Cartesian Dualism," and it has become such a commonplace of modern thinking that is has leeched into popular culture – and even become the subject of parody. A Monty Python sketch shows a contestant on a game show being asked "What great opponent of Cartesian dualism resists the reduction of psychological phenomena to physical states?" After a moment, the woman replies "Henri Bergson," which is the correct answer. But then her follow-up question is "What is the main food penguins eat?" and she struggles mightily, unable to come up with the correct answer "fish" even though she is given the hint "It swims in the sea, and gets caught in a net."

Contemporary conceptual artist Barbara Kruger gained a measure of fame with her oversized silkscreen work, "I shop therefore I am." A book about the philosophy of fictional character Tony Soprano is subtitled "I kill, therefore I am."

And of course, for those wags who prefer their satire more pint-sized, there's this two-fisted gem: The philosopher René Descartes walks into a bar. The bartender says "Hey buddy, would you like a beer?' Descartes replies, "I think not." And then he disappeared.


Picture of René Descartes from Biography.com

Filed under Cultural Curiosities
This "beyond the book article" relates to The Man Who Wasn't There. It originally ran in September 2015 and has been updated for the August 2016 paperback edition. Go to magazine.
This review is available to non-members for a limited time. For full access become a member today.
Membership Advantages
Reviews
"Beyond the Book" articles
Free books to read and review (US only)
Find books by time period, setting & theme
Read-alike suggestions by book and author
Book club discussions
and much more!
Just $45 for 12 months or $15 for 3 months.