Oh the Horror of It All! - Stephen King on Writing What You Know in Thrillers
This article relates to Jack of Spades
The consensus across a wide swath of authors and writing teachers is "write what you know." This advice may be even more important when writing a horror story. Sure, horror stories characteristically feature things that are not known, not normal, unfamiliar in the extreme. That's why they exist. People like to be scared by things out of the ordinary. But we can only be scared within the context of what is familiar; by the juxtaposition of what we know and what we don't know. A roller coaster ride is only scary because we know the height of the creaking scaffold, the speed at which the rickety, flimsy little car is hurtling your fragile body through space, and the imagined splat of hitting the ground after brakes fail and the car plunges earthward.


Likewise, Stephen King's fictional Castle Rock, Maine - first introduced in The Dead Zone (1979) and a number of subsequent stories - feels known as his characters make their way through this small New England town. King is second to none when it comes to creating a powerful sense of place that is as real to us as newsreel footage of New York's Times Square. But the hairs on the back of our neck rise because of his mastery of something else: slipping something bizarre within the normalcy of those known contexts. Lost in his prose, we believe Castle Rock could be our home, our neighborhood and so when King introduces that bizarre thing, we feel fear. And fear is the horror writer's takeaway, the prize for reading the story. Anyone who has read King's books can never look at a big dog or a clown or even small New England towns the same way again.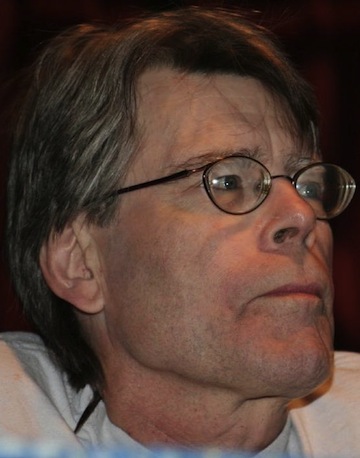 King says, in Writer's Digest, that there are, "three types of terror: The Gross-out: the sight of a severed head tumbling down a flight of stairs, it's when the lights go out and something green and slimy splatters against your arm. The Horror: the unnatural, spiders the size of bears, the dead waking up and walking around, it's when the lights go out and something with claws grabs you by the arm. And the last and worse one: Terror, when you come home and notice everything you own had been taken away and replaced by an exact substitute. It's when the lights go out and you feel something behind you, you hear it, you feel its breath against your ear, but when you turn around, there's nothing there …"

But known landscapes and these three types of terror are for naught if cardboard cutout characters populate the story. Here, again, experts insist it is imperative to write what you know. Study the people, they say. Notice motivations, imagine their secrets based upon either those they have shared or your own. Imagine those secrets spiraling out of control. King does this. And Joyce Carol Oates succeeds masterfully at this in Jack of Spades. Her protagonist, Andrew J Rush, fears loss of control more than anything in the world. But it wouldn't be credible if she had not already fleshed him out as a person, somebody you and I might know. He is an everyman. Thus, as weird things begin to creep into the story, the impact is more powerful within the carefully constructed context of Andrew, and his familiar, comfortable New Jersey community and family life. The payoff is a bone-chilling scare, or the reason you picked up the book in the first place.
Roller coaster at Dorney Park and Wildwater Kingdom in Allentown, PA, courtesy of Magnus Manske
Southwest corner of map of Maine, Stephen King style (notice Castle Rock and other fictional places in green), courtesy of Stephen King's website
Stephen King, courtesy of CyberGhostface
This "beyond the book article" relates to Jack of Spades. It originally ran in July 2015 and has been updated for the May 2016 paperback edition.
This review is available to non-members for a limited time. For full access become a member today.
Membership Advantages
Reviews
"Beyond the Book" backstories
Free books to read and review (US only)
Find books by time period, setting & theme
Read-alike suggestions by book and author
Book club discussions
and much more!
Just $10 for 3 months or $35 for a year