Admiralty Law
This article relates to Pirate Hunters
Pirate Hunters, Robert Kurson's real-life tale recounts the struggle to locate and recover sunken treasure. The obstacles are numerous: little or no historical documentation, inaccurate maps, bad weather, and rival scavengers. Additionally, as the book makes clear, a formidable challenge faced by both amateur and professional salvagers of underwater shipwrecks is the sometimes daunting task of navigating the murky legal waters of aquatic salvage. It's not always clear who – if anyone – owns a shipwreck and the rights to its contents, and even when ownership is clear it's not always obvious who has the right to attempt to salvage it – despite a considerable body of law on these matters dating back centuries.

"Salvage and admiralty law, in general, is very ancient. Most of the law we deal with today in the United States dates back to English law, and much of that goes back to the time of pirates and wooden ships," says David Neblett, a Miami-based attorney and a leading legal authority in underwater salvage.

Admiralty laws, which govern maritime activities and delineate the rights of privately owned sea vessels in international waters, were originally put in place, Neblett says, to aid ship owners in recovering their lost goods, and to give salvors (the legal term) the incentive to help recover those goods. "Salvage law was adopted to encourage people to save valuable cargo, which can often be a dangerous situation."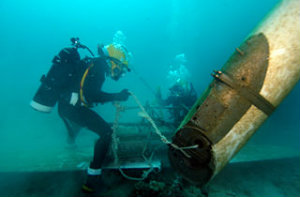 The main thrust of what is known as admiralty law is to allow salvors to profit from their work while still returning the sunken goods to the rightful owner. Generally, special admiralty courts will determine the amount of profit (usually a percentage of the worth of the recovered goods) that the salvors will get. A salvor has to show a number of elements to get an award from the court: the amount of expenditure to recover the goods, the danger they were in while performing the salvage operation, the equipment used, and what specifically was recovered. "The law was created to give the salvor something, and to give stuff back to the owner of the cargo," says Neblett, who is board-certified in admiralty and maritime law.

However, sometimes establishing clear ownership of a sunken vessel can be subject to uncertain, shifting legal undercurrents. As Neblett explains, government-owned vessels are still owned by the original nation-state, no matter how many years – or centuries later – they are discovered. "In the 1700s, most of the vessels were owned, or sponsored through grants, by a nation state. If you have a privateer who was granted a charter by the King of France, that government can still attempt to assert ownership of that vessel." However, it's not always clear which ships were state sponsored and which were privately operated. Additionally, where a ship sank can also impact salvage rights.

"There are various laws and treaties that control the bottomlands," says Neblett. "For instance, in the state of Florida, the state owns the bottomlands up to two miles out. Within that boundary, the state is allowed to assert ownership. Outside of that, you're dealing with national or international laws." However, not all countries are signatories to international maritime treaties, and some have their own rules, further complicating the issue.

And not all salvage is discovered by established treasure hunters operating within the law. "You'd be surprised how many people are out there trying to find things. In Florida, you have the 'Treasure Coast' [the southeast coastline, including the communities of Palm Beach, Vero Beach, and Port St. Lucie]…gold doubloons just wash up on shore. People know there's treasure out there," Neblett says. "Sometimes people will call our office and say 'I found five gold coins – what do I do now?'"


Picture of divers working with underwater salvage from U.S. Navy

Filed under Society and Politics
This "beyond the book article" relates to Pirate Hunters. It originally ran in June 2015 and has been updated for the March 2016 paperback edition. Go to magazine.
This review is available to non-members for a limited time. For full access become a member today.
Membership Advantages
Reviews
"Beyond the Book" articles
Free books to read and review (US only)
Find books by time period, setting & theme
Read-alike suggestions by book and author
Book club discussions
and much more!
Just $12 for 3 months or $39 for a year.