Emily Brontë
This article relates to The Lost Child
In The Lost Child, Caryl Phillips takes up elements from the life of Emily Brontë and her masterpiece novel of 1847, Wuthering Heights. Brontë's life and works are often read in tandem. Perhaps because her life was so brief and her oeuvre so small, both the biography and the work are needed to get a grip on what she was thinking. That an unassuming, free-spirited woman of the early nineteenth century could produce one of the most haunting novels in the English literary canon is a fact that astonished contemporary readers and continues to enthrall today.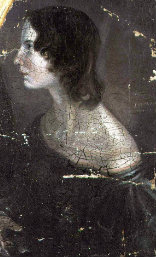 Emily Brontë was born in 1818 to Patrick Brontë (né Brunty, of Ireland) and his wife, Maria. She was the fifth of six children, and at the age of two, the family relocated to Haworth, in Yorkshire, where Emily lived most of the rest of her life. Her mother died when she was three, and her mother's sister, Elizabeth Branwell, came to the parsonage to help raise the children. At the age of six Emily went to school, briefly, at Cowan Bridge, the school made famous later as the model for the gruesome Lowood school in Charlotte Brontë's Jane Eyre. The two oldest Brontë sisters, Maria and Elizabeth, died of illnesses contracted there, and Rev. Brontë pulled his youngest daughters out to spare them a similar fate.

The family culture that sprang up in the absence of school is legendary – the Brontë sisters and their brother Branwell were nineteenth-century free-range homeschoolers. They read widely, walked on the moors, and kept up a prolific stream of stories, plays, poems, and sketches. All the children contributed to the construction of elaborate fantasy worlds. "Glass Town" and "Angria" were mainly the province of Charlotte and Branwell, and Emily and Anne created their own empire called "Gondal." Many of Emily's poems and even some elements of Wuthering Heights had their genesis in the Gondal sagas.

How the Brontë children were going to make a living became a worrying preoccupation as they came of age. Charlotte and Emily finally tried school again, first at a local institution for the training of teachers and later at a small "pensionnat" in Brussels. Emily was not fond of the strictures of school, but she was intellectually driven and worked very hard. Her teacher in Brussels, the Monsieur Heger with whom sister Charlotte fell in love, admired her mind and remarked, ruefully, that "she should have been a man."

The Brontë sisters discovered that they hated teaching. Plans to start a school of their own fell through, and they decided to try and publish some of their writings. In 1846 they published a collection of poems under the male pseudonyms of Currer, Ellis, and Acton Bell. The poems were not a commercial success (only two copies sold), but novels were soon to follow. Jane Eyre (by Charlotte), Agnes Grey (by Anne) and Emily's Wuthering Heights reached the public in 1847. Speculation abounded about who these mysterious Bells were – perhaps all one person, perhaps three retiring brothers. One of the most famous literary incidents in history is the trip Charlotte and Anne made to reveal themselves to their publisher, who wondered what these shy spinsters were doing in his office, until one of them handed him a letter he had written to Currer Bell. Comprehension slowly dawned and he understood who he had before him. Emily had not wanted to make the trip, and was livid to learn her identity had been revealed as well.

Wuthering Heights was greeted with a mix of horror, outrage, admiration, and fascination. It's a complex and wildly original novel, deeply engaged with philosophical and moral questions and with the literary past (Shakespeare, Milton), while ignoring the novelistic conventions of the day. There isn't anything quite like it in the canon of English literature, although connections can be drawn to other outlying works, like Mary Shelley's Frankenstein (before) and Emily Dickinson's poetry (after). The twentieth century ushered in a whole new way of reading Brontë, through the lens of feminist criticism. Even now, Wuthering Heights is a novel which is often misunderstood and misremembered. Laurence Olivier's Heathcliff (from the iconic 1939 film) only gets half of the story. American author Joyce Carol Oates argues in a 1983 essay that the novel has a history of being misread. "As much as any Modernist work," Oates writes, "Wuthering Heights demands to be reread: the first three chapters...yield the author's intention only upon a second reading."

Emily Brontë's story has an unhappy ending. She became ill after her brother Branwell died in the fall of 1848, and died very soon after. She was only 30. Anne died a few months later. Only Charlotte lived on to carry on writing and expanding the Brontë's legacy, collecting and publishing her sisters' work. Charlotte, recently married and expecting her first child, died of severe morning sickness in 1855, aged 39.


Picture of Emily Brontë by Patrick Branwell Brontë

Filed under Books and Authors
This "beyond the book article" relates to The Lost Child. It originally ran in April 2015 and has been updated for the June 2016 paperback edition. Go to magazine.
This review is available to non-members for a limited time. For full access become a member today.
Membership Advantages
Reviews
"Beyond the Book" articles
Free books to read and review (US only)
Find books by time period, setting & theme
Read-alike suggestions by book and author
Book club discussions
and much more!
Just $45 for 12 months or $15 for 3 months.