The Sport of Rodeo
This article relates to Bad Country
Bad Country's protagonist, Rodeo Grace Garnet, is a second-generation rodeo contestant who quit the circuit without setting records or achieving lasting fame. Cowboys like P.I. Garnet dream of competing and winning the big money stakes at the annual National Rodeo Finals but most endure a hard-scrabble, impoverished lifestyle and limited career options. The hierarchy within the sport is as intransigent as the social and economic status described in the novel.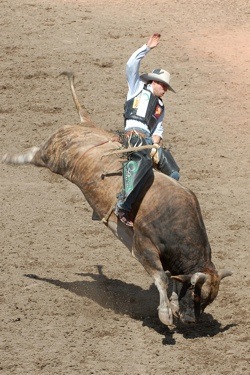 American-style professional rodeos, organized in all fifty states, blend a well-marketed romanticized vision of the Wild West, dazzling showmanship, nimble dexterity and skilled riding. Promoters offer live, colorful yet family-friendly and generally affordable entertainment with typical ticket prices for regional rodeos in the $10-35 range with free admission for young children. It's a male dominated world with young and handsome cowboys clad in Wrangler jeans (an official sponsor for many professional rodeo events) competing for plate-sized championship belt buckles, national rankings, cash prizes and lucrative advertising endorsements. Professional Rodeo Cowboys Association (PRCA) women's events are limited to the lightning fast barrel racers. Speed, agility, athleticism and a synchronistic harmony between horse and rider are necessary to win these high-speed races around three 55-gallon drums. The barrels are placed at specified distances in a triangle pattern; riders enter at a gallop with the objective of completing a clover-leaf pattern around them in the fastest time.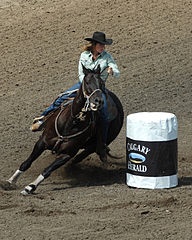 Miss Rodeo America competitors from local to national levels present grand entrances, opening the programs by greeting spectators with beaming smiles and a distinctive wave while galloping lickety-split around the arena. Clowns perform comedic routines between their deadly serious duties as bull fighters working to protect riders thrown from their rampaging mounts.

The carnival-like atmosphere is enhanced by concessionaires hawking everything from souvenir programs, branded merchandise and dressy Western attire, tooled leather boots and saddles to high-end stock trailers and luxuriously appointed trucks. Sales representatives from chewing tobacco companies proffer samples and sell their products in round tins. The smell of fried onions, hamburgers and spilled beer permeates the air. Stock breeders and contractors, who follow strict guidelines to ensure livestock welfare, are on hand along with veterinarians. Broncos and bulls are valuable animals with recognized names and individual rankings.

One amateur crowd-pleasing event that precedes many professional rodeos is the Mutton Busting contest where adorable tykes of both sexes, aged 5-7 and weighing less than 55 pounds, are decked out in full cowboy regalia and protective headgear and placed on the back of a full-grown sheep with the objective of crossing the arena in the fastest time. Miniature belt buckets and scaled down Stetsons are popular prizes. Goat-tying is another crowd-pleaser favored in junior and women's rodeos. A golden rule for spectators is to avoid being seated in the first three rows unless one is prepared to be covered in dust and (ahem!) other particles.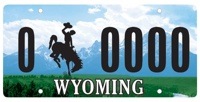 The twelve major PRCA Championship events and more than 640 sanctioned rodeos offer set competitions in All-Around (awarded for winners in multiple events); Saddle Bronc Riding, Bareback Riding, Bull Riding (generally the finale), Tie Down Roping (Calf-roping), Steer Wrestling, Team Roping and Barrel Racing. Rodeo is a growth industry and a boon to tourism particularly in the American West. A bucking horse and rider have symbolized Wyoming since World War I and became the official logo on license plates. While the rider is unknown, the horse is widely identified as "Steamboat," known as the "horse that could not be ridden."

Payouts have grown and the PRCA claims that many participants have career earnings in excess of $1 million. Despite this, rodeo contestants have more certainty of injury than large winnings. They are responsible for paying entry fees and their own travel and medical expenses. Superstars are few as most cowboys are part-time and may gross less than $15,000 in a season. It's also a young man's game with Senior Rodeo tours beginning at age 40.

Rodeo from the Spanish rodear for go-around or round-up evolved from humble, practical beginnings with the skills necessary for stock sorting from horseback and from nineteenth century ranch hands displaying trick riding, roping skills and racing at weekend gatherings. The Honorable William F. Cody aka Buffalo Bill Cody, former Indian scout for Generals George Custer and Phil Sheridan, who fought for the Union during the Civil War and rode with the Pony Express, and winner of the Congressional Medal of Honor, is credited with mounting the first major rodeo.

Rodeo is a sanctioned high school sport in many parts of the United States. College rodeo teams award scholarships to students in eleven districts providing experience, training and an education. Rodeos do have a charitable component with portions of proceeds benefitting community and nationally based foundations. There are Native American rodeos, Women's rodeos and since 1976, the International Gay Rodeo Association (IGRA), which has a royalty team and a strong country and western dance competition components. Royalty teams comprise elected representatives/ambassadors from the organization whose primary function is to boost visibility while fund-raising to support several designated charities. Rodeo is a growing sport with something for everyone.


Picture of bullrider and barrel racing taken at the Calgary Stampede by Chuck Szmurlo
Picture of Wyoming license plate from blog at Voice of America

Filed under Cultural Curiosities
This "beyond the book article" relates to Bad Country. It originally ran in January 2015 and has been updated for the June 2016 paperback edition. Go to magazine.
This review is available to non-members for a limited time. For full access become a member today.
Membership Advantages
Reviews
"Beyond the Book" articles
Free books to read and review (US only)
Find books by time period, setting & theme
Read-alike suggestions by book and author
Book club discussions
and much more!
Just $45 for 12 months or $15 for 3 months.