Blizzard Survival Stories
This article relates to The Remedy for Love
The weather and complications of a blizzard are intense and all-encompassing. Besides the potential for devastating winds and dangerously low temperatures, the overwhelming amounts of snow impede both visibility and access to travel. The results can be extensive and long-lasting. It can take days to weeks for roads to be cleared, and months for the snow to melt. One of the repeated recommendations for dealing with a blizzard is to stay put. Don't travel. After all, if one is caught in the storm, the risk for frostbite and/or hypothermia is high. Hypothermia leads to poor decision-making abilities, the illusion of heat and the intense desire to sleep, so once it hits, survival is even more unlikely.

But what if where you are isn't a safe place to be?

On October 14, 2014, an unseasonal storm hit a popular hiking route in Nepal bringing freezing temperatures and avalanches to the area. At least 38 people were killed. One Israeli medical student, Yakov Megreli, credits his survival to a decision to stay in a "flimsy wooden tea stall." The small group of twelve spent the night "lying on top of one another, trying to fight off hypothermia by sharing body heat and talking about anything they could think of to keep from falling asleep."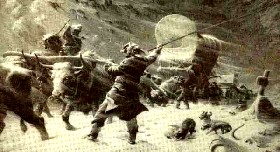 One of the earliest—and most infamous—blizzard stories is that of the Donner Party in 1846. While traveling from Illinois to California, this group became trapped in the Sierra Nevada Mountains due to a November blizzard. It is believed that the group resorted to cannibalism of their deceased companions in order to survive the winter months living in their covered wagons. The pass where the group got stuck is now named the Donner Pass.

The Stolpas' story has a happier ending. In 1993, the couple managed to keep their five-month-old son alive after getting stranded in the snow on a remote road in the same part of the Sierra Nevada mountains where the Donner Party struggled. Because the Stolpas' car was not going to provide adequate shelter, the couple started hiking through the deep snow. They spent a night in a mountain cave with only a sleeping bag and extra clothes. They had no food and had to eat snow for water. After James Daniel Stolpa left the cave to find help, Jennifer Stolpa kept her son alive by nursing him. James hiked fifty miles to enlist a rescue party. Although all three survived, both parents lost all their toes to frostbite.

In 2012, Josephine Johnson and Jim Dickman, both age 53, had a narrow brush with death during a snowshoe trek on Mount Rainier, but as the headline proclaimed, skills and love helped them survive. Because Jim had brought along the small shovel Josephine had given him as a present, they were able to build a snow cave to keep out of the wind. Josephine sat on Jim's feet for warmth and Jim helped Josephine to keep hiking when she lost one snowshoe. Eventually, working together, they managed to climb a peak making themselves more visible—and able to find help.

In February 2014 a young couple, Danny McLachlan and Leandra Mardynalka managed to stay alive in -460C (-51 0F) weather when they were lost on their snowmobile during a Manitoba, Canada blizzard. Poor visibility made it impossible to find their way home, so the couple made a snow wall and started a fire using Danny's lighter and gas from the snowmobile. They managed to keep each other awake all night, and to keep the fire burning by gathering branches from the nearby woods. Their ordeal included "nudging one another to stay awake, gathering more wood to feed the fire every 15 minutes and saying things that couples in love too often don't say enough." In the morning, Danny hiked and found a house where he sought help.


Picture of Donner Party from legendsofamerica.com

This "beyond the book article" relates to The Remedy for Love. It originally ran in November 2014 and has been updated for the June 2015 paperback edition.
This review is available to non-members for a limited time. For full access become a member today.
Membership Advantages
Reviews
"Beyond the Book" backstories
Free books to read and review (US only)
Find books by time period, setting & theme
Read-alike suggestions by book and author
Book club discussions
and much more!
Just $10 for 3 months or $35 for a year