Farm Life in Iowa in the first half of the 20th Century
This article relates to Some Luck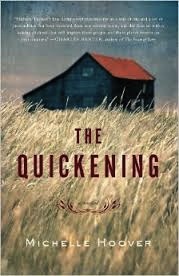 Michelle Hoover's The Quickening covers roughly the same timeframe and space as Jane Smiley's Some Luck: from the beginning of World War I (rather than its end in Smiley's novel) to 1950, on neighboring farms in the upper Midwest. Hoover, the granddaughter of four farming families, grew up in Ames, Iowa – where Smiley attended graduate school – and her rootedness in this place is evident in her mastery of the characters' dialogue, their unsentimental, earthy personalities, and her rich descriptions of daily farm life. Through a journey that lasts almost half a century, Smiley and Hoover help us understand how American farmers lived during this period.

Like Some Luck, The Quickening is written chronologically in chapters spanning one to two years, a structure that makes the reader experience the indelibility of time's passage. An original touch in The Quickening is that the chapters are written alternately in the voices of Enidina Current and her friend, Mary Morrow, thus giving the novel a poetic rhythm that parallels the sentences' lyrical style.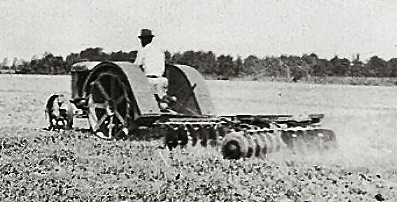 The main couples in both novels – the Currents in The Quickening, and the Langdons in Some Luck – start with, roughly, the same assets, but end in very different places. In 1914, Enidina and Frank Current have a dozen cows, sixteen hogs, four hens and two horses. Their farm has a hundred and eighty acres, a few tons of hay and fifty bushels of corn. They grow apples, peaches and strawberries, and what they can't eat, they can. They keep the jars of preserves, the cider and milk in a cave serving as a cellar – a hole dug in the yard and lined with bricks. In the fall they butcher their hogs and make them into sausages and ham.

When Rosanna and Walter Langdon get married in 1920, they have ten cows, twenty sheep, a few hogs, fifty hens and two horses. We aren't told how much land Walter owns, but we know that his father had three hundred and twenty acres, "all paid for," and a four-bedroom house. Like most farmers, Walter plants a variety of crops in rotation, that is changing the crops planted in a field each year to save and replace soil nutrients: oats one year, then corn and then hay.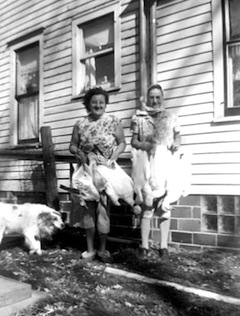 In addition to growing crops for cash and to use as feed, the Langdons, like most farmers, produce homegrown goods and sell them in the closest town. This is mainly the wife's duty: it is Rosanna who, helped by her oldest child, Frank, gathers the eggs from the hens, and sells them in town, together with her homemade butter. Rosanna also takes care of the garden in which she plants, with Frank's help: peas, cabbage, onions, potatoes, carrots, tomatoes, radishes and beans. She knits and dyes wool using red cabbage, red onion skins and white vinegar. She takes care of the children and cooks, with the help of her younger sister, Eloise. Eloise herself isn't very domestically inclined, but most young girls her age bake and participate in baking contests at state fairs. Frank too, like all children on a farm, has various chores: when he is barely five, he has to help with the sheep-shearing, and later on, he feeds the cattle and the horses, works the fields, plants, fixes the fence and prunes the hedge.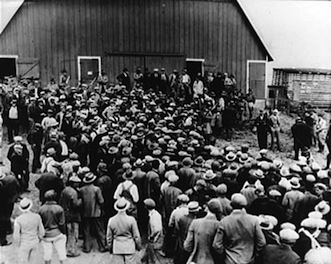 The 1929 crash and the Great Depression, together with the drought in the mid-thirties had a deep impact on the farmers' lives. From over forty bushels an acre, in 1935 the Langdons' corn is down to thirty-five, and from ten cows they are down to four. Yet, even under these circumstances, Walter is able to buy a tractor to replace the horses, which, like most farmers at the time, he uses to plow the soil, plant, the seeds and harvest the crops. The Currents' situation is worse: because the bank raised the interest on their loan, they lose eighty acres, but agreeing to bankruptcy saves the rest of their land.

By 1937, many of the farmers recover in a spectacular way. The Currents have a very good year, and with the money, they put gaslights in the house and buy a car. The Langdons, too, are back on their feet: in 1938 Joe, the second-born male, experiments with hybridized corn seed, and a year later he obtains a record fifty-two bushels per acre. He sells his crops very well because of the war in Europe and he buys more seed with the money. By 1950, the Langdons have electricity and running water.
An early Fordson discing a field in Princess Anne County, VA in 1925, courtesy of Liftarn
Farm Women with Fowl in 1938, courtesy of Iowa Pathways
An Iowa farm foreclosure, courtesy of Iowa Pathways
Filed under Places, Cultures & Identities
This "beyond the book article" relates to Some Luck. It originally ran in October 2014 and has been updated for the July 2015 paperback edition. Go to magazine.
This review is available to non-members for a limited time. For full access become a member today.
Membership Advantages
Reviews
"Beyond the Book" articles
Free books to read and review (US only)
Find books by time period, setting & theme
Read-alike suggestions by book and author
Book club discussions
and much more!
Just $45 for 12 months or $15 for 3 months.