Second-Wave Feminism
This article relates to Florence Gordon
In the early 20th century several strides were made for the advancement of women, including the right to vote with the passage of the 19th Amendment in 1920. These victories were associated with what is commonly referred to as the first wave of feminism. After World War II, however, feminist causes waned, and by the 1950s the image of the blissful suburban housewife permeated the national consciousness.

Galvanized by the civil rights movement, feminists again took their places on the political stage. By the 1960s a second wave of feminism emerged and continued through the following decade. During this era the women's movement fought for — and won — monumental rights that, among other advancements, improved women's equality in the workforce and their ability to control their reproductive lives. (There are many references to these decades in Brian Morton's novel, Florence Gordon. The main character was part of the women's movement in the 1970s.)

The rights of American women were of significant interest during President John F. Kennedy's administration. In an effort to investigate questions related to women's equality in education, the workplace, and under the law, Kennedy established the President's Commission on the Status of Women in 1961. Eleanor Roosevelt was appointed as chair; she served until her death in 1962. The subsequent report, published in 1963, documented widespread discrimination against women in the workplace. As a result, many recommendations were made, including affordable child care for all income levels, hiring practices that fostered equal opportunity for women, and paid maternity leave. Even though the report itself didn't bring about immediate changes, many state commissions on the status of women were created. These were instrumental in promoting more equal economic opportunities for women.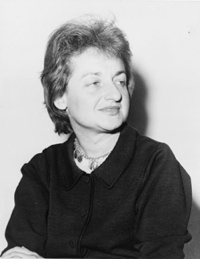 Also in 1963, Betty Friedan's groundbreaking work The Feminine Mystique was published and is largely credited for sparking the second wave of feminism. For her book, Friedan researched psychology, media, and advertising. She also interviewed several suburban housewives during the 1950s and early 1960s. The interviews revealed women's unhappiness despite having financial stability, material comforts, and children. Among many comments included in the book, a 23-year-old mother said, "I ask myself why I'm so dissatisfied. I've got my health, fine children, a lovely new home, enough money. My husband has a real future as an electronics engineer. He doesn't have any of these feelings...It's as if ever since you were a little girl, there's always been somebody or something that will take care of your life: your parents, or college, or falling in love, or having a child, or moving to a new house. Then you wake up one morning and there's nothing to look forward to."

In 1966 Friedan and other feminists founded the National Organization for Women. The organization was formed in large part due to frustration with the Equal Employment Opportunity Commission, which was formed in 1965 to implement Title VII of the Civil Rights Act of 1964. Women's rights advocates were outnumbered in a vote, which resulted in the commission permitting sex segregation in job advertising. According to NOW's website, at the first organizing conference Friedan and other charter members "approved immediate action on Title VII enforcement efforts and authorized a legal committee to take action on behalf of flight attendants and to challenge so-called protective labor legislation. They formed task forces on issue after issue, and those task forces carried out much of the early NOW agenda and activities." In 1968 the EEOC issued revised guidelines on sex discrimination, which made it clear that widespread practice of "help wanted" advertisements that used "male" and "female" headings violated Title VII.

Women's choices regarding reproduction also changed dramatically during the 1960s. The U.S. Food and Drug Administration approved the first oral contraceptives in 1960. According to figures compiled in a PBS timeline, 1.2 million American women were on "the pill" by 1962. After three years the number almost doubled. By 1964, however, the pill was illegal in eight states and remained controversial, particularly within the Catholic Church. Toward the end of the decade health concerns arose, such as side effects including the risk of blood clots, and by 1979 sales dropped by 24 percent in four years due to negative publicity. (By the late 1980s the original high-dose pill was taken off the market, and an FDA study showed the benefits of newer pills, including a decreased risk of ovarian cancer. But in recent years health concerns have still remained an issue. In 2010 more than 1,000 lawsuits were pending against Bayer Healthcare Corporation regarding blood clots, heart attacks, and strokes allegedly caused by some of their popular pills.)

In the 1970s one of the main battles fought by feminists was the passage and ratification of the Equal Rights Amendment. Alice Paul — a suffragist and founder of the National Woman's Party — believed that freedom from legal sex discrimination required an Equal Rights Amendment that affirmed the equal application of the Constitution to all citizens. She first introduced the amendment at a women's rights convention in 1923. That year, the amendment was defeated in Congress. During World War II, when women did men's work in factories, women's equality was again a political issue. In 1943 Paul rewrote the ERA, but when it was introduced it was defeated in every session of Congress for many years. Finally, in 1972 the ERA was passed and sent to the states for ratification, with a seven-year deadline in the proposing clause. Pro-ERA advocacy was led by NOW and other mainstream organizations, but opposition to the ERA was organized by Phyllis Schlafly (right-wing leader of the Eagle Forum/STOP ERA), fundamentalist religious groups, and other opponents. In 1977 Indiana became the thirty-fifth state to ratify the ERA. In 1982 the ERA was reintroduced in Congress and has been before every session of Congress since that time. The ERA has three sections and includes the text, "Equality of rights under the law shall not be denied or abridged by the United States or by any state on account of sex." The amendment remains three states short of the 38 required to put it into the Constitution. ERA advocates are still pursuing routes to ratification. (The 15 states that haven't ratified the ERA are Alabama, Arizona, Arkansas, Florida, Georgia, Illinois, Louisiana, Mississippi, Missouri, Nevada, North Carolina, Oklahoma, South Carolina, Utah, and Virginia.)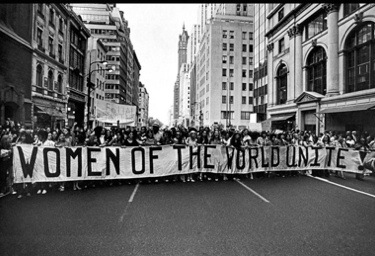 Another major event of the seventies was originally Friedan's idea: the Women's Strike for Equality. Organized by NOW, the strike was a nationwide demonstration for women's rights that took place on August 26, 1970, the fiftieth anniversary of women winning the vote. According to a 2010 article on Ms. magazine's blog (the magazine was founded by, among others, the feminist Gloria Steinem and first hit newsstands in 1972), the three main purposes of the action were repeal of anti-abortion laws, establishment of child-care centers, and equal opportunity in jobs and education. Marches and other events occurred in 90 cities across the United States. On Fifth Avenue in New York City, the strike "easily rivaled, and according to some estimates exceeded, the largest suffrage marches the city had seen more than half a century before," the same article reported. "Not only were numerous feminist organizations represented, but even passersby who knew nothing of the march spontaneously joined in their first feminist action." An Associated Press article published a day after the strike reported that the mass march down Fifth Avenue even drew some men. The strike received major media attention and also included detractors. According to the AP article, in New York a group of anti-liberation women carried pink signs that identified them as members of "Men Our Masters — MOM." They crossed police barricades to scuffle briefly with marchers until police separated them. Friedan said the scope of the strike was "beyond our wildest dreams."

NOW was not the only organization working on behalf of women's rights. In fact, many feminists believed that the liberation movement was too defined by white, middle-class women. In 1974 the Combahee River Collective was formed by black feminists and lesbians in Boston. (The name refers to a resistance action by Harriet Tubman in 1863.) The collective disbanded in 1980. Another group that differentiated itself from NOW was called the Redstockings, a radical feminist organization founded in 1969. (The name represents the union of the "bluestocking" label disparagingly attributed to feminists of earlier centuries and "red" for revolution.) According to the Redstockings' manifesto, written in 1969, they believed that women were an oppressed class, "exploited as sex objects, breeders, domestic servants, and cheap labor...considered inferior beings, whose only purpose is to enhance men's lives." Today, the organization's website describes the group as "a new kind of grassroots, activist 'think tank'...for defending and advancing the women's liberation agenda."

Arguably the most controversial event that occurred during the second wave of feminism was the Roe v. Wade decision. In 1973 the Supreme Court overturned a Texas interpretation of abortion law and made abortion legal in the United States. The decision meant that a woman, with her doctor, could choose abortion in early months of pregnancy without legal restriction, and with restrictions later in pregnancy, based on the right to privacy. The case started in 1970 when Norma McCorvey (called Jane Roe to protect her identity) instituted federal action against Henry Wade, the district attorney of Dallas County, Texas, where Roe lived. The court disagreed with Roe's assertion of an absolute right to terminate pregnancy in any way and at any time and tried to balance woman's right of privacy with a state's interest in regulating abortion. Supreme Court Justice Harry A. Blackmun wrote for the majority and noted that only "a compelling state interest" justifies regulations limiting "fundamental rights" such as privacy and that legislators must therefore draw statutes narrowly "to express only the legitimate state interests at stake."

For decades leading up to the Supreme Court decision, women were having illegal abortions, frequently in dangerous conditions that threatened their health. Thousands of women died from botched procedures. By the early 1960s moderate reforms had been tried. Twelve states permitted abortion in instances of rape, incest, danger to physical or mental health, or fetal defect, according to a 1997 article in The Atlantic Monthly. Yet most women were still seeking abortions for economic or social reasons and "illegal abortion continued to thrive." By the early 1970s a movement for change was "spearheaded by doctors who saw firsthand the carnage created by illegal abortions," along with civil liberties lawyers and feminists, who argued to legalize the procedure.

Since 1973 there have been repeated challenges to Roe v. Wade. The original scope of the decision has been narrowed but not overturned.

By the 1980s many battles had been won by Second-wave feminists. But there is still work to be done, as well as controversy about some of the same issues that were prevalent decades ago. Corporate executives and elected officials remain predominantly men. Birth control (namely insurance coverage for contraception) and abortion continue to be vehemently debated. Violence against women, among many others, remains a major issue.


Picture of Betty Friedan by Fred Palumbo
Picture of the Women's Strike For Equality from Bryn Mawr

Filed under People, Eras & Events
This "beyond the book article" relates to Florence Gordon. It originally ran in October 2014 and has been updated for the September 2015 paperback edition. Go to magazine.
This review is available to non-members for a limited time. For full access become a member today.
Membership Advantages
Reviews
"Beyond the Book" articles
Free books to read and review (US only)
Find books by time period, setting & theme
Read-alike suggestions by book and author
Book club discussions
and much more!
Just $45 for 12 months or $15 for 3 months.