Fifteenth Century: Dawn of the Age of Invention
This article relates to Gutenberg's Apprentice
The Black Plague had claimed as much as two-thirds of Europe's population in the 14th Century. Life seemed fragile at best, and people who could write felt like it was important to get things down in black and white, to record their stories for posterity. Furthermore, the Church, the medieval everyman's raison d'etre, had pretty much failed them. So some began to question if there was any reason for existence, any meaning to life. It also might very well be credited to plague survivor's guilt that compelled people to seek answers to life's most complicated questions.

Whatever the reasons, history has made clear that once the genie of curiosity was out of the bottle, there was no turning back. Universities and schools of higher learning began sprouting up apace, including research universities such as the Scottish University of St. Andrews. People began to strive for more, better, improved, expanded horizons. It was as if men like Johannes Gutenberg, whether motivated by money or imagination, suddenly realized that there was potential for better educated people, better informed people who could enjoy life. Inventions abounded.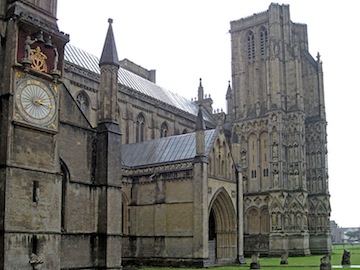 And so the golf ball (and presumably the golf widow) was invented. By the mid-1400s Scottish men were growing tired of chasing a pebble around a sand dune course, swinging at it with clubs, maybe accidentally striking each other on the head. Early efforts to refine the game included a leather pouch stuffed with feathers. However, that proved a disappointing failure since, despite the feathers, this "bird" didn't fly very far.

The first domestic clocks were also invented in the 15th Century. They were beginning to grace cathedral spires, and royalty and the wealthy all wanted the same. The earliest surviving spring-driven clock dates back to 1450 and is permanently housed in the Science Museum in London.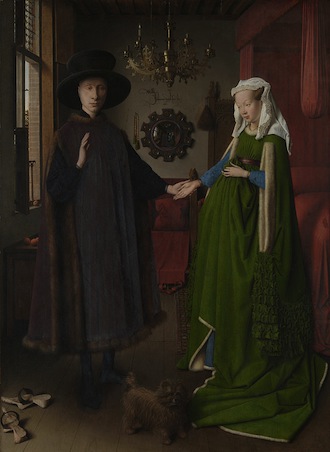 As leisure became more important, so did music and art. The 15th Century gave birth to the spinet piano. It is best described as a keyed musical instrument that resembles a harpsichord, but smaller, with leather "jacks" that strike brass or steel wires connected to the keys. In the fine arts painters began using oil paint (usually linseed oil plus pigment) as the medium. Oil had previously only been applied to wood furniture and walls as varnish. In the 15th Century fine artists began experimenting first by "varnishing" tempera paintings to preserve the color. Then Dutch artists started mixing colored oil paints.

The 15th Century wasn't all about fun and games. It also saw the invention of the trigger-fired weapon and the muzzle-loaded "handgonne." The caravel, a Portuguese sailing ship that could travel greater distances than previously designed ships was perfected. Two of Columbus's ships were caravels. Additionally, Portuguese navigator and geographer Martin Behaim, along with painter Georg Glockendon, invented the first globe. The first recorded use of the screwdriver was in the 15th Century. And, with the development of the printing press came the first copyright, said to have been issued by the Republic of Venice, Italy in 1486.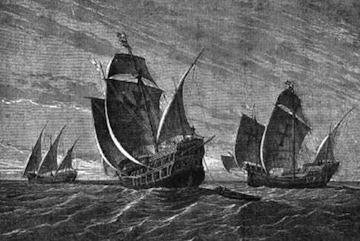 As if all this weren't enough, whiskey was invented in the 15th Century. There is some (heated) dispute over who can take credit for the birth of this popular adult beverage with both Ireland and Scotland each laying their own claim to the honor. Neither one, it is presumed, would likely object to drinking separate toasts to both nations.
Wells Cathedral Clock, courtesy of Amandajm
Oil painting by Jan van Eyck, courtesy of Ayesha23
Image of Columbus's caravel (on the left) by Gustav Adolf Closs, courtesy of Syrcro
Filed under People, Eras & Events
This "beyond the book article" relates to Gutenberg's Apprentice. It originally ran in October 2014 and has been updated for the September 2015 paperback edition. Go to magazine.
This review is available to non-members for a limited time. For full access become a member today.
Membership Advantages
Reviews
"Beyond the Book" articles
Free books to read and review (US only)
Find books by time period, setting & theme
Read-alike suggestions by book and author
Book club discussions
and much more!
Just $12 for 3 months or $39 for a year.