Beyond the Book:
The Queen Bee
The structure of a honeybee hive is both fascinating and highly complex — a pod of thousands of female worker bees, a few hundred male drones in the summer and, at the epicentre, the queen.

As a former queen begins to fail (i.e. ceases to lay eggs due to age or illness), workers will make special, larger queen cells in which nurse bees raise queen larvae, feeding them a special substance called royal jelly. Although ordinary honey bees are fed this very early in their development, queens eat only royal jelly throughout their lives. The nutrient-rich substance allows her to grow to one-and-half times the size of an ordinary bee with a fully developed reproductive system, capable of laying up to two thousand eggs per day.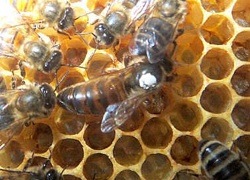 Once emerged from a larva, a virgin queen will proceed to either lead a swarm from the hive to find new nesting ground or kill the other developing queen bees by stinging them through the wall of their cells. (Unlike a worker bee, a queen's sting is not barbed and she may attack repeatedly without dying.)

In order to become a fully fledged queen and ensure survival of the hive, the newly emerged bee must mate with up to twenty drone bees (who perish in the process), leaving her with enough sperm to lay around the clock for the rest of her long life. She will live approximately three to five years in comparison with the few weeks' lifespan of her subjects. An effective queen will lay whatever the hive requires; with fertilized eggs producing female offspring and unfertilized ones producing drones.

A beehive and the complex society within it, with each bee allocated a specific role, are controlled by an elaborate mixture of pheromones, the most distinct of these being the Queen Mandibular Pheromone (QMP). Although the queen is essentially merely the ovary of the hive that ensures its regeneration, QMP controls many other behavioral instincts of the colony, including mating and foraging behavior.

The release of QMP also proves to be an effective method of controlling swarming bees. As the population of the colony grows and the hive becomes overcrowded, some bees lose the ability to sense their queen and begin to create another to replace her. Before the new queen hatches and a fight ensues, the old queen will leave her home with a contingency of loyal worker bees to find a new one. This is referred to as swarming and can be an alarming sight to the casual onlooker. The queen is not a very good flyer and will often need to stop and rest, with her workers clumped around her, until a new settlement is found.

Although queen bees have ensured the survival of their colonies for thousands of years, the modern world holds many dangers that have become hot topics for environmentalists and apiologists over recent years. Colony Collapse Disorder (CCD), a condition whereby adult worker bees mysteriously disappear, is getting increasingly worse. CCD has been attributed to various factors — from the existence of a certain deadly virus; the effect of specific pesticides; to poor nutrition and bee-keeping. Notwithstanding humans' agricultural dependence on honeybees and pollination, their potential loss is considered symptomatic of a much wider environmental problem.


Picture of queen bee from Cornwall Honey

This article was originally published in July 2014, and has been updated for the May 2015 paperback release. Click here to go to this issue.
This article is available to non-members for a limited time. You can also read these articles for free. For full access, become a member today.
Membership Advantages
Reviews
"Beyond the Book" backstories
Free books to read and review (US only)
Find books by time period, setting & theme
Read-alike suggestions by book and author
Book club discussions
and much more!
Just $10 for 3 months or $35 for a year