The structure of a honeybee hive is both fascinating and highly complex — a pod of thousands of female worker bees, a few hundred male drones in the summer and, at the epicentre, the queen.

As a former queen begins to fail (i.e. ceases to lay eggs due to age or illness), workers will make special, larger queen cells in which nurse bees raise queen larvae, feeding them a special substance called royal jelly. Although ordinary honey bees are fed this very early in their development, queens eat only royal jelly throughout their lives. The nutrient-rich substance allows her to grow to one-and-half times the size of an ordinary bee with a fully developed reproductive system, capable of laying up to two thousand eggs per day.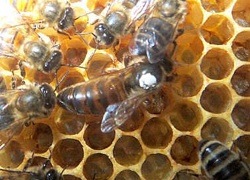 Once emerged from a larva, a virgin queen will proceed to either lead a swarm from the hive to find new nesting ground or kill the other developing queen bees by stinging them through the wall of their cells. (Unlike a worker bee, a queen's sting is not ...