Beyond the Book:
James Tiptree Jr.
In The Blazing World, the protagonist Harriet Burden's notebooks often include references to female artists, writers and intellectuals who struggled for recognition in male-dominated circles. One of the writers she mentions is James Tiptree Jr., an award-winning science fiction author who turned out to be a woman named Alice Bradley Sheldon.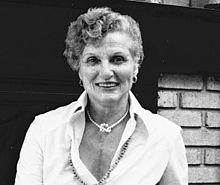 Born in 1915 to prominent Chicago naturalists, Sheldon spent a good deal of her childhood traveling the world, most notably accompanying her parents on several celebrated expeditions to the African Congo, where they hunted large game and lived among Pygmy tribes. After studying painting at Sarah Lawrence College, marrying and divorcing her first husband, and having the first of many struggles with drug addiction, Sheldon enlisted in the U.S. Army in 1942. Assigned to the Women's Army Auxiliary Corps, she proved to be smart, was well respected, and soon became a sergeant.

After the war, Sheldon reenlisted and was assigned to a special photo-interpretation team that worked in the Pentagon, where she attained the rank of major, a rare distinction for a woman. She also met Huntington Sheldon, whom she married, and together, in 1952, they were offered positions in the CIA, from which Sheldon retired in 1955, at the age of forty, in order to return to college. While earning a Bachelor's degree and a doctorate in Experimental Psychology at George Washington University, Sheldon began to write short stories. She had always had an interest in writing, and particularly in the burgeoning genre of science fiction, which she saw as the perfect medium for creative explorations of gender and feminism, two topics that interested her.

In 1967, borrowing "Tiptree" from the label on a jar of jam, and adding the "Jr." at her husband's prompting, Alice Bradley Sheldon became James Tiptree Jr. Sheldon's reasons for using a male pseudonym were related to her belief that it would be more interesting to explore issues of gender and sexuality and feminism writing as a man than as a woman. She wanted to be sure people were really reading and thinking about her work, rather than going into it with preconceived notions: "Oh here is a woman writer writing about feminism. We know what to expect." Tiptree was immediately well-received, landing stories in all the popular journals, including Galaxy and Astonishing Stories, which were the breeding ground for science fiction writers. In 1969, in an acceptance letter for his anthology Again, Dangerous Visions, the editor and writer Harlan Ellison wrote, "You are the single most important new writer in science fiction today. Nobody touches you!"

It was widely known that "Tiptree" was in fact a pseudonym, though it was believed that the reason for this was to protect the identity of the author due to his status as a high-ranking intelligence officer. There was some debate as to whether Tiptree was a woman, but in general "he" was celebrated as a pioneer of sorts: the male feminist writer. In an introduction to Tiptree's short-story collection Warm Worlds and Otherwise, Robert Silverberg argued that due to the "ineluctably masculine" nature of the writing, the theory that the author was a woman was "absurd."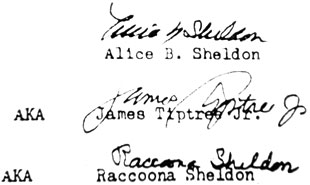 As Tiptree, Sheldon cultivated a rich and prolific letter-writing life, developing long-term relationships with many famous authors and intellectuals, including the science fiction writers Philip K Dick and Ursula Le Guin. In her writing, she continued to explore issues of gender, and eventually she even invented and published stories under another pseudonym, Raccoona Sheldon, Tiptree's female protégé. She won numerous prizes as both James Tiptree Jr. and Raccoona Sheldon, including multiple Nebula and Hugo awards.

In 1976, deeply distraught over the recent death of her mother, "Tiptree" mentioned details about the woman in several letters, leading to the discovery of her mother's obituary and the identity of her only child: Alice B. Sheldon. Confronted, she admitted to and ultimately abandoned the pseudonym. Sheldon continued to write under her own name but soon came to feel that in "killing" Tiptree, her writing had lost something vital.

Sheldon fell into a depression and began to abuse drugs. She talked of suicide often, and in 1987, at the age of 71, Sheldon shot her 84-year old husband in the head, phoned her lawyer and her stepson, and then shot herself.

Tiptree's work continues to be studied and revered in the science fiction world. In 1991, the writers Pay Murphy and Karen Joy Fowler set up the James Tiptree Jr. Award, a literary prize that honors science fiction and fantasy writing that explores issues of gender. According to the award's website, "The aim of the award is not to look for work that falls into some narrow definition of political correctness, but rather to seek out work that is thought-provoking, imaginative, and perhaps even infuriating. The Tiptree Award is intended to reward those women and men who are bold enough to contemplate shifts and changes in gender roles, a fundamental aspect of any society."

In 2012, James Tiptree Jr. was inducted into the Science Fiction Hall of Fame.


Picture of Alice Sheldon (James Tiptree Jr.) from Wikipedia.org
Picture of signatures from tiptree.org

This article was originally published in March 2014, and has been updated for the November 2014 paperback release. Click here to go to this issue.
This article is available to non-members for a limited time. You can also read these articles for free. For full access, become a member today.
Membership Advantages
Reviews
"Beyond the Book" backstories
Free books to read and review (US only)
Find books by time period, setting & theme
Read-alike suggestions by book and author
Book club discussions
and much more!
Just $10 for 3 months or $35 for a year