Beyond the Book:
The Enigmatic City of Trieste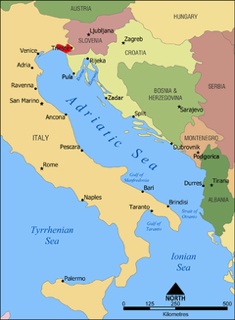 One cannot read Daša Drndić's compelling novel Trieste without being intrigued by its namesake - the affluent and cosmopolitan industrial seaport city of 200,000 residents with historically fluid national allegiances. Located in Italy on the remote northeastern borders of Slovenia and Croatia, Trieste has flown flags of many countries. For much of the 13th and 14th centuries it was variously at war with or occupied by Venice. In 1382 it became part of the Duke of Austria's domain (having petitioned to become so). Apart from relatively short periods of occupation by the Venetians and Napoleon, it stayed part of the Austro-Hungarian Empire, and became an important naval and shipbuilding center, until November 1918 when it was occupied by the Italian army.

The architecture is predominantly Viennese designed. Ferdinand Maximilian, the ill-fated younger brother of Emperor Franz Joseph of Austria, built Miramare Castle and a surrounding park on a rocky promontory facing the Adriatic Sea as a permanent residence for himself and wife Charlotte of Belgium. It was completed in 1860 shortly before he was crowned Emperor of Mexico and remains a lasting legacy.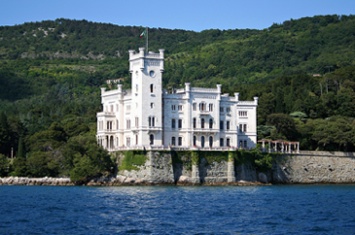 In 1920, the greater Trieste area was annexed to Italy. Within two years, the Fascist regime began to take root. Ironically, by 1938, when the 'race' laws were enacted, one in five of the country's 47,000 adult Jewish population were members of the Italian Fascist Party. Author Drndić discusses the lesser-known dark history of this Adriatic port city as the location of the sole Nazi death camp in Italy equipped with a crematorium. Among Italian cities, Trieste was particularly conspicuous for its ready compliance with Nazi plans resulting in an estimated 5,000 deaths under SS supervision at the Risiera di San Sabba. The remnants of this former rice mill factory were turned into a museum and memorial in 1975.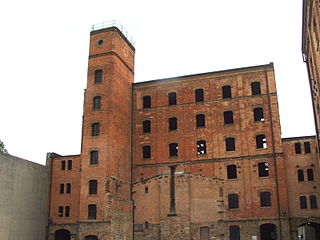 The German occupation lasted until May 1, 1945 when the Yugoslav Liberation Army led by Marshal Josip Broz Tito seized command just one day before the arrival of New Zealand troops. After a 40-day standoff, the Yugoslav leader and the Allied Forces agreed to a proposed territorial split. Zone A, including Trieste, Gorizia and Monfalcone, came under Allied Military control; while Zone B, the eastern portions in Slovenia and Croatia ceded to Yugoslavia. Two years later in September 1947, by the Paris Peace Treaty, the Free Territory of Trieste was established under United Nations control. Joint American and British troops governed Zone A until 1954 with the exception of four small villages that were additionally ceded to Yugoslavia. Italy regained civil administration on October 26, 1954 but the final borderline was not settled until 1975.

Today, Trieste is known for its commerce and banking industry, and shipbuilding is also still important. Among the major businesses headquartered there are Generali, the largest Italian insurance firm; Illy Coffee; and Fincantieri, the largest European shipbuilding company. Despite much attractive architecture and a rich history, it does not draw anywhere near the crowds of nearby Venice.

When researching a place, particularly a city as historic as Trieste, I contact friends to share their impressions and make recommendations. To my considerable surprise none among the world-travelers have ever been there. It does seem an oversight to have missed this beautiful, multi-lingual gem of the Adriatic Sea with its rich literary, military and cultural history and highly original melting pot cuisine.

Additional Information
The New York Times covered Trieste in a fantastic article in its Travel section. It's worth reading as a quick tour guide and for a slideshow of the city's landmarks.
Map of Trieste location by Norman Einstein
Picture of Miramere Castle from Bestourism.com
Picture of Risiera di San Sabba by Pier Luigi Mora

This article was originally published in February 2014, and has been updated for the March 2015 paperback release. Click here to go to this issue.
This article is available to non-members for a limited time. You can also read these articles for free. For full access, become a member today.
Membership Advantages
Reviews
"Beyond the Book" backstories
Free books to read and review (US only)
Find books by time period, setting & theme
Read-alike suggestions by book and author
Book club discussions
and much more!
Just $10 for 3 months or $35 for a year