Though Rosetta is a fictional character in I Shall Be Near To You, some of the people she encounters as an enlisted soldier are not. When Rosetta guards Rose O'Neale Greenhow in the Old Capital Prison, we are given some insights into a fascinating, historical figure.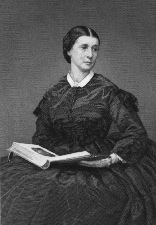 Born in Maryland in 1817, Greenhow was an ardent secessionist. She was also a vibrant socialite in Washington D.C. before the Civil War broke out. A widow and renowned hostess, Greenhow was able to move between various social groups, placing her in a unique position for spying. Information she passed to Confederate General P.T. Beauregard helped him win Bull Run. Jefferson Davis, the president of the Confederacy, credited Greenhow with this victory.

She was arrested by the Union army and imprisoned first at home and then in the Old Capital Prison in Washington. Greenhow continued to spy while in jail, transporting messages in unlikely ways — sometimes by tucking them in the bun of a woman's hair.

...