Beyond the Book:
The Frozen-Water Trade
In The Kept, Elspeth works in the ice trade, which began in the early 1800s. Your chilled water, iced tea and sodas (or pop, if you prefer) owe a debt of thanks to this frozen-water trade, which involved the harvesting, transport and sale of natural ice. The industry had broad ramifications affecting the preservation of food, beverages, and the treatment of illness, now considered necessities for the way most of us live today.

In 1805 two young Bostonians named Frederic and William Tudor decided to embark upon a bold business venture: cutting Massachusetts ice and shipping the product more than 1,000 miles away to sell in tropical climates. (Until his death in 1864, at age 80, Frederic denied the reported story that his older brother, William, had been the first to suggest the idea.) Financially privileged sons of a lawyer who also had inherited wealth, the brothers had previously traveled outside the United States. Frederic, especially, had envisioned the potential demand and marketability of ice in the tropics after a voyage to Havana. Fearing competition, the Tudor brothers kept their intentions a secret. In fact, they would soon discover that shipping such a precarious product to considerable distances was considered impractical, even ridiculous, by established Massachusetts merchants. At the time, affluent families in Boston were storing ice for their own use, though this was hardly a new concept. The ancient Greeks, Romans and Chinese harvested and preserved ice in caves or insulated storage pits.

For his first venture, Frederic chose the French island of Martinique "for reasons that were never made clear," according to Gavin Weightman in his book The Frozen-Water Trade. Weightman writes that although Havana would have been the more promising market, Frederic might have feared it would bring too much attention to his business too early.

William, along with a Tudor cousin, sailed to Martinique to negotiate a monopoly in supplying the island. In March 1806 Frederic arrived with a cargo of ice, presumably insulated with hay. He did not note in his Ice House Diary how much of the 130 tons of ice melted, but he recorded that what survived was in "perfect condition." Storing it was another matter. He realized the importance of a properly constructed icehouse. Though his Martinique effort resulted in a considerable financial loss, "The Ice King"—as Tudor would later become known—persevered. He arranged for a shipment to Havana the next season, while back at his family's country estate in Massachusetts he continued to work on plans for an icehouse. As it turned out, his brother William was not nearly as committed—or bullheaded—as Frederic and lost interest in the ice business, preferring to focus primarily on his literary career. Meanwhile, major obstacles continued to plague Frederic for years, including his own substantial debts and the loss of the family fortune due to his father's unwise investment in a land development scheme.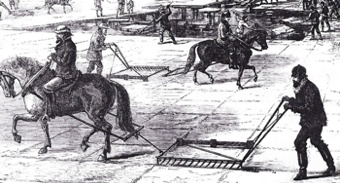 By 1816, Tudor had the prototype for a functional icehouse, constructed in Havana. The aboveground structure was made of timber and had an upper floor. The outer walls were 25 feet long and 25 feet high. Through trial and error, he concluded that surrounding the icehouse with the appropriate amount of sawdust and blankets helped diminish melting of his product.

Though Tudor continued to be in debt, he managed to accrue small profits in Havana and subsequently opened up a market in Charleston, South Carolina, believing if he kept the price of ice low it would cease to be a luxury product and would be craved by Southerners during the hot summer months. This venture was a financial success. Still, Tudor had more setbacks in the coming years. He suffered a mental breakdown and more financial disasters. Yet by 1823 Tudor had established markets in Havana, Savannah, Charleston and New Orleans. By the 1830s Tudor was shipping thousands of tons of ice all the way to India, and profiting handsomely.

Tudor's success motivated others to enter the ice business. The product was harvested domestically wherever winters were hard, including New England and the Midwest. Maine's Kennebec River, in particular, reliably froze solid. In the Hudson River Valley alone, icehouses stored around 3 million tons of ice during the winter months by the end of the Civil War. Some of the largest were capable of storing 50,000 tons of ice. Boats and railways were used to transport the ice to distribution centers.

At first, the tools used to cut ice were very basic and included man-pulled snow scrapers and saws. In 1825, Nathaniel Wyeth invented the horse-drawn ice plow, which cut ice faster and more efficiently. In their book Ice Harvesting in Early America, Dewey D. Hill and Elliott R. Hughes write that horse-drawn sleighs and cutting tools had evolved into powered or steam-driven cutters by the 1890s.

The increased availability of natural ice made it possible to chill drinks and preserve fresh fruits, vegetables, meats and fish. Ice cream started to become a sweet treat everyone could enjoy, not just the wealthy. In hospitals, ice was more readily available to use for medical purposes. In the late 19th century concerns started to arise about natural ice. Weightman's book notes that sources of ice close to big cities were becoming contaminated with sewage from rising populations. The Midwest faced serious pollution problems. Health authorities began to ban the cutting of ice close to towns. In addition, increasingly warmer winters made the supply of ice unreliable.

After World War I the natural ice industry went into a state of decline and business started giving way to manufactured ice. By the 1930s refrigerators were common in most U.S. homes. Ice houses were closed or converted for other purposes. Today there are almost no reminders of this once-thriving trade.


Picture of ice harvest from Wikimedia Commons

This article was originally published in January 2014, and has been updated for the January 2015 paperback release. Click here to go to this issue.
This article is available to non-members for a limited time. You can also read these articles for free. For full access, become a member today.
Membership Advantages
Reviews
"Beyond the Book" backstories
Free books to read and review (US only)
Find books by time period, setting & theme
Read-alike suggestions by book and author
Book club discussions
and much more!
Just $10 for 3 months or $35 for a year