The Chalk Pit by Elly Griffiths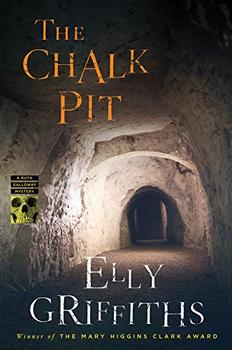 In the ninth Ruth Galloway mystery, Ruth and Nelson investigate a string of murders and disappearances deep within the abandoned tunnels hidden far beneath the streets of Norwich.
Norwich is riddled with old chalk-mining tunnels, but no one's sure exactly how many. When Ruth is called in to investigate a set of human remains found in one of them, she notices the bones are almost translucent, a sign they were boiled soon after death. Once more, she finds herself at the helm of a murder investigation.
Meanwhile, DCI Nelson is hunting for a missing homeless woman, Barbara, who he hears has gone "underground." Could she have disappeared into the labyrinth? And if so, is she connected to the body Ruth found? As Ruth, Nelson, and the rest of their team investigate the tunnels, they hear rumors of secret societies, cannibalism, and ritual killings. When a dead body is found with a map that appears to be of The Underground, they realize their quest to find the killer has only just begun - and that there may be more bodies underfoot.
Reviews
"Starred Review. Griffith's ninth is complex and character-driven, providing an excellent mystery whose very last sentence will leave you yearning for the next installment." - Kirkus

"Engrossing...[Griffiths's] portrayal of issues surrounding homelessness is compassionate and nuanced." - Publishers Weekly

"Highly recommended for fans of articulate and gripping narratives with a hearty mix of police procedural, historical detail, and academia. Featuring one the best ensemble casts in crime fiction today." - Booklist

"This combination of archaeology and crime investigation continues to be a good draw for mystery buffs. Series regulars will be intrigued by unexpected developments that promise further complications for Ruth and Nelson." - Library Journal
We have 5 hardcover copies of The Chalk Pit: A Ruth Galloway mystery by Elly Griffiths to give away.

This offer is open to residents of the USA only, except for BookBrowse members who are welcome to enter wherever they live.
Giveaway ends May 30, 2017