Hame by Annalena McAfee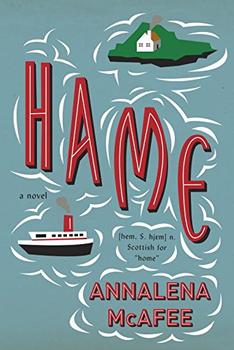 A rich, sultry, ambitious novel about a young American writer/curator, fleeing a crumbling marriage in New York who travels with her nine-year old daughter to one of the remote islands in the north of Scotland, birthplace of her grandfather.
Commissioned to set up a museum there and to write the biography of the island's celebrated poet and chronicler, Mhairi McPhail is slowly drawn in by the complicated life she is uncovering and writing about--the Bard of Fascaray--as she finds herself being transformed, awakened by the ferocity and power of the island.
Who
was
the celebrated poet, Grigor McWatt, The Bard of Fascaray? What was his past? Details of his life are elusive. As Mhairi struggles to adapt to her island life and put her disappointment and troubles behind her, she begins to unearth the astonishing secret history of the poet, regarded by many as the custodian of Fascaray's--and Scotland's--soul.
In McAfee's rich novel of invented island life, she interweaves extracts from Mhairi's journal entries, her discoveries and writings of McWatt, and tales of Fascaray itself into a resonant, compelling, dimensional narrative that at its heart explores identity, love, belonging and the universal quest for home.
Reviews
"Annalena's novel Hame is madly, wildly, almost extravagantly inventive, as if each passing page is seeking to outdo the previous one. This is story-telling of the highest ingenuity, brimming with whimsy, wit, erudition, and beautiful sentences. Brilliant and irresistible." - Christopher Buckley, author of The Relic Master
 
"I enjoyed it immensely. I laughed a lot. The character of Fascaray, its people and history, its weather and sea, and of Grigor and his glorious translations, all are imagined with such great verve and humor and originality, I couldn't put it down, or not for very long. I talk it up wherever I go. Wonderful novel." - Patrick McGrath, author of Constance
 
"I was knocked out by this novel. It is rich and layered, passionate and sly. I loved the intensity with which Annalena McAfee describes Fascaray, a remote Scottish island, and the mysteries surrounding the poet who spent a lifetime celebrating it. A century of Scottish history, the intrigues of literary biography, a young American abroad with her young daughter, and a lot of wild weather: it's all here. At one moment, it reminded me of the intensely evoked landscapes of Thomas Hardy. In the next, I was reminded of A.S. Byatt. I am filled with admiration for this novel. This Fascaray, I wanted to go there." - James Magnuson, author of Famous Writers I Have Known
 
"With its complex, multi-layered structure, Hame is an impressive achievement ... It shines a light on an artistic scene which produced some of Scotland's greatest poets of the last century." - Will Gore, Evening Standard
 
"A remarkable performance, and one that should sit nicely on the same shelf as Robin Jenkins' Fergus Lamont and James Robertson's And the Land Lay Still, all three reflections on the past and present state of Scottish literary and political culture. And what fun Annalena McAfee must have had concocting McWatt's verses." - Allan Massie, i: The Paper for Today
 
"Hame is a sweet and quaint novel, full of just-in-time revelations and obvious fondness." - Stuart Kelly, The Guardian
We have 3 hardcover copies of Hame by Annalena McAfee (publishing Sept 12) to give away.

This offer is open to residents of the USA only, except for BookBrowse members who are welcome to enter wherever they live.
Giveaway ends August 22, 2017