If the Creek Don't Rise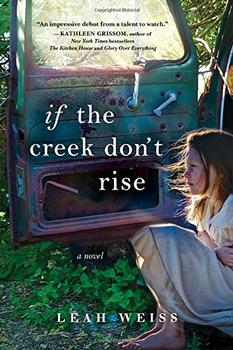 With a colorful cast of characters that each contribute a new perspective, If The Creek Don't Rise is a debut novel bursting with heart, honesty, and homegrown grit.
He's gonna be sorry he ever messed with me and Loretta Lynn
Sadie Blue has been a wife for fifteen days. That's long enough to know she should have never hitched herself to Roy Tupkin, even with the baby.
Sadie is desperate to make her own mark on the world, but in remote Appalachia, a ticket out of town is hard to come by, and hope often gets stomped out.  When a stranger sweeps into Baines Creek and knocks things off kilter, Sadie finds herself with an unexpected lifeline...if she can just figure out how to use it.
This intimate insight into a fiercely proud, tenacious community unfolds through the voices of the forgotten folks of Baines Creek.
Reviews
"Appalachian life is foreign even to most Americans. In many ways, it's easy to think the people of these mountains don't have much in common with the rest of the country. I worry that the novel's conclusion might leave readers' prejudices and stereotypes intact, rather than creating an appreciation and respect for a different pace of life while seeing commonalities in our humanity. That being said, the novel's clear and evocative prose ultimately creates a portrait of a town both beautiful and harsh. If the Creek Don't Rise transports readers to a specific time and place where they can spend time with a variety of characters." - BookBrowse
"[A] tender but powerful debut...highlighting Weiss's considerable characterization skills." - Publishers Weekly
"Weiss' tale is a beguiling, compelling read." - Kirkus Reviews
"Starred Review. The author's masterful use of language, including dialect unique to the area, builds another layer of connection between these characters while she develops a greater sense of inner isolation and distance from those outside the community" - Booklist
"Starred Review. Writing with a deep knowledge of the enduring myths of Appalachia, Weiss vividly portrays real people and sorrows. A strong, formidable novel for readers of William Faulkner and Cormac McCarthy." - Library Journal
"This one nearly broke my heart. With deeply human characters I will not easily forget, Weiss captures the fierce pull of desperation and the formidable power of hope. An impressive debut from a talent to watch." - Kathleen Grissom, author of the New York Times bestsellers The Kitchen House and Glory Over Everything
"Every page of Leah Weiss' debut, If the Creek Don't Rise, has a pulse as fierce and unyielding as its Appalachian setting. Told through an ensemble of narrators, men and women of all ages bound by the inescapable power of place and belonging, it is a lush exploration of the darkest rooms in the human heart, and the brightest fires of the human spirit. Weiss' remarkable gift for language left me breathless, and her characters, distinctive and unapologetically-human, will haunt me for some time." - Erika Marks, author of The Last Treasure
We have 5 paperback copies of If The Creek Don't Rise by Leah Weiss to give away.

This offer is open to residents of the USA only, except for BookBrowse members who are welcome to enter wherever they live.
Giveaway ends October 3, 2017