Beartown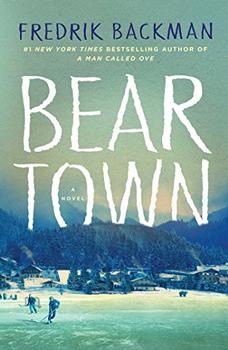 The #1 New York Times bestselling author of A Man Called Ove returns with a dazzling, profound novel about a small town with a big dream - and the price required to make it come true.
People say Beartown is finished. A tiny community nestled deep in the forest, it is slowly losing ground to the ever encroaching trees. But down by the lake stands an old ice rink, built generations ago by the working men who founded this town. And in that ice rink is the reason people in Beartown believe tomorrow will be better than today. Their junior ice hockey team is about to compete in the national semi-finals, and they actually have a shot at winning. All the hopes and dreams of this place now rest on the shoulders of a handful of teenage boys.
Being responsible for the hopes of an entire town is a heavy burden, and the semi-final match is the catalyst for a violent act that will leave a young girl traumatized and a town in turmoil. Accusations are made and, like ripples on a pond, they travel through all of Beartown, leaving no resident unaffected.
Beartown explores the hopes that bring a small community together, the secrets that tear it apart, and the courage it takes for an individual to go against the grain. In this story of a small forest town, Fredrik Backman has found the entire world.
Reviews
"I have read all of Fredrick Backman's books, and with each and every one I am pleasingly surprised at just how consistently wonderful a writer he is. He takes a subject I have no interest in, and turns it into a story that grips me from the first page. This time, his story centers on the game of hockey, a sport that I not only don't care for, but also sometimes find appalling. Yet when Backman starts describing how his characters play the game, including the violence that comes with it, we understand that this novel isn't just about a sport. Rather, hockey is simply the metaphor used to explore the human condition." - BookBrowse
"[A] slow burn of a novel about a community that pours all its hopes into a youth hockey team. Think Friday Night Lights for Swedes." - O, The Oprah Magazine
"Backman is a masterful writer .... A thoroughly empathetic examination of the fragile human spirit, Backman's latest will resonate a long time." - Kirkus Reviews
"Best Book Choice - April. Masterful in its storytelling and honesty, this is another winner for Backman, surpassing even his much-lauded A Man Called Ove." - Amazon.com
"While the story is dark at times, love, sacrifice, and the bonds of friendship and family shine through ultimately offering hope and even redemption." - Publishers Weekly
"The sentimentally savvy Backman (A Man Called Ove, 2014) takes a sobering and solemn look at the ways alienation and acceptance, ethics and emotions nearly destroy a small town." - Booklist
"Another solid offering from best-selling Swedish author Backman, with many parallels for American readers and small towns everywhere." - Library Journal
About This Sweepstake
We have 20 hardcover copies of
BEARTOWN
BY FREDRIK BACKMAN to give away.
This offer is open to residents of the USA only.
Giveaway ends March 5, 2018
Your guide toexceptional books
BookBrowse seeks out and recommends books that we believe to be best in class. Books that will whisk you to faraway places and times, that will expand your mind and challenge you -- the kinds of books you just can't wait to tell your friends about.