Miracle Creek
by Angie Kim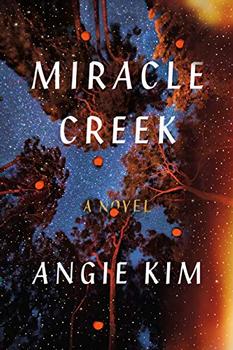 A thrilling debut novel for fans of Liane Moriarty and Celeste Ng about how far we'll go to protect our families - and our deepest secrets.
My husband asked me to lie. Not a big lie. He probably didn't even consider it a lie, and neither did I, at first ...
In rural Virginia, Young and Pak Yoo run an experimental medical treatment device known as the Miracle Submarine - a pressurized oxygen chamber that patients enter for therapeutic "dives" with the hopes of curing issues like autism or infertility. But when the Miracle Submarine mysteriously explodes, killing two people, a dramatic murder trial upends the Yoos' small community.
Who or what caused the explosion? Was it the mother of one of the patients, who claimed to be sick that day but was smoking down by the creek? Or was it Young and Pak themselves, hoping to cash in on a big insurance payment and send their daughter to college? The ensuing trial uncovers unimaginable secrets from that night - trysts in the woods, mysterious notes, child-abuse charges - as well as tense rivalries and alliances among a group of people driven to extraordinary degrees of desperation and sacrifice.
Angie Kim's
Miracle Creek
is a thoroughly contemporary take on the courtroom drama, drawing on the author's own life as a Korean immigrant, former trial lawyer, and mother of a real-life "submarine" patient. Both a compelling page-turner and an excavation of identity and the desire for connection,
Miracle Creek
is a brilliant, empathetic debut from an exciting new voice.
Reviews
"...Miracle Creek ultimately puts trust in readers to come to their own conclusions concerning hard questions—about racism, sexism, ableism, and justice. By showing us how little the truth may matter in a legal setting, Kim creates the eerie feeling that it's up to us to make our own decisions about the guilt or innocence of her characters, and that's no easy task. This is a book that demands an audience willing to approach it with care, and it deserves to find that audience." - BookBrowse
"Kim, a former lawyer, clearly knows her stuff, and though the level of procedural detail is sometimes unwieldy, nonetheless what emerges is a masterfully plotted novel about the joys and pains of motherhood, the trick mirror nature of truth, and the unforgiving nature of justice." - Publishers Weekly
"Powerful courtroom scenes invite comparisons to Scott Turow, but Kim's nuanced exploration of guilt, resentment, maternal love, and multifaceted justice may have stronger appeal for readers drawn to the Shakespearean tragedies in Chris Bohjalian's Midwives (1997) and William Landay's Defending Jacob (2012)." - Booklist
"Intricate plotting and courtroom theatrics, combined with moving insight into parenting special needs children and the psychology of immigrants, make this book both a learning experience and a page-turner. Should be huge." - Kirkus Reviews (starred review)
"I know this story but have never seen it in a novel...Kim has written a bold debut novel about science and immigration and the hopes and fears each engenders - unforgettable and true." - Alexander Chee, author of The Queen of the Night
"Miracle Creek is a marvel, a taut courtroom thriller that ultimately tells the most human story imaginable, a story of good intentions and reckless passions. Compelling, generous, at once empathetic and unsparing. I am wrecked, I am heartened and hopeful, which means, in short, that Miracle Creek is pretty much the perfect novel for these chaotic times in which we live." - Laura Lippman, author of Sunburn
"Miracle Creek grabbed me hard right from the start. This is a terrific courtroom thriller, a sly whodunit that's beautifully written and also full of heart." - Scott Turow, author of Testimony
"Miracle Creek is an engrossing puzzle-box of a book: a twisty courtroom drama that also manages to be emotionally astute, culturally perceptive, and deeply empathetic. Angie Kim tackles hot-button subjects with a delicate touch, proving herself a master of both portraiture and storytelling. I loved this novel." - Janelle Brown, author of the New York Times bestseller Watch Me Disappear
About This Sweepstake
We have 3 hardcover copies of
MIRACLE CREEK
by ANGIE KIM to give away.
This offer is open to residents of the USA only, except for BookBrowse members who are welcome to enter wherever they live.
Giveaway ends June 3, 2019