The Driest Season by Meghan Kenny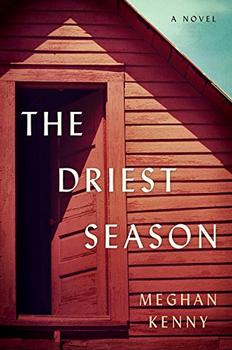 With wisdom and grit, Kenny has fashioned a deeply affecting story of a young woman discovering loss, heartache, and--finally--hope.
As her Wisconsin community endures a long season of drought and feels the shockwaves of World War II, fifteen-year-old Cielle endures a more personal calamity: the unexpected death of her father. On a balmy summer afternoon, she finds him hanging in the barn--the start of a dark secret that threatens her family's livelihood. A war rages elsewhere, while in the deceptive calm of the American heartland, Cielle's family contends with a new reality and fights not to be undone.
A stunning debut,
The Driest Season
creates a moving portrait of Cielle's struggle to make sense of her father's time on earth, and of her own.
Reviews
"Starred Review. [An] impressive debut novel…Kenny's thoughtful, finely crafted work is an eloquent reminder that the breadth of a world matters less than the depth of a character." - Kirkus Reviews

"Quiet and moving ... With a light touch, Kelly tells an impactful story of everyday lives in trying circumstances." - Booklist

"An elegant coming-of-age story that brings real heart to the American heartland. The book may be set during World War II, but the questions it asks--about love, loyalty, and the meaning of life--are timeless ones." - Elliott Holt, author of You Are One of Them

"The Driest Season settled over me like weather: sweeping in, wholly immersive, charged with coming change ... A lingering power that, long after the last page of this moving story, follows me too." - Josh Weil, author of The Age of Perpetual Light

"A searing debut. Meghan Kenny writes an almost unbearable moment in a young woman's life with precision and tenderness, ache and hope. I was grateful for each page." - Ramona Ausubel, author of Sons and Daughters of Ease and Plenty and No One Is Here Except All of Us

"The Driest Season marks the arrival of a new writer with talent, intention, and a story to tell. The words are spare, beautiful, poetic, even prayerful. They hold you inside your chest where lies your heart and the place you breathe. A brilliant debut." - Robert Olmstead, author of Coal Black Horse

"It's hard not to fall in love with Cielle Jacobson, the resilient fifteen-year-old girl at the center of this spare, searingly honest novel ... Meghan Kenny's rural Wisconsin, circa World War II, is rendered with love and precision--its weather, landscapes, and people evoked in prose that echoes recent masters of the American heartland, David Rhodes and Marilynne Robinson." - Lin Enger, author of The High Divide

"The Driest Season evokes the naive confusion of teenage years, particularly when tragedy strikes. Set in a rural community during the 1940s, this novel reminds us that human frailty, loyalty, and the yearning to understand life never goes away. The past was not better or safer. It's where we all once were young." - Chris Offutt, author of My Father, the Pornographer
About This Sweepstake
We have fifty hardcover copies of
THE DRIEST SEASON
BY MEGHAN KENNY to give away.
This offer is open to residents of the USA only.
Giveaway ends January 18, 2018
Your guide toexceptional books
BookBrowse seeks out and recommends books that we believe to be best in class. Books that will whisk you to faraway places and times, that will expand your mind and challenge you -- the kinds of books you just can't wait to tell your friends about.