News of the World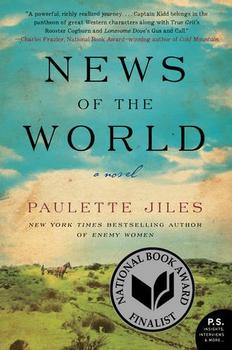 It is 1870 and Captain Jefferson Kyle Kidd travels through northern Texas, giving live readings to paying audiences hungry for news of the world. An elderly widower who has lived through three wars and fought in two of them, the captain enjoys his rootless, solitary existence.
In Wichita Falls, he is offered a $50 gold piece to deliver a young orphan to her relatives in San Antonio. Four years earlier, a band of Kiowa raiders killed Johanna's parents and sister; sparing the little girl, they raised her as one of their own. Recently rescued by the U.S. army, the ten-year-old has once again been torn away from the only home she knows.
Their 400-mile journey south through unsettled territory and unforgiving terrain proves difficult and at times dangerous. Johanna has forgotten the English language, tries to escape at every opportunity, throws away her shoes, and refuses to act "civilized." Yet as the miles pass, the two lonely survivors tentatively begin to trust each other, forging a bond that marks the difference between life and death in this treacherous land.
Arriving in San Antonio, the reunion is neither happy nor welcome. The captain must hand Johanna over to an aunt and uncle she does not remember - strangers who regard her as an unwanted burden. A respectable man, Captain Kidd is faced with a terrible choice: abandon the girl to her fate or become - in the eyes of the law - a kidnapper himself. Exquisitely rendered and morally complex,
News of the World
is a brilliant work of historical fiction that explores the boundaries of family, responsibility, honor, and trust.
Reviews
"This is a beautiful and spare novel. The landscape comes alive, as does the almost constant sense of desperation of being on the road in during such dangerous times. The author has a true gift for description, we see, smell and feel the conditions the pair experience." - BookBrowse
"Jiles unfolds the stories of the Captain and Johanna, past and present, with the smooth assuredness of a burnished fireside tale, demonstrating that she is a master of the western." - Publishers Weekly
"This Western is not to be missed by Jiles's fans and lovers of Texan historical fiction. The final chapter's solid resolution will satisfy those who like to know what ultimately becomes of beloved characters." - Library Journal
"Starred Review. Jiles' lyrical style and minimal punctuation allow the reader to become immersed in the dusty Texan landscape, witnessing the anguish, fear, compassion, and joy in the unlikely pair's journey, which will appeal to fans of Tracy Chevalier and Geraldine Brooks." - Booklist
"Starred Review. Lyrical and affecting, the novel succeeds in skirting clichés through its empathy and through the depth of its major characters." - Kirkus Reviews
We have 5 paperback copies of News of The World by Paulette Jiles to give away.

This offer is open to residents of the USA only, except for BookBrowse members who are welcome to enter wherever they live.
Giveaway ends July 10, 2017