Uncommon Type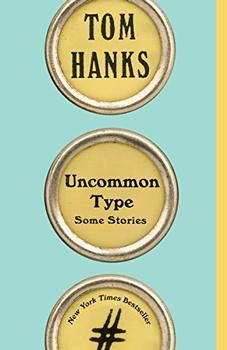 A collection of seventeen wonderful short stories showing that two-time Oscar winner Tom Hanks is as talented a writer as he is an actor.
A gentle Eastern European immigrant arrives in New York City after his family and his life have been torn apart by his country's civil war. A man who loves to bowl rolls a perfect game - and then another and then another and then many more in a row until he winds up ESPN's newest celebrity, and he must decide if the combination of perfection and celebrity has ruined the thing he loves. An eccentric billionaire and his faithful executive assistant venture into America looking for acquisitions and discover a down and out motel, romance, and a bit of real life. These are just some of the tales Tom Hanks tells in this first collection of his short stories. They are surprising, intelligent, heartwarming, and, for the millions and millions of Tom Hanks fans, an absolute must-have!
Reviews
"After I finished them, most of Hank's stories flitted from my brain like a light balloon. In seventeen stories, Hanks — whose squeaky-clean image as "America's Dad" has itself become as American as apple pie — presents a world as neatly packaged and free from real-world troubles as the average Hollywood rom-com. This is the short story collection of a new and burgeoning writer, as uneven and unsure as all debuts can be. But it's also the voice of one of America's most beloved actors, a growing literary talent, and a man who is clearly not content to explore just one aspect of the human condition." - BookBrowse
"Is this great literature? No — it's too generic and mawkish. But Uncommon Type offers heartfelt charm along with nostalgia for sweeter, simpler times — even if they never really were quite so sweet or simple." - NPR
"Given the intelligence Hanks brings to the craft of acting, it makes sense that he would have a knack for storytelling. Filled with warmth, comedy and wisdom, this companionable collection is as appealing as its author." - Bookpage
"Smart and equally heartfelt, this collection is a must-read for fans of the actor and literary lovers alike." - Bustle
"Accomplished and delightful. .... Terrific. ... Hanks proves his bona fides as a serious scribe." - USA Today
"Hanks's narrators speak with similar verbal tics - multiple narrators say 'Noo Yawk,' for example - but the stories they tell generally charm. The only true misfires come when Hanks breaks away from traditional structure: the story-as-screenplay 'Stay With Us' drags, and faux newspaper columns by man of the people Hank Fiset start clever but turn grating." - Publishers Weekly
"A surprising and satisfying book from a first-time fiction writer." - Booklist
"While these stories have the all-American sweetness, humor, and heart we associate with his screen roles, Hanks writes like a writer, not a movie star." - Kirkus Reviews
"It turns out that Tom Hanks is also a wise and hilarious writer with an endlessly surprising mind. Damn it." - Steve Martin
"The central quality to Tom's writing is a kind of poignant playfulness. It's exactly what you hope from him, except you wish he were sitting in your home, reading it aloud to you, one story at a time." - Mindy Kaling
"Wait - Tom Hanks can write, too? Funny, moving, deftly surprising stories? That's just swell. Maybe there's no crying in baseball, pal, but it's perfectly acceptable in the book business. That's how we drown envy." - Carl Hiaasen
"Mr. Hanks turns out to be as authentically genuine a Writer with as capital a W as ever touched a typewriter key. The stories in Uncommon Type range from the hilarious to the deeply touching...All with that extra quality of keenly observant and sympathetic intelligence that has always set Tom Hanks apart. I blink, bubble and boggle in amazed admiration." - Stephen Fry
"Uncommon Type is funny, wise, gloriously inventive and humane. Tom Hanks sees inside people – a wary divorcee, a billionaire trading desire for disaster, a boy witnessing his father's infidelity, a motley crew shooting for the moon – with such acute empathy and good humour we'd follow him anywhere." - Anna Funder
"Reading Tom Hanks's Uncommon Type is like finding out that Alice Munro is also the greatest actress of our time." - Ann Patchett
About This Sweepstake
We have 5 paperback copies of
UNCOMMON TYPE
by TOM HANKS to give away.
This offer is open to residents of the USA only, except for BookBrowse members who are welcome to enter wherever they live.
Giveaway ends January 22, 2019