No Man's Land by Simon Tolkien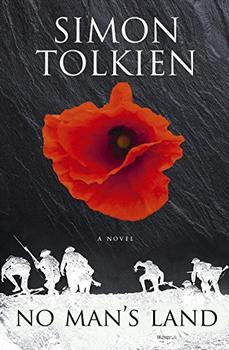 Inspired by the real-life experiences of his grandfather, J. R. R. Tolkien, during World War I, Simon Tolkien delivers a perfectly rendered novel rife with class tension, period detail, and stirring action, ranging from the sharply divided society of northern England to the trenches of the Somme.
Adam Raine is a boy cursed by misfortune. His impoverished childhood in turn-of-the-century London comes to a sudden and tragic end when his mother is killed in a workers' protest march. His father, Daniel, is barely able to cope with the loss. But a job offer in the coal mining town of Scarsdale presents one last chance, so father and son head north. The relocation is hard on Adam: the local boys prove difficult to befriend, and he never quite fits in. Meanwhile tensions between the miners and their employer, Sir John Scarsdale, escalate, and finally explode with terrible consequences.
In the aftermath, Adam's fate shifts once again, and he finds himself drawn into the opulent Scarsdale family home where he makes an enemy of Sir John's son, Brice, who subjects Adam to a succession of petty cruelties for daring to step above his station. However, Adam finds consolation in the company of Miriam, the local parson's beautiful daughter with whom he falls in love. When they become engaged and Adam wins a scholarship to Oxford, he starts to feel that his life is finally coming together - until the outbreak of war threatens to tear everything apart.
From the slums of London to the riches of an Edwardian country house; from the hot, dark seams of a Yorkshire coal mine to the exposed terrors of the trenches in France; Adam's journey from boy to man is set against the backdrop of a society violently entering the modern world.
Reviews
"Starred Review. The author's visceral account of the Battle of the Somme underscores the individual suffering and courage involved - an unforgettable paean and a gripping war story, with a sensitive perspective on the home front. This compares in depth of feeling and insight to Elizabeth Speller's The First of July (2013) and to Jeff Shaara's well-researched, absorbing To the Last Man (2004)." - Booklist

"The novel is entertaining but hardly tells us anything new about the supposed war to end all wars." - Publishers Weekly

"A blend of a Dickensian epic and Downton Abbey, with the author arriving at a conclusion that could allow sequels." - Kirkus

"Vivid set pieces, notably a wonderful section down a mine, while Adam is an intriguing central character: clever, sincere and, amid the turbulence of early 20th-century England, a determined survivor." - The Daily Mail (UK)

"[Tolkien's] most ambitious work yet ... Adam makes an attractive hero and his story has more than enough colour and energy to keep us reading." - The Sunday Times (UK)

"In this emotionally charged novel, Tolkien brings to the fore the social injustice, poverty and attrition of war in early 20th-century England. The scenes underground in the mines of Scarsdale are every bit as shocking as the harrowing descriptions of trench warfare when Adam and his comrades are repeatedly sent over the top." - The Sunday Express (UK)
We have 5 hardcover copies of No Man's Land by Simon Tolkien to give away.

This offer is open to residents of the USA only, except for BookBrowse members who are welcome to enter wherever they live.
Giveaway ends January 31, 2017