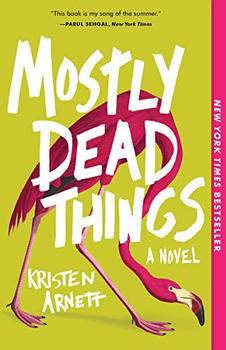 Mostly Dead Things
by Kristen Arnett
The celebrated New York Times Bestseller. A 2019 Best Book of the Year: New York Times, NPR, The New Yorker, TIME, Washington Post, Oprahmag.com, Thrillist, Shelf Awareness, Good Housekeeping and more.
What does it take to come back to life? For Jessa-Lynn Morton, the question is not an abstract one. In the wake of her father's suicide, Jessa has stepped up to manage his failing taxidermy business while the rest of the Morton family crumbles. Her mother starts sneaking into the taxidermy shop to make provocative animal art, while her brother, Milo, withdraws. And Brynn, Milo's wife―and the only person Jessa's ever been in love with―walks out without a word.
It's not until the Mortons reach a tipping point that a string of unexpected incidents begins to open up surprising possibilities and second chances. But will they be enough to salvage this family, to help them find their way back to one another?
Kristen Arnett's breakout bestseller is a darkly funny family portrait; a peculiar, bighearted look at love and loss and the ways we live through them together.
First published in June 2019. Paperback reprint April 2020.
Reviews
A Most Anticipated Book of 2019 at
Esquire, The Week, BuzzFeed, NYLON, Bustle, HuffPost, The Boston Globe
, and more.
"Arnett possesses all the bravery her characters dream of. There's none of the shyness and self-consciousness of so much American fiction that masks itself as austerity. She writes comic set pieces to make you laugh, sex scenes to turn you on. The action flips from the past to the present, swimming through first love and first grief on a slick of red Kool-Aid and vodka, suntan oil and fruity lip gloss, easy and unforced. This book is my song of the summer." - Parul Sehgal,
The New York Times
"Precisely as strange, riotous, searing, and subversive as you'd want it to be. And, yes, its humor is as dark and glinting as the black plastic eye of a taxidermy ferret... . [A] celebration of the strangeness of life and love and loss, all of it as murky as a Florida swamp but beautiful in its wildness." - NYLON
"Set in a richly rendered Florida and filled with delightfully wry prose and bracing honesty, Arnett's novel introduces a keenly skillful author with imagination and insight to spare." - Publishers Weekly
"Hilarious, deeply morbid, and full of heart." - BuzzFeed
"An ambitious debut writer with extraordinary promise, Arnett brings all of Florida's strangeness to life through the lens of a family snowed under with grief." - Kirkus
"
Mostly Dead Things
 is one of the strangest and funniest and most surprising first novels I've ever read. A love letter to Florida and to family, to half-lit swamps and the 7/11, and to the beasts that only pretend to hold their poses inside us. In Kristen Arnett's expert hands, taxidermy becomes a language to capture our species' impossible and contradictory desire to be held and to be free." - Karen Russell, author of Swamplandia!
"If Heather Lewis and Joy Williams had a child it might be this―I don't think I've ever read a novel like it. There's a gunslinger cool to every sentence, like someone is telling you the last story they'll ever tell you. Kristen Arnett is the queen of the Florida no one has ever told you about, and on every page she brings it to a steely and vivid life." - Alexander Chee, author of How to Write an Autobiographical Novel
About This Sweepstake
We have three paperback copies of
Mostly Dead Things
by Kristen Arnett to give away.
This offer is open to residents of the USA only, except for BookBrowse members who are welcome to enter wherever they live. Giveaway ends April 13, 2020
Giveaway ends April 13, 2020