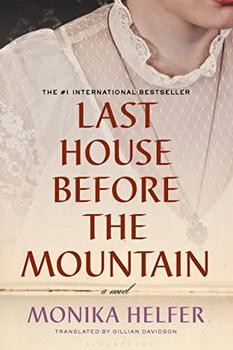 Last House Before the Mountain
by Monika Helfer
For readers of Ian McEwan, Elena Ferrante, and Julie Orringer, the spellbinding, internationally bestselling, multigenerational family saga set in a fractured rural village in WWI Austria. At under 200 pages, Last House Before the Mountain is a concise but immensely satisfying novel.
Maria and Josef live with their children in a valley in westernmost Austria. When the First World War breaks out and Josef is drafted into the army, Maria is left to provide for her family alone. Every day is a struggle against starvation, the harsh alpine climate and the hostile nearby villagers who see Maria as little more than a beautiful temptress out for the men left behind. But when a red-haired stranger arrives in the village, Maria feels happiness seep back into her life and she faces a choice whose consequences will affect the lives of her family for generations to come.
Based on the internationally bestselling and award-winning Austrian novelist Monika Helfer's own family history,
Last House Before the Mountain
is a propulsive, haunting, multi-layered saga about love, family, and the hidden wages of war.
Reviews
"A poignant, captivating, beautifully woven family saga. As honest as Elena Ferrante, with the folkloric intensity of Téa Obreht,
Last House Before the Mountain
explores the ways we reconstruct our family histories in an attempt to understand who we are." ―Christina Baker Kline, #1
New York Times
bestselling author of
The Exiles
,
A Piece of the World
, and
Orphan Train
"A master class in literary compression. In just a short span of pages, Helfer brings a whole world of wonder, loss and deep, deep longing to indelible life. How lucky we are that her work is finally available in English." ―Laird Hunt, author of National Book Award Finalist
Zorrie
"Generations of family secrets and unrequited love are braided with restraint and compassion in this moving story of a woman's longing. Drawing from the wreckage of war and poverty, Monika Helfer expertly weaves this entrancing tale of one woman's struggle to build a life of love and dignity." ―Tsering Yangzom Lama, author of Scotiabank Giller Prize Finalist
We Measure the Earth With Our Bodies
"[
Last House
] is beautiful and heartbreaking, and readers will fall in love with Maria. It's also a profound meditation on the stories we tell about ourselves, the stories others tell about us, how those stories are handed down the generations, and the effect of inherited narratives and memories on our lives. I absolutely loved it." ―Monica Ali,
New York Times
bestselling author of
Untold Story
and
Love Marriage
About The Sweepstakes
We have three hardcover copies of
Last House Before the Mountain by Monika Helfer
to give away.
This offer is open to residents of the USA, except for BookBrowse members who are welcome to enter wherever they live. If a member not resident in the US wins, they receive an extension to their membership.
Giveaway ends April 17, 2023