Meaning:
You can't make something good out of something inherently bad.
Background:
This proverb is first found in English in Alexander Barclay's Eclogues.

Barclay (1475? - 1552) was a Scottish clergyman and poet who is believed to have been the first to write pastoral eclogues in English. An eclogue is a poem in a classical style on a pastoral subject, usually in the form of a dialogue between two shepherds - such poems are also also known as bucolics.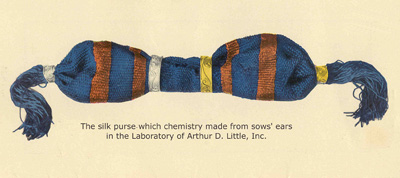 With that said, with enough ingenuity it is possible to make a very passable "silk" purse out of a sow's ear. In 1921, Massachusetts industrialist Arthur D. Little (who discovered acetate) obtained a glue made from the skin and gristle of pig's ears, and had it filtered and forced through a spinneret into a mixture of formaldehyde and acetone. The glue emerged as 16 fine, colorless streams that hardened and then combined to form a single composite fiber. Little soaked the fiber in dyed glycerin. Then he had the resulting thread woven into cloth on a handloom, and the cloth fashioned into an elegant purse.
Photo from MIT Institute Archives and Special Collections
Alphabetical list of expressions

Challenge yourself with BookBrowse Wordplays