Prologue

Rush hour.


So many armpits, so little deodorant.


The whole world is heading out to Heathrow to meet long-lost relatives. I am wedged between the tummies of the two fattest men in the world. Rank.


Mum's practically vibrating. Like she's overdosed on coffee. Which she probably has.


Dad's got his arm around her like a lock. She's fidgeting so hard and the train's so crowded. 'It'll be ages yet, Mary Ann,' he whispers into her ear.


'I just want to make sure we're there when he comes out.'


'He's sixteen. He'll be fine!' Dad kisses her forehead. Which isn't a stretch because the crowd is pushing them so close together his face is practically pasted to her head.


'But William' - Mum glares at his chin - 'he's so TALL!'


Why is Mum so psycho about Bernardo being tall? She's been going on about it since we found out he was coming to London.


'Don't be surprised now, Andi, your brother is tall. Tall, you hear me?' Does she think I needed impressing? I mean, Mum isn't exactly God's gift to the human race in the height department. I'm the smallest in Year Eight and I'm still taller than her. She's so short she needs an ID to prove she's old enough to buy wine at the supermarket.


'I don't understand,' she always argues at the Tesco Express. 'Where I come from, there's never any problem.' Well, London isn't the Philippines, Mum.


The two tummies are practically holding me up in the carriage. I could fall asleep and remain vertical. Hopefully it won't be this bad on the return trip with Bernardo and his luggage.


Bernardo! I can't believe I'm minutes away from becoming someone's little sister.


If he's tall like Mum says, he's guaranteed to love Michael Jordan.


She says everyone in the Philippines is mad about basketball and I'm Michael Jordan's biggest fan. And maybe with another teenager in the house, we can listen to normal music instead of selections from Mum and Dad's pre-Jurassic collection. And now there will be someone else to ignore the bad Dad-jokes that for some reason make Mum go hysterical.


I'm tired of being the Only Child.


And then suddenly the train is screeching to a stop at Heathrow and Mum's dragging me out from between the two tummies. It's miles to walk through all those long, long tunnels to Terminal 3. Then we have to wait an hour before Bernardo's plane number shows on the arrival boards. Then it's another halfhour before they say 'Baggage in Hall'. Now Mum's staring at luggage tags to see which people emerging from the gate were on the plane from the Philippines. 'Look, look!' she screams (and it's no use telling Mum she's loud: she was born with no volume control).


And then she stands there for ages holding the welcome banner up high, hopping a little on one leg like she really, really needs to go to the toilet.


Dad puts his arm around Mum's shoulders and whispers in her ear some more. But her eyes are glazed. She's beyond help. And then she screams so sharply that people nearby stop kissing and hugging to stare.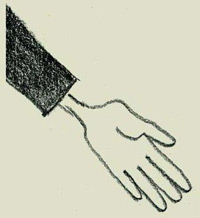 'THERE HE IS! OH, NARDO! OH, NARDO! OH! OH! OH!' And I squint past all the huggers and kissers in the arrivals hall, through the tiny panes of glass on the double doors, and all I can see is some geek's necktie.


But Mum's already dropped her banner and she's CRAWLING under the barrier and rushing towards the necktie, all the while squealing something in Tagalog. Dad's got the banner now; he's holding it up and grinning so broadly you can see that he's missing a canine.

Excerpted from Tall Story by Candy Gourlay. Copyright © 2011 by Candy Gourlay. Excerpted by permission of David Fickling Books. All rights reserved. No part of this excerpt may be reproduced or reprinted without permission in writing from the publisher.