At BookBrowse, we don't just review books, we go 'beyond the book' to explore interesting aspects relating to each book we feature. Here is a "Beyond the Book" feature for The Unchangeable Spots of Leopards by Kristopher Jansma about famous literary spats...


When famous figures spar, their words become part of the public record, particularly when those quarreling are popular writers.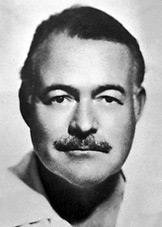 Ernest Hemingway, for example, was notorious for his antagonistic relationship with many of his contemporaries. While once close, he had a disagreement with his mentor Gertrude Stein over their differing opinions of Sherwood Anderson's works. As the friendship deteriorated, Stein published an unflattering portrait of Hemingway in The Autobiography of Alice B. Toklas. Hemingway countered with A Moveable Feast, in which he criticized Stein's writing for its use of "repetitions that a more conscientious and less lazy writer would have put in the waste basket."