Judith McNaught Author Biography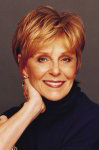 Judith McNaught (b. 1944) has written more than a dozen bestselling historical and contemporary romance novels. Her first hit, Whitney, My Love (1986), is widely credited as being the first in the Regency Historical genre. She has won multiple awards, including the Romantic Times Award for Best New Historical in 1986 and their Critic's Choice Award for Best SuperRomance in 1986. Her book Every Breath You Take was a New York Times bestseller. Over 30 million copies of her works are in print.

McNaught lives in Clear Lake. She has a daughter, Whitney, a son, Clayton, and several grandchildren.