The iPhone Home Screen displays icons which allow you to easily access your apps.
It is simple to add a BookBrowse icon to your Home Screen, which with a simple tap will open your browser and link you directly to BookBrowse.
Step 1. First, open Safari by tapping on the icon on your Home Screen.

Step 2. Type in www.bookbrowse.com
Step 3. When the page has loaded, tap on the '+' - generally in the middle at the bottom of your screen (in older devices, it could be an arrow that looks like it's trying to get away from a square).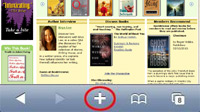 Step 4. A new menu should now appear; tap on "Add to Home Screen". You now have the opportunity to name the icon which will be added to your home screen - we recommend you name it "BookBrowse".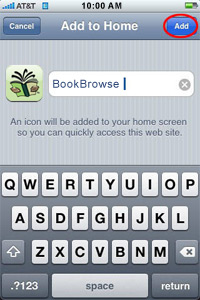 Step 5. When you have done this, tap on the "add" button at the top right. You should now be taken back to the main Safari window. Close Safari, and a new BookBrowse icon will appear on your Home Screen. You are done!
Next time you want to access BookBrowse, simply tap on the item and Safari will open directly to the BookBrowse mobile page.